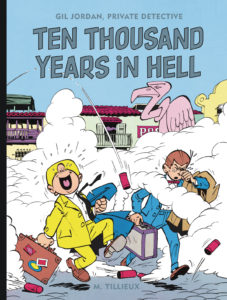 Shortages
LEAD POISONING PENCIL ART OF GEOF DARROW HC
Weekly Shiplist for Wednesday, 12 July 2017
2000 AD PACK MAY 2017
ACTION COMICS #983
ADVENTURE TIME ORIGINAL GN VOL 10 OOORIENT EXPRESS
AIRSHIP ADV OF LITTLE NEMO HC
ALONE (G13) GN
AMAZING SPIDER-MAN #30 SE
AMERICAN WAY THOSE ABOVE AND BELOW #1 (OF 6) (MR) | Preview
(W) John Ridley (A/CA) Georges Jeanty
It's been a decade since the Civil Defense Corps was exposed as a fraud created by the U.S. Government for propaganda purposes. While most of the heroes who survived the catastrophe have retired or disappeared, the New American still carries on, trying to keep communities safe amid the social turmoil of the 1970s. But with the nation split in two over civil rights and the changing political landscape, this isn't easy. Some of the American's former colleagues are on opposite sides of the law: Amber Waves joined a group of domestic terrorists, while Missy, a.k.a. Ole Miss, has thrown her hat into the political ring. As the ground shifts beneath his feet and new threats arise, which side will the American choose? This sequel to the hit miniseries by the original team of writer John Ridley (Oscar-winning screenwriter of 12 Years a Slave and creator of TV's American Crime) and artist Georges Jeanty (Buffy the Vampire Slayer: Season Eight, Serenity: No Power in the 'Verse) moves the story forward in history, factoring in how real-life events might be affected by the presence of superheroes, and how those events change the heroes in turn.
ANIMOSITY #8 (MR)
ANIMOSITY THE RISE #2
BATGIRL AND THE BIRDS OF PREY #12
BIRTHRIGHT TP VOL 05
BLACK CLOUD #4 (MR)
BLACK PANTHER CREW #4
BRIGGS LAND LONE WOLVES #2
BRUTAL NATURE CONCRETE FURY #5 (OF 5)
BUG THE ADVENTURES OF FORAGER #3 (OF 6) (MR)
CALEXIT #1 (MR) | Preview
(W) Matt Pizzolo (A/CA) Amancay Nahuelpan
What if a fascist, autocratic President took over the United States? And what if that President lost California, the sixth largest economy on Earth, by nearly 2-to-1…a margin of almost 3 1/2 million votes? What if the day after that President took power, the largest mass demonstration in history occurred, and the state with the largest turnout was California. And then, the following week, two of the largest international airports in the world, California's LAX and SFO, were blockaded by protesters? What if California refused to be ruled? From the creators of YOUNG TERRORISTS, Matteo Pizzolo (GODKILLER) and Amancay Nahuelpan (CLANDESTINO), comes this tale of resisting oppression, punching Nazis, protecting each other, kicking ass, and demanding liberty for all.
CENTIPEDE #1
CERTAIN MAGICAL INDEX GN VOL 10
CINEMA PURGATORIO #11 (MR)
CLEAN ROOM TP VOL 03 WAITING FOR THE STARS (MR)
CURSE WORDS TP VOL 01 (MR)
DARK DAYS THE CASTING #1
DARK DAYS THE FORGE #1 2ND Printing
DC SUPER FRIENDS BRAVE BATGIRL YR SC
DEADLY CLASS #29 (MR)
DEADPOOL #33 SE
DEFENDERS #3
DETECTIVE COMICS #960
DIABLO HOUSE #1
DIVIDED STATES OF HYSTERIA #2 (MR)
DOCTOR STRANGE SORCERERS SUPREME #10
DOCTOR WHO 12TH YEAR THREE #5
DOCTOR WHO MAGAZINE #513
DORBZ DONNIE DARKO FRANK VINYL FIGURE
DRAGON AGE KNIGHT ERRANT #3
DRIFTER TP VOL 04 REMAINS (MR)
EDGE OF VENOMVERSE #2 (OF 5)
ETERNAL EMPIRE #3
FLASH #26
GAME OF THRONES CLASH OF KINGS #2 (MR)
GENERATION X #4
GFT GRIMM TALES OF TERROR VOL 3 #7 (MR)
GFT VAN HELSING VS THE MUMMY OF AMUN RA #6 (OF 6)
GIL JORDAN TEN THOUSAND YEARS HELL HC | Preview
(W) Maurice Tillieux (A/CA) Maurice Tillieux
Ten Thousand Years in Hell marks a sharp departure from the moody, urban detective style of Fantagraphics's previous Gil Jordan graphic novel by Tillieux, Murder By High Tide. Instead, the title story is a rollicking prison-escape yarn set in South America. The second story, "Boom and Bust," features one of Tillieux's patented spectacular car crashes. Tillieux's masterful graphics remind the reader why he was considered one of the top Franco-Belgian cartoonists of his time and, indeed, of any time.
GODSHAPER #4
GOTHAM ACADEMY SECOND SEMESTER #11
GRASS KINGS #5
GROO PLAY OF GODS #1
GUARDIANS OF GALAXY NEW GUARD TP VOL 02 WANTED
HAL JORDAN AND THE GREEN LANTERN CORPS #24
HARBINGER RENEGADE #5
HORIMIYA GN VOL 08
HULK #8
HULK TP VOL 01 DECONSTRUCTED
IM NOT POPULAR GN VOL 10
INTERVIEWS WITH MONSTER GIRLS GN VOL 05
INVADER ZIM #21
JEAN GREY #4
JEM & THE HOLOGRAMS TP VOL 05 TRULY OUTRAGEOUS
JIM BUTCHER DRESDEN FILES DOG MEN #2 (MR)
JOSIE & THE PUSSYCATS #8
JUDGE DREDD BLESSED EARTH #3
JUGHEAD & ARCHIE COMICS DOUBLE DIGEST #26
JUSTICE LEAGUE OF AMERICA #10
JUSTICE LEAGUE TP VOL 03 TIMELESS (REBIRTH)
KAIJUMAX SEASON 3 #1
KILL OR BE KILLED #10 (MR)
KIM REAPER #4
KONOSUBA GOD BLESSING WONDERFUL WORLD GN VOL 04
LEGEND OF KORRA COLORING BOOK TP
MAGE HERO DENIED #0 | Preview
(W) Matt Wagner (A/CA) Matt Wagner
MATT WAGNER returns with the third and final volume of his epic fantasy trilogy-MAGE: THE HERO DENIED. This long-awaited conclusion follows the adventures of the reluctant everyman hero Kevin Matchstick, who, after encountering a shaggy and beguiling wizard, discovers he is the reincarnation of the legendary Pendragon and able to wield the power of the mystical weapon, Excalibur. The story picks up several years after the fateful climax of THE HERO DEFINED and finds Kevin beginning to once again doubt the virtue of his actions and the course of his destiny.
This introductory, half-sized issue #0 continues MAGE's tradition of an "Interlude" short-adventure, bridging the gap between this series and the previous storyline. It also acts as a perfect jumping-on spot for new readers.
MAGE TP BOOK 01 HERO DISCOVERED VOL 01
MANARA LIBRARY TP VOL 02 EL GAUCHO & OTHER STORIES
MEANWHILE #6
MICRONAUTS WRATH OF KARZA #3 (OF 5)
MISFIT CITY #3 (OF 4)
MONSTERS UNLEASHED TP BATTLEGROUND
MONTHLY GIRLS NOZAKI KUN GN VOL 08
MY LITTLE PONY FRIENDS FOREVER TP VOL 09
MY LITTLE PONY FRIENDSHIP IS MAGIC #56
NEIL GAIMAN AMERICAN GODS SHADOWS #5 (MR)
NEW SUPER MAN #13
NIGHTWING TP VOL 06 TO SERVE AND PROTECT
OCTOBER FACTION DEADLY SEASON TP
OLD MAN LOGAN #26
ORPHAN BLACK DEVIATIONS #3 (OF 6)
PEARLS BEFORE SWINE SUIT YOUR SELFIE TP
PIGS MIGHT FLY SC GN
PLANET OF APES GREEN LANTERN #6
PLANETARY TP BOOK 01
REAL SCIENCE ADVENTURES FLYING SHE-DEVILS #4 (OF 6)
RED DOG #5 (OF 6)
RED HOOD AND THE OUTLAWS #12
REGRESSION #3 (MR)
RIVERS OF LONDON DETECTIVE STORIES #2 (OF 4)
ROCKET #3
ROMULUS TP VOL 01 (MR)
ROSE #4
SCOOBY APOCALYPSE #15
SECRET WARRIORS #4 SE
SHADE THE CHANGING GIRL TP VOL 01 EARTH GIRL MADE
SHADOWS ON THE GRAVE #6 (OF 8)
SOMBRA TP | Preview
(W) Justin Jordan (A) Raul Trevino (CA) Jilipollo
Written by Justin Jordan (The Strange Talent of Luther Strode) and illustrated by Raúl Treviño (,i), Sombra is a gripping exploration of the War on Drugs and the double-edged sword of American intervention, informed by Treviño's experiences in his Mexican homeland. Conrad Marlowe was a respected DEA agent when he disappeared in Mexico while investigating the ruthless drug cartels. Years later, he has resurfaced as a cult leader who has made it his mission to out-brutalize the cartels terrorizing the country. The only DEA agent willing to follow his trail of violence is his own daughter, Danielle, and with the help of a journalist on the ground, she'll have to face the horrors of what her father has become if she wants to survive and bring him to justice. Collects the complete limited series.
SOVEREIGNS #3
SPERA ASCENSION OF THE STARLESS HC VOL 02
SPIDER-MEN II #1 (OF 5)
STAR TREK BOLDLY GO TP VOL 01
STAR WARS DARTH VADER #3
STAR WARS DOCTOR APHRA #9
SUICIDE SQUAD #21
SUPERGIRL #11
SUPERWOMAN #12
TEX PATAGONIA HC
THE CASTOFFS #8
TITANS #13
TOPPS 2017 BASEBALL SERIES 2 Trading Card BOX
TOTALLY AWESOME HULK TP VOL 03 BIG APPLE SHOWDOWN | Preview
(W) Greg Pak (A) Luke Ross, German Peralta, Mahmud A. Asrar (CA) Stonehouse
Protectors Assemble! When an intergalactic threat targets the Big Apple, Amadeus Cho joins an alliance of Asian and Asian-American adventurers to save its populace – including Ms. Marvel, Silk and Shang-Chi, Master of Kung Fu! But who brings them together, and what can they do in the face of a mass alien abduction? Start spreading the news, a bunch of people are leaving today – it's up to you, Protectors, to save New York, New York! Plus our socially awesome Hulk makes another new pal – basketball superstar Jeremy Lin! But when they double team a classic Marvel villain upgraded for an all-new era, will it be a slam dunk? Or will they suffer a blowout against the robot menace QUASI/MO/DO? This is how to win friends and influence people, Cho style!
UNBEATABLE SQUIRREL GIRL #22
UNCANNY AVENGERS #25 SE
UNCLE SCROOGE #28
VIOLENT LOVE #6 (MR)
WALT DISNEY UNCLE SCROOGE HC VOL 03 CROWN GENGHIS KHAN
WAR FOR PLANET OF THE APES #1 (OF 4)
WAR STORIES #24 (MR)
WEAPON X #5 WMD
WONDER WOMAN #26
X-MEN BLUE #7 SE
ZOMBIES ASSEMBLE #0
Thank you!
Million Year Picnic
99 MT Auburn ST downstairs
Cambridge, MA 02138
617-492-6763
https://www.themillionyearpicnic.com