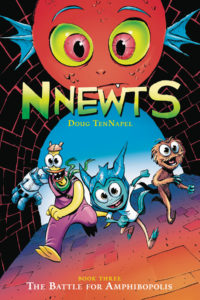 ACTION COMICS #982
AD AFTER DEATH HC | Preview
What if we found a cure for death?
Two of comics' most acclaimed creators, SCOTT SNYDER (WYTCHES, Batman, American Vampire) and JEFF LEMIRE (DESCENDER, PLUTONA, Moon Knight, Sweet Tooth) unite to create an epic like no other, set in a future where a genetic cure for death has been found. Years after the discovery, one man starts to question everything, leading him on a mind-bending journey that will bring him face-to-face with his past and his own mortality.
A unique combination of comics, prose, and illustration, A.D.: AFTER DEATH is an oversized hardcover graphic novel written by SNYDER and fully painted by LEMIRE.
AFTER HOURS GN VOL 01
ALACK SINNER AGE OF INNOCENCE TP
ALL NEW GUARDIANS OF GALAXY ANNUAL #1
AMAZING SPIDER-MAN #29
ASTRO CITY #45
AWKWARD GN
BATGIRL #12
BATMAN 66 MEETS WONDER WOMAN 77 #6
BATMAN BEYOND #9
BATMAN THE SHADOW #3
BEN REILLY SCARLET SPIDER #4
BLACK MAGICK #6
BLACK PANTHER #15
BLOOD BROTHERS #1
BLUE BEETLE #10
BROKEN MOON LEGENDS O/T DEEP #5
BUFFY HIGH SCHOOL YEARS PARENTAL PARASITE TP | Preview
(W) Kel McDonald (A) Yishan Li (CA) Scott Fischer
Buffy struggles to deal with her mom Joyce's newfound interest in spending time with her. Balancing that with her schoolwork, her friends, and her regular vampire-slaying duties is a challenge. However, when Joyce becomes hypnotized by a childlike demon that craves motherly care, Buffy experiences a new kind of sibling rivalry-except in Buffy's case, her "sibling" is actually a monster!
CABLE #2
CARTHAGO ADVENTURES DLX HC
CAVE CARSON HAS A CYBERNETIC EYE TP VOL 01 GOING U
CLEOPATRA IN SPACE GN VOL 04 GOLDEN LION
CLOCKWORK PLANET GN VOL 03
COMICS REVUE PRESENTS
COMPLETE CHESTER GOULD DICK TRACY HC VOL 22
CONAN THE SLAYER #10
COURTNEY CRUMRIN GN VOL 01 NIGHT THINGS
DARK KNIGHT III MASTER RACE #9
DARK NIGHT A TRUE BATMAN STORY TP
DC/MARVEL HEROES 84PC ZIPPER PULL
DEADPOOL VS PUNISHER #5
DEFENDERS #2
DETECTIVE COMICS #959
DEVIL IS PART TIMER GN VOL 09
DOCTOR STRANGE SORCERERS SUPREME #9
DOCTOR STRANGE TP VOL 02 LAST DAYS OF MAGIC | Preview
(W) Jason Aaron, Gerry Duggan, James Robinson (A) Leonardo Romero, Danilo Beyruth, Mike Perkins, Various (A/CA) Chris Bachalo
They have crossed the dimensions, purging them all of sorcery, one by one. Now the Empirikul are here. And with Earth's Master of the Mystic Arts weakened beyond measure, is there any chance of stopping them? The Sorcerer is no longer Supreme, and he will find himself at the mercy of the Imperator! With his magic destroyed and his world on the brink of disaster, are there any more tricks left up Strange's sleeves? Or failing that, how about some cool weapons? Plus: As the Empirikul wreaks havoc on magic users throughout the Marvel Universe, discover Wong's ultimate sacrifice, watch Brother Voodoo make a stand and meet a new player just as she is about to lose the game! Collecting DOCTOR STRANGE (2015) #6-10 and DOCTOR STRANGE: LAST DAYS OF MAGIC #1.
DOCTOR WHO MAGAZINE SPECIAL #46
DUCK AVENGER #5
ELEANOR & THE EGRET #3
ELEKTRA #5
ELEPHANTMEN #77
ELFQUEST FINAL QUEST #20
ELFQUEST FINAL QUEST TP VOL 03
FANTASTIC FOUR EPIC COLL MASTER PLAN OF DOCTOR DOOM
FLASH #25
FLASH TP VOL 09 FULL STOP
FOG OVER TOLBIAC BRIDGE HC
GHOST RIDER TP VOL 01 FOUR ON THE FLOOR
GI JOE A REAL AMERICAN HERO #241
GOLD DIGGER #244
GRANT MORRISONS 18 DAYS #24
GREATEST ADVENTURE #3
HAL JORDAN AND THE GREEN LANTERN CORPS #23
HAUNTED HORROR #28
HELLBLAZER #11
HEROINES #2
HP LOVECRAFT WORLDS TP VOL 01 LURKING FEAR AND OTHER STORIES | Preview
(W) H. P. Lovecraft, Steven P. Jones (A/CA) Octavio Cariello
A chilling collection of four Lovecraft tales adapted by award winning comic writer Steven Philip Jones. Lovecraft is considered one of America's most innovative and popular horror writers. Jones takes the classic tales and, while remaining true to the source, brings them into the modern age which can sometimes make the horror even more terrifying.
I AM GROOT #2
IMAGE PLUS #15
INFAMOUS IRON MAN #9
JEAN GREY #3
JEM & THE HOLOGRAMS INFINITE #1
JOE GOLEM OCCULT DETECTIVE OUTER DARK #2
JONAH HEX YOSEMITE SAM SPECIAL #1
JUDGE DREDD MEGAZINE #384
JUGHEAD #16
JUSTICE LEAGUE OF AMERICA #9
KAMANDI CHALLENGE #6
KULL ETERNAL #1
LUCIFER #19
LUMBERJANES #39
MAGDALENA VOL 4 #4
MAGICAL GIRL RAISING PROJECT LIGHT NOVEL VOL 01
MAKING SCENTS GN
MAN-THING #5
MIGHTY CAPTAIN MARVEL #6
MOON GIRL AND DEVIL DINOSAUR #20
MOORCOCK LIB HC VOL 05 VANISHING TOWER
MOTHER PANIC #8
NIGHTS DOMINION TP VOL 01
NNEWTS GN VOL 03 BATTLE FOR AMPHIBOPOLIS | Preview
(W) Doug TenNapel (A/CA) Doug TenNapel
The final chapter of the epic Nnewts adventure! In the final, epic installment of the Nnewts trilogy, the fate of all Nnewts hangs in the balance! Herk, falling under the influence of Blakk Mudd, is slowly turning into a Lizzark and abandoning his Nnewt friends. Herk's siblings, Sissy and Zerk, have been corrupted by evil and the Lizzark army is still threatening Amphibopolis with total destruction. Now the Nnewts need a true hero to step up and save the day before it's too late! Available in softcover and hardcover editions.
NO ANGEL #4
OCCUPY AVENGERS #8
OCTOPUS PIE TP VOL 05
OVER GARDEN WALL ONGOING #15
PAKNADEL AND TRAKHANOV TURNCOAT TP | Preview
(W) Alex Paknadel (A/CA) Artyom Trakhanov
Written by Alex Paknadel (Arcadia, Assassin's Creed) and illustrated by Artyom Trakhanov (Undertow, American Vampire), Paknadel & Trakhanov's Turncoat is a gripping exploration of the sociopolitical ramifications of occupation in a post-war civilization where the transition from oppression to emancipation is anything but clean. It's been three hundred years since humanity was brutally subjugated by the alien race known as Management-and two years since these invaders abandoned Earth to return to their home world. Following her participation in the brutal massacre that caused Management's withdrawal, resistance fighter Marta Gonzalez is riddled with guilt. Rather than join the new human government, she starts her own private detective agency. When a missing persons case lands on her desk, Gonzalez is forced to confront her own bloody past as she delves into the seedy underworld that's bloomed after the alien departure. Collects the complete limited series.
PATHFINDER RUNESCARS #2
PEEPLAND TP
PEZ DC SUPER HERO GIRLS 12 PIECES
POSTAL TP VOL 05
PREVIEWS #346
PROJECT SUPERPOWERS HERO KILLERS #2
PUNISHER #13
REBELS THESE FREE & INDEPENDENT STATES #4
REDNECK #3
RENATO JONES SEASON TWO #2
SAGA #44
SCOOBY DOO TEAM UP #27
SCREAM MAGAZINE #42
SECRET EMPIRE #5
SECRET WEAPONS #1
SHUTTER #29
SPIDER-GWEN #21
SPIDER-MAN WEBSPINNERS COMP COLL TP
STAR WARS DOCTOR APHRA #8
STAR WARS DROIDS UNPLUGGED #1
STAR WARS POE DAMERON #16
STEVEN UNIVERSE ONGOING #5
SUICIDE SQUAD #20
SUPERGIRL BEING SUPER #4
SUPERNATURAL USUAL SACRIFICES MMPB
TEEN TITANS #9
THANOS TP VOL 01 THANOS RETURNS
TITAN #5
TMNT ONGOING #71
TOTALLY AWESOME HULK #20
UNDERWINTER #4
USAGI YOJIMBO TP VOL 31 HELL SCREEN
VADER RAIDERS T-Shirts in unisex Medium through XL
(A) Joe Wight
If only you knew the power of the basic black T-shirt. Obi-Wan never told you what happened to your fashion coach. WE are your fashion coach. Search your closet. You KNOW it to be true.
VINLAND SAGA GN VOL 09
WALTER SIMONSON THOR RETURN OF BETA RAY BILL ARTIST EDITION
WAYWARD #21
WONDER WOMAN #25
X-FILES (2016) #15
X-MEN BLUE #6
X-O MANOWAR (2017) #4
YOUR NAME GN VOL 01
Thank you!
Million Year Picnic
99 MT Auburn ST downstairs
Cambridge, MA 02138
617-492-6763
https://www.themillionyearpicnic.com