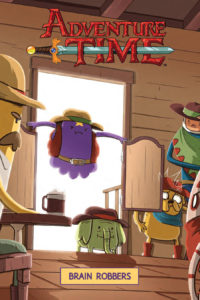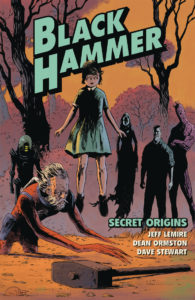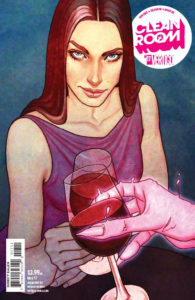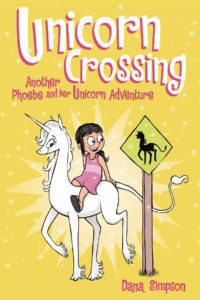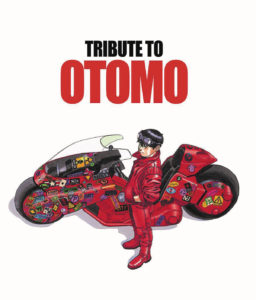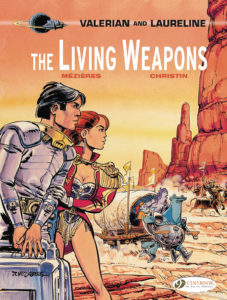 Shortages:
HELLBLAZER TP VOL 01 THE POISON TRUTH (REBIRTH)
UNHOLY #3 (MR)
Weekly Shiplist for Wednesday, 29 March 2017
ADAM STRANGE FUTURE QUEST SPECIAL #1
ADVENTURE TIME ORIGINAL GN VOL 09 BRAIN ROBBERS | Preview
(W) Josh Trujillo (A) Zachary Sterling (CA) Scott Maynard
In this new original graphic novel adventure from Josh Trujillo (Love Machines) and Zachary Sterling (Adventure Time), it's the most important moment of Lumpy Space Princess's life, and it's all going to slip through her fingers if she doesn't get help. Tree Trunks comes out of her mystery-filled retirement for one last job as she agrees to help LSP on a wild west treasure hunt. Finn and Jake secretly follow along to protect their friends but discover that LSP knows more than she is letting on about this particular treasure.
AFAR TP
ALIENS DEFIANCE #10
ALIENS VS PREDATOR LIFE AND DEATH #4
ALL NEW X-MEN #19
ANIMOSITY #6 (MR)
ASIAN COMICS SC
ASTONISHING ANT-MAN TP VOL 03 TRIAL OF ANT-MAN
AVENGERS #5.1
BATGIRL ANNUAL #1
BLACK HAMMER TP VOL 01 SECRET ORIGINS | Preview
(W) Jeff Lemire (A/CA) Dean Ormston
Once they were heroes. Now, banished from existence by a multiversal crisis, the old champions of Spiral City lead simple lives in a timeless farming town. But as they attempt to free themselves from this strange purgatory, a mysterious stranger works to bring them back into action for one last adventure! Collects issues #1-6 of the series.
BLACK WIDOW #12
BLAKE & MORTIMER GN VOL 24 TESTAMENT OF WILLIAM S
BOOSTER GOLD FLINTSTONES SPECIAL #1
BPRD HELL ON EARTH TP VOL 15 COMETH THE HOUR
CAPTAIN AMERICA FALCON SECRET EMPIRE TP NEW Printing
CARTOON UTOPIA GN
CASTOFFS TP VOL 01
CINEMA PURGATORIO #9 (MR)
CLEAN ROOM #17 (MR) | Preview
(W) Gail Simone (A) Walter Geovani (CA) Jenny Frison
The barrier between the known world and what lurks beneath crumbles as the Entities' true malevolence is unleashed on the world, and the moment Astrid Mueller has been preparing for comes with a wave of fire from above. The death that reaches for you may be coming from the mirror!
CLOUD RIDERS GN PRINCESS LEILANI & THE WIND SPINNERS
COMPLETE JIM APARO CHARLTON PHANTOM HC
CONAN THE SLAYER #7
CRYPTOCRACY TP
DAMOCLES GN VOL 04 EROS & THANATOS
DARK KNIGHT III MASTER RACE #8 (OF 9)
DEADLY CLASS #27 (MR)
DEADPOOL AND MERCS FOR MONEY #9
DIVINITY III STALINVERSE #4
DOC SAVAGE RING OF FIRE #1 (OF 4)
DOCTOR WHO 11TH HC VOL 06 MALIGNANT TRUTH
DOCTOR WHO 9TH #11
DOOM PATROL DIRECTORS CUT #1 (MR)
DOOM PATROL TP BOOK 03 (MR)
ELFQUEST FINAL QUEST #19
EMILY AND THE STRANGERS HC VOL 03 ROAD TO NOWHERE TOUR
GALAXYS FOR HIRE #2 (OF 4)
GARTH ENNIS RED TEAM DOUBLE TAP #8 (OF 9) (MR)
GENERATION ZERO #8
GFT VAN HELSING VS THE MUMMY OF AMUN RA #3 (OF 5)
GHOST RIDER #5
GI JOE A REAL AMERICAN HERO #238
GRAND PASSION #4 (OF 5) (MR)
GREEN LANTERN SPACE GHOST SPECIAL #1
HADRIANS WALL #5 (MR)
HARLEYS LITTLE BLACK BOOK #6
HAUNTED HORROR HC VOL 05 SCREAMING SKULLS
HEAVENLY NOSTRILS CHRONICLE GN VOL 05 UNICORN CROSSING | Preview
(W) Dana Simpson (A/CA) Dana Simpson
Time flies in this fifth volume of Phoebe and Her Unicorn! Follow the lovable duo as they experience somewhat-spooky Halloween parties, ecstatic snow days, and looming summer reading assignments. Although the journey of growing up can sometimes be difficult, along the way Phoebe and Marigold discover something more enduring than goblin fads, unicorn spa vacations, and even a Spell of Forgetting – their one-of-a-kind friendship.
HEAVY METAL #285 (MR)
HENCHGIRL TP
HILLBILLY TP VOL 01
ILLUSTRATION MAGAZINE #55
IMAGE PLUS #12 (WALKING DEAD HERES NEGAN PT 12)
INFAMOUS IRON MAN #6
INHUMANS PRIME #1
INSEXTS #10 (MR)
INVINCIBLE TP VOL 23
IRON FIST LIVING WEAPON TP COMPLETE COLLECTION
JAMES BOND HAMMERHEAD #6 (OF 6)
JEM & THE HOLOGRAMS #24
JUGHEAD THE HUNGER ONE SHOT
JUSTICE LEAGUE OF AMERICA #3
KAMANDI CHALLENGE #3 (OF 12)
LADYCASTLE #2
LAZARUS #26 (MR)
LEGION OF REGRETTABLE SUPERVILLAINS HC
LOBSTER JOHNSON PIRATES GHOST #1
LOVE & ROCKETS LIBRARY GILBERT GN VOL 03 BEYOND PALOMAR
LUCKY LUKE TP VOL 62 CURSED RANCH
MARVEL PREVIEWS #21 APRIL 2017
MERCY SPARX YEAR ONE #2 (OF 3)
MIGHTY CAPTAIN MARVEL #3
MOONSHINE #6 (MR)
NINJAK #25
OCCUPY AVENGERS #5
OLD GUARD #1 2ND Printing (MR)
OLD GUARD #2 (MR)
OLD MAN LOGAN #20
ORPHAN BLACK DEVIATIONS #1 (OF 6)
OTOMO GLOBAL TRIBUTE TO THE GENIUS BEHIND AKIRA HC | Preview
With the manga and anime Akira, Katsuhiro Otomo changed art and pop culture worldwide. Now some of the most admired illustrators and comics artists in the world have come together to pay tribute to this master, in a beautiful tribute art book.This 168-page collection began life as a limited-edition tribute to Otomo given only to attendees of the prestigious Angouleme International Comics Festival, where Otomo was recipient of the Grand Prize in 2015. Now it's available to readers and collectors around the world, with additional content from a list of more than 80 fine artists, illustrators, and comics legends, including Stan Sakai, Jiro Taniguchi, Tomer and Asaf Hanuka, and many others. In full color at a large size.
OUTCAST BY KIRKMAN & AZACETA #26 (MR)
PEANUTBUTTER & JEREMY BEST BOOK EVER TP (Offered Again)
PREVIEWS #343 APRIL 2017
REGGIE AND ME #4 (OF 5)
ROM #8
RUE MORGUE SPECIAL SHARKS
SAGA TP VOL 07 (MR)
SERENITY NO POWER IN THE VERSE #6 (OF 6)
SPACE RIDERS GALAXY OF BRUTALITY #1 (MR)
SPIDER-MAN MILES MORALES TP VOL 02
SPIDER-WOMAN #17
STAR WARS ROGUE ONE MISSION DEBRIEF MAGAZINE
STAR-LORD #5
SUICIDE SQUAD BANANA SPLITS SPECIAL #1
THANOS #5
THUNDERBOLTS #11
TITANS ANNUAL #1
TOPPS 2017 HERITAGE BASEBALL Trading Card BOX
TORCHWOOD TP VOL 01 WORLD WITHOUT END
UNFOLLOW #17 (MR)
VALERIAN GN VOL 14 LIVING WEAPONS | Preview
(W) Pierre Christen (A/CA) Jean-Claude Mezieres
Valerian and Laureline, no longer members of any organisation, are down to doing space deliveries. With Galaxity gone and money getting scarce, their aging spaceship is becoming a hazard, which is pushing Valerian into accepting questionable cargo. After a somewhat rough landing, our two exagents, on their way to deliver their goods, meet some individuals with very surprising gifts who claim to be itinerant artists. But is that really all they are?
VELVET DLX ED HC (MR)
VISITOR HOW AND WHY HE STAYED #2 (OF 5)
WEIRD LOVE #17
WHAT PARSIFAL SAW GN
X-FILES (2016) #12
X-MEN EPIC COLLECTION TP SECOND GENESIS
X-MEN PRIME #1
Thank you!
Million Year Picnic
99 MT Auburn ST downstairs
Cambridge, MA 02138
617-492-6763
https://www.themillionyearpicnic.com