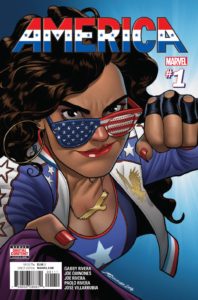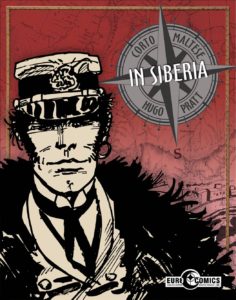 Weekly Shiplist for Wednesday, 1 March 2017
ADVENTURE TIME #62
ALL TIME COMICS CRIME DESTROYER #1
AMAZING SPIDER-MAN #25 DEADPOOL TIL DEATH DO US MI
AMERICA #1 | Preview (W) Gabby Rivera (A) Joe Quinones
At last! Everyone's favorite no-nonsense powerhouse, America Chavez, gets her own series!
Written by critically-acclaimed YA novelist Gabby Rivera (Juliet Takes A Breath) and drawn by all-star artist Joe Quinones (HOWARD THE DUCK), Marvel Comics' brand new AMERICA series shines a solo spotlight on the high-octane and hard-hitting adventures of the one and only America Chavez!
America has always been uncontestably awesome, and as the newly appointed leader of the Ultimates, she's now officially claimed her place as the preeminent butt-kicker of the Marvel Universe! But while leading a team of heroes and punching out big bads is great and all, it doesn't really leave much time for self-discovery… So what's a super-powered teenager do when she's looking for a little fulfillment? She goes to college!
She just has to stop an interdimensional monster or two first, plus shut down a pesky alien cult that's begun worshipping her exploits!
Rated T+
ANIMOSITY TP VOL 01 (MR)
AQUAMAN #18
ATTACK ON TITAN LOST GIRLS GN VOL 02
AVENGERS #5
BALLER FETT T-SHIRT XL
BALTIMORE THE RED KINGDOM #2
BATMAN #18
BIG NATE WHATS A LITTLE NOOGIE BETWEEN FRIENDS TP
BRAVE CHEF BRIANNA #1
BULLSEYE #2 (OF 5)
CEREBUS IN HELL #2
CHAMPIONS #6
CINEFEX #151
CINEMA PURGATORIO #8 (MR)
CLONE CONSPIRACY OMEGA
COMPLETE TALES FROM THE CON TP
CORTO MALTESE GN IN SIBERIA
CYBORG #10
DAVE STEVENS ROCKETEER ARTISAN ED TP DIRECT MARKET EXCLUSIVE
DC COMICS BOMBSHELLS #23
DEADPOOL #28
DEATH OF HAWKMAN #6 (OF 6)
DEATH OF X TP
DOCTOR STRANGE #18
DOCTOR WHO 11TH YEAR THREE #3
DOCTOR WHO 9TH #10
EVERAFTER FROM THE PAGES OF FABLES #7 (MR)
EXTREMITY #1 | Preview
(W) Daniel Warren Johnson (A/CA) Daniel Warren Johnson SERIES PREMIERE! Thea dreams. Not of a better life, but of revenge on the clan that ruined her family. With ferocious battles between man, machines, and monsters ahead…who knows where her quest for vengeance will take her? Creator DANIEL WARREN JOHNSON (Space Mullet) and colorist MIKE SPICER present a bold new vision, where the beauty and imagination of Studio Ghibli meet the intensity of Mad Max, in this all-new Skybound Original.
FAIRY TAIL GN VOL 58
FAITH (ONGOING) #9
FALL AND RISE OF CAPTAIN ATOM #3 (OF 6)
FILMFAX #147
FLASH GORDON KINGS CROSS #5 (OF 5)
GIANT DAYS #24
GLITTERBOMB TP VOL 01 RED CARPET (MR)
GOLD DIGGER #239
GOLDIE VANCE #10
GREEN ARROW #18
GREEN HORNET REIGN OF DEMON #4 (OF 4)
GREEN LANTERNS #18
GRIMM FAIRY TALES #3
HARLEY QUINN #15
HAWKEYE #4
IMAGE PLUS #11 (WALKING DEAD HERES NEGAN PT 11)
INJUSTICE GROUND ZERO #7
INVISIBLE REPUBLIC #15 (MR)
JAMES BOND #1
JUDGE DREDD ANNUAL #1
JUSTICE LEAGUE #16
KARNAK TP FLAW IN ALL THINGS | Preview
(W) Warren Ellis (A) Gerardo Zaffino, Antonio Fuso, Roland Boschi (CA) David Aja
"My curse is that I see the flaw in all things. Systems. Philosophies. Structures. People. Everything. Never forget who I am." He is Karnak of the Inhumans, and you will know his name. And when Phil Coulson seeks him out to consult on a S.H.I.E.L.D. case with Inhuman implications, what Karnak finds will terrify you. Can even he go it alone against an entire warehouse full of enemy agents? And when a death cult abducts an Inhuman child and installs him as its messiah, will Magister Karnak of the Tower of Wisdom rescue the boy…or join the cult and help bring on the apocalypse? Karnak is the calm amid the storm, and he has the fate of humanity in his lethal hands. Will he save it, or end it? Collecting KARNAK #1-6.
KID BEOWULF AMP ED GN VOL 02 SONG OF ROLAND
LUCIFER TP VOL 02 FATHER LUCIFER (MR)
LUMBERJANES GOTHAM ACADEMY TP
MARVEL PREVIEWS #20 MARCH 2017
MIDNIGHTER AND APOLLO #6 (OF 6)
MONSTERS UNLEASHED #4 (OF 5)
MOON KNIGHT #12
MOTOR GIRL #4
MY LITTLE PONY ANNUAL 2017 #1
NAILBITER #30 (MR)
NEIL GAIMANS MR HERO TP VOL 02
NEW AVENGERS BY BENDIS COMPLETE COLLECTION TP VOL 03
NIGHTWING #16
ONCE AND FUTURE QUEEN #1
PAPER GIRLS #12
POP MARVEL CLASSIC LUKE CAGE PX VINYL FIGURE (Offered Again)
POP MARVEL IRON FIST PX VIN FIG
PREVIEWS #342 MARCH 2017
RAT QUEENS #1 CVR A GIENI (MR)
RIVERDALE ONE SHOT | Preview
(W) Roberto Aguirre-Sacasa (A/CA) Alitha Martinez
Learn the secrets and hidden tales from the summer before the eternal love-triangle begins in this special issue, which features four short stories focusing on the major players and events in the Riverdale series. You dare not miss this special commemorative issue in advance of the upcoming ongoing Riverdale series, written by Roberto Aguirre-Sacasa (Afterlife with Archie, Chilling Adventures of Sabrina) and the writers of the CW's Riverdale series, with stunning art by Alitha Martinez (Black Panther: Worlds of Wakanda)!
ROYAL CITY #1 (MR)
SAVAGE DRAGON #221 (MR)
SCIENCE COMICS BATS SC GN
SHADE THE CHANGING GIRL #6 (MR)
SHADOW DOUBLE NOVEL VOL 115 KEEPERS GOLD & FORGOTTEN GOLD
SHANG-CHI MASTER OF KUNG FU OMNIBUS HC VOL 03
SILK #18
SPIDER-MAN 2099 #21
STAR WARS #29
STUFF OF LEGEND CALL TO ARMS #1
SUPER POWERS #5 (OF 6)
SUPERMAN #18
TALES FROM THE DARKSIDE HC
THINK TANK VOL 5 #1
TITANS TP VOL 01 THE RETURN OF WALLY WEST (REBIRTH)
TOTALLY AWESOME HULK #1.MU
UNCLE SCROOGE HIMALAYAN HIDEOUT TP
UNSTOPPABLE WASP #3
WALKING DEAD #165 (MR)
WALKING DEAD TP VOL 27 WHISPERER WAR (MR)
WAYWARD TP VOL 04 THREADS & PORTENTS (MR)
WOODS #30
X-FILES (2016) #11
X-FILES DEVIATIONS 2017
Shortages
SAVAGE THINGS #1 (OF 8) (MR)
UNHOLY #2 (MR)
Thank you!
Million Year Picnic
99 MT Auburn ST downstairs
Cambridge, MA 02138
617-492-6763
https://www.themillionyearpicnic.com