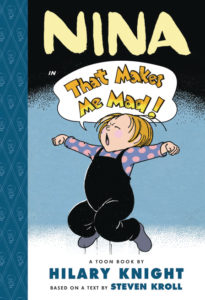 Shortages
GFT TALES OF TERROR VOL 4 #8
GHOST FRIENDS FOREVER GN VOL 02
MAN-EATERS #2
MUTANT X TP VOL 01 COMPLETE COLLECTION
Delayed by Diamond
DC COMICS DETECTIVE COMICS COMP COVERS MINI HC VOL 01
Weekly Shiplist for Wednesday, 31 October 2018
AHO GIRL (CLUELESS GIRL) GN VOL 09
ARCHIE MEETS BATMAN 66 #4
ARCHIES TP VOL 02
ART OF WAR GN
AVENGERS HALLOWEEN SPECIAL #1
BATMAN HAUNTED KNIGHT TP NEW Edition
BATMAN SECRET FILES #1
BATMAN THE MAXX ARKHAM DREAMS #2 (OF 5)
BECOMING ANDY WARHOL GN
BILL SIENKIEWICZ MUTANTS & MOON KNIGHTS ARTIFACT Edition HC
BLACK PANTHER #5
BLACK SCIENCE TP VOL 08 LATER THAN YOU THINK (MR)
BOOKS OF EARTHSEA COMPLETE ILLUSTRATED EDITION HC
(W) Ursula K. Le Guin (A/CA) Charles Vess
Ursula K. Le Guin's Earthsea novels are some of the most acclaimed and awarded works in literature, commemorating their enduring place in the hearts and minds of readers and the literary world alike. For the first time ever, they're all together in one volume, including the early short stories, Le Guin's "Earthsea Revisioned" Oxford lecture, and a new Earthsea story, never before printed. With a new introduction by Le Guin herself, this essential edition will also include fifty illustrations by renowned artist Charles Vess, specially commissioned and selected by Le Guin, to bring her refined vision of Earthsea and its people to life in a totally new way.
BRITANNIA LOST EAGLES OF ROME #4 (OF 4)
CINEFEX #161
COMPLETE OUR VALUED CUSTOMERS TP
CROSSED PLUS 100 MIMIC #6 (MR)
CURSE OF BRIMSTONE #7
DAREDEVIL #610
DEATHSTROKE YOGI BEAR SPECIAL #1
DEMON HELL IS EARTH TP
DIARY OF A WIMPY KID HC VOL 13 MELTDOWN
(W) Jeff Kinney (A/CA) Jeff Kinney
When snow shuts down Greg Heffley's middle school, his neighborhood transforms into a wintry battlefield. Rival groups fight over territory, build massive snow forts, and stage epic snowball fights. And in the crosshairs are Greg and his trusty best friend, Rowley Jefferson. It's a fight for survival as Greg and Rowley navigate alliances, betrayals, and warring gangs in a neighborhood meltdown. When the snow clears, will Greg and Rowley emerge as heroes? Or will they even survive to see another day?
DOCTOR WHO OFFICIAL ANNUAL 2019 HC
DODGE CITY TP
DOOM PATROL #12 (MR)
DYLAN DOG CHESS OF DEATH
EC GRAHAM INGELS DOCTOR OF HORROR HC
EDGAR ALLAN POE'S SNIFTER OF TERROR #1 (MR)
EDGE OF SPIDER-GEDDON #3 (OF 4) 2ND Printing
EDGE OF SPIDER-GEDDON #4 (OF 4) 2ND Printing
EXTERMINATION #4 (OF 5)
FAITH DREAMSIDE #2 (OF 4)
FENCE #11
FOLLOW ME IN GN
GOLD DIGGER #257
GREEN LANTERN HUCKLEBERRY HOUND SPECIAL #1
HEROES IN CRISIS #2 (OF 9)
HEX WIVES #1 (MR)
HOMESTUCK HC VOL 03 ACT 4
I AM A HERO OMNIBUS TP VOL 08
I AM NOT OKAY WITH THIS GN EXPANDED Edition
I FEEL MACHINE GN
(W) Krent Able, Julian Hanshaw (A) Box Brown, Shaun Tan, Tillie Walden, & others
Since the turn of the century, technology has transformed the way we communicate and consume, how we work and fall in love and navigate the world. We are increasingly reliant on it – but few of us know anything about the science that is driving this technological change. Kurt Vonnegut famously said that to leave technology out of fiction is to misrepresent life. Here, six acclaimed graphic novelists present reports from the digital frontier. Exploring everything from artificial intelligence to virtual reality, I Feel Machine is by turns cautionary and celebratory, touching and terrifying. It challenges and confronts the digital world using the most technologically efficient machine ever invented: the book.
INCREDIBLE HULK EPIC COLLECTION TP LEADER LIVES
INFINITY WARS IRON HAMMER #2 (OF 2)
INJUSTICE VS THE MASTERS OF THE UNIVERSE #4 (OF 6)
INVADER ZIM #36
IRON GIANT DIECAST 1/12 SCALE ACTION FIGURE
IT CAME OUT ON A WEDNESDAY #3
JESSICA JONES MPGN TP BLIND SPOT
JL DARK & WONDER WOMAN THE WITCHING HOUR #1
JUSTICE LEAGUE AQUAMAN DROWNED EARTH #1
KIM REAPER VAMPIRE ISLAND #3
LADY MECHANIKA DAME SANS MERCI #3 (OF 3)
LEAGUE OF EXTRAORDINARY CEREBI #1 (OF 1)
LIBRARIANS TP VOL 01
LOST CITY EXPLORERS #5
LUMBERJANES ILLUS HC NOVEL VOL 03 GOOD EGG
MAD MAGAZINE #4
MAESTROS TP VOL 01 (MR)
MAN OF STEEL BY BRIAN MICHAEL BENDIS HC
MAN-EATERS #2
MARVEL TWO-IN-ONE #11
MOONSHINE TP VOL 02 (MR)
MORT CINDER HC (MR)
MULTIPLE MAN #5 (OF 5)
MY PRETTY VAMPIRE GN
NANCY DREW #5
NIGHTWING MAGILLA GORILLA SPECIAL #1
NINA IN THAT MAKES ME MAD GN
(W) Hilary Knight, Steve Kroll (A/CA) Hilary Knight
What makes Nina mad? Lots of things – lots of little, everyday things, frustrations that all children will recognize. But Nina knows how to speak her mind and that makes her feel much better. In a series of humorous vignettes, Hilary Knight, the artist who brought the enormously successful Eloise to life, applies his magic to a text by veteran children's book writer Steven Kroll, and brings to life a spunky character who will show young children how to articulate their feelings. A TOON Level 2 Reader book.
OLD MAN HAWKEYE #10 (OF 12)
OLD MAN LOGAN #50
PEANUTS DELL ARCHIVE HC VOL 01
PRE CODE CLASSICS HAND OF FATE HC VOL 01
REALM #10 (MR)
RUE MORGUE MAGAZINE #185
SEX DEATH REVOLUTION #1 (MR)
SHADOW DOUBLE NOVEL VOL 135 GHOST MURDERS SHIPS OF DOOM
SILVER AGE CLASSICS TALES OF MYSTERIOUS TRAVELER HC VOL 01
SONIC THE HEDGEHOG #10
SPIDER-FORCE #1 (OF 3) SG
SPIDERGEDDON #0 2ND Printing
STAR WARS ADVENTURES #15
STAR WARS TALES FROM VADERS CASTLE #5 (OF 5)
STEPHEN MCCRANIES SPACE BOY TP VOL 02
(W) McCranie, Stephen (A/CA) McCranie, Stephen
To Amy, everyone has a flavor. Jemmah, her best friend from the colony, is the flavor of pineapple and jalapeño. Cassie, from Earth, is like red pepper. After being forced to leave her space-colony home when her dad was fired, Amy starts to adapt to a new life on Earth. High School seems difficult at first, but a close group of friends begin to make the transition easy for Amy, and she finds herself falling down a rabbit hole in her relationship with the mysterious, flavorless Oliver.
o Currently serialized on Webtoons.com with over 50,000 unique readers (19,000 from the US alone)
o From the creator of Mal and Chad (published by Penguin Young Readers and carried in the scholastic Book Fair)
STRANGER THINGS #2
SUPERMAN TOP CAT SPECIAL #1
TANGLED HAIR RAISING ADVENTURES #2 (OF 3)
TERRIFICS ANNUAL #1
TINTIN ART OF HERGE SC
TO BUILD A FIRE GN
TO KILL A MOCKINGBIRD HC GN
TONY STARK IRON MAN #5
TWISTS OF FATE HC
UBER INVASION #17 (MR)
VAGRANT QUEEN #5 (MR)
VAULT OF SPIDERS #1 (OF 2) SG
WAYWARD #30 (MR)
WEAPON H TP VOL 01 AWOL
WEAPON X TP VOL 04 RUSSIAN REVOLUTION
WEST COAST AVENGERS #3
WHAT IF? MAGIK #1
WILD STORM #18
WYTCHES BAD EGG HALLOWEEN SPECIAL (ONE-SHOT) (MR)
(W) Scott Snyder (A/CA) Jock
This one shot collects the story so far as serialized in Image+ and also contains a new 13-page story.
X-MEN BLACK EMMA FROST #1
X-MEN BLUE TP VOL 05 SURVIVING EXPERIENCE
X-MEN GRAND DESIGN SECOND GENESIS TP
(A) = Adult Readers
GN = Graphic Novel
HC = Hardcover
(MR) = Mature Readers
OGN = Original Graphic Novel (never released as issues)
SC = Softcover
TP = Trade Paperback
Thank you!
Million Year Picnic
99 MT Auburn ST downstairs
Cambridge, MA 02138
617-492-6763