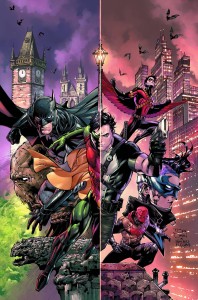 1602 WITCH HUNTER ANGELA #4 SWA
8HOUSE #4 YORRIS PART ONE (MR)
ACTION COMICS #45
ALIENS VAMPIRELLA #2 (OF 6)
ALL NEW ALL DIFFERENT POINT ONE #1
AMAZING SPIDER-MAN #1 | Preview
Publisher: MARVEL COMICS
(W) Dan Slott (A) Giuseppe Camuncoli, Various (CA) Alex Ross
Spider-Man has gone global! Parker Industries is more successful than ever, with offices in New York, Shanghai, London and San Francisco and Peter Parker is racking up the frequent flyer miles with his "bodyguard" Spider-Man in tow, of course. But success breeds enemies and a reinvigorated Zodiac have also widened their scope to threaten the whole world. Join Dan Slott and Giuseppe Camuncoli as they take Spider-Man to the next level! This huge first issue also includes stories featuring Silk, Spidey 2099, Spider-Woman and much more!
ASTRO CITY PRIVATE LIVES TP
ATOMIC ROBO & THE RING OF FIRE #2 (OF 5)
AVENGERS #0
AXCEND #1 (MR)
BABY SITTERS CLUB COLOR ED GN VOL 03 MARY ANNE SAVES THE DAY
BATMAN AND ROBIN ETERNAL #1 | Preview
Publisher: DC COMICS
(W) James TynionIV, Scott Snyder (A/CA) Tony S. Daniel
It's here at last-the sequel to the blockbuster weekly series BATMAN ETERNAL!
Five years ago, Batman and Robin worked the most disturbing case of their crimefighting careers-bringing down the organization of the ultimate human trafficker, the mysterious woman known only as Mother. At the time, Dick Grayson never quite understood the scope of that case, but now its darkest secrets are coming back to haunt him and everyone else who ever worked with Batman! With Bruce Wayne now lost to them, Dick and all his allies are out in the cold! Who can they trust? Is someone among them not who they say they are? And who is the deadly, silent young woman in black who's come to Gotham City looking for Batman?
Prepare yourself for six months of international intrigue, twists and turns, and new additions to the world of Batman and Robin, from showrunners James Tynion IV and Scott Snyder, and writers Tim Seeley, Steve Orlando, Genevieve Valentine, Ed Brisson, and Jackson Lanzing & Collin Kelley!
BATMAN ARKHAM KNIGHT #9
BATMAN BEYOND #5
BATMAN ETERNAL TP VOL 03
BATMAN THE ROAD TO NO MANS LAND TP VOL 01
BEYOND MARS HC
BITCH PLANET TP VOL 01 EXTRAORDINARY MACHINE (MR)
BLOODSHOT REBORN #7
BOB POWELLS COMPLETE JET POWERS HC
BOBS BURGERS ONGOING #4
CEMETERY GIRL GN BOOK 02 INHERITANCE
CINEFEX #143
CLUSTER #8
CODENAME BABOUSHKA: CONCLAVE OF DEATH #1
COMPLETE ADVENTURES OF CHOLLY & FLYTRAP HC
CONTEST OF CHAMPIONS #1
COPPERHEAD #10
CYBORG #3
D4VE2 #2 (OF 4)
DARK CORRIDOR #3 (MR)
DARK TOWER DRAWING OF THREE LADY OF SHADOWS #2 (OF 5)
DARTH VADER #10
DEADLY CLASS TP VOL 03 THE SNAKE PIT (MR)
DETECTIVE COMICS #45
DOCTOR STRANGE #1 | Preview
Publisher: MARVEL COMICS
(W) Jason Aaron (A/CA) Chris Bachalo
Who do you call when things are coming out of your dreams and trying to kill you? Or when your daughter is cursing in Latin and walking like a spider? Or when your dog keeps screaming at you to strangle your neighbors? Doctor Strange, of course. He's the only person standing between us and the forces of darkness, but has he been paying his tab? Every act of magic has a cost and Jason Aaron (THOR, ORIGINAL SIN) and Chris Bachalo (UNCANNY X-MEN) are going to put Stephen Strange through hell to even the scales.
DOCTOR STRANGE TP DONT PAY FERRYMAN
DOCTOR WHO 11TH YEAR TWO #1
DOCTOR WHO 12TH HC VOL 02
EERIE ARCHIVES HC VOL 20
EI8HT TP VOL 01
FAIRY TAIL GN VOL 50
FANGORIA #344
FROM HELL & FROM HELL GN SLIPCASE ED
GOON ONCE UPON A HARD TIME #4 (OF 4)
GRANT MORRISONS 18 DAYS #4
GREEN ARROW #45
GREEN ARROW ANNUAL #1
GREEN LANTERN #45
GROOT #5
GRUMPY CAT #1 (OF 3)
HAUNTED HORROR #19
HE MAN THE ETERNITY WAR TP VOL 01
HEROES: VENGEANCE #1 (OF 5) (MR)
HUMAN BODY THEATER GN
HUMAN BODY THEATER HC GN
HUMANS #8 (MR)
IMPERIUM #9 (NEW ARC)
INJECTION TP VOL 01 (MR)
INJUSTICE GODS AMONG US YEAR FOUR #11
INVINCIBLE IRON MAN #1
IVAR TIMEWALKER TP VOL 02 BREAKING HISTORY
JIM HENSONS DARK CRYSTAL HC VOL 03 CREATION MYTHS
JOHN FLOOD #3
JOURNEY STAR WARS FASE #2 (OF 4)
JUDGE DREDD MEGAZINE #364
JUGHEAD #1
JUPITERS CIRCLE TP VOL 01 (MR)
JUSTICE INC AVENGER #5
KANE CHRONICLES GN BOOK 02 THRONE OF FIRE
KNIGHTS OF THE DINNER TABLE #224
LARA CROFT FROZEN OMEN #1 (OF 5) | Preview
Publisher: DARK HORSE COMICS
(W) Corinna Bechko (A) Randy Green, Andy Owens (CA) Jean-Sebastien Rossbach
An all-new Lara Croft miniseries begins with Corinna Bechko at the helm!
It's up to Lara to stop a group of cultists from causing worldwide cataclysmic devastation, and ancient ivory artifacts hold the key to both salvation and destruction! It's a race against time in Lara's new quest, filled with incredible action, dual pistols, and high-spirited adventure.
LAST MAN GN VOL 03 CHASE
LEGEND OF OZ WICKED WEST #1
LOBO #11
LUKE CAGE COFFEE MUG
LUMBERJANES TP VOL 02
MARVEL LEGACY OF JACK KIRBY SLIPCASE HC
MARVEL SUPER HERO SPECTACULAR #1
MARVEL UNIVERSE GUARDIANS OF GALAXY #1
MASKS 2 #7 (OF 8)
MIDNIGHTER #5
MINIMUM WAGE SO MANY BAD DECISIONS #6 (OF 6) (MR)
MIRACLEMAN BY GAIMAN AND BUCKINGHAM #3 (MR)
MONSTER TP VOL 06 PERFECT ED URASAWA
MY LITTLE PONY FRIENDS FOREVER #21
MY LITTLE PONY FRIENDSHIP IS MAGIC TP VOL 08
NAILBITER #16 (MR)
OCTOBER FACTION #9
OH MY GODDESS RTL TP VOL 48
OLD MAN LOGAN #5 SWA
OMEGA MEN #5
ONE PUNCH MAN GN VOL 02
ORBITAL GN VOL 06 RESISTANCE
OUTCAST BY KIRKMAN & AZACETA TP VOL 02 (MR)
PAPER GIRLS #1 | Preview
Publisher: IMAGE COMICS
(W) Brian K. Vaughan (A/CA) Cliff Chang
SAGA writer BRIAN K. VAUGHAN launches a brand-new ONGOING SERIES with superstar Wonder Woman artist CLIFF CHIANG! In the early hours after Halloween of 1988, four 12-year-old newspaper delivery girls uncover the most important story of all time. Stand By Me meets War of the Worlds in this mysterious young adult adventure, starting with a spectacular DOUBLE-SIZED FIRST ISSUE for the regular price of just $2.99!
PLUTONA #2 (MR)
POPEYE CLASSICS ONGOING #39
POWERS #5 (MR)
PROJECT NEMESIS #1 (OF 6)
PUBLIC RELATIONS #2 (OF 5) (MR)
REGULAR SHOW #28
ROBOTECH VOLTRON TP
RUINS GN
SAINTS #1 (MR)
SECRET WARS #6 (OF 9) SWA
SENSATION COMICS FEATURING WONDER WOMAN #15
SHADOW DOUBLE NOVEL VOL 100 DEATH TRIANGLE & CRIMSON DEATH
SHERLOCK HOLMES 7 PER-CENT SOLUTION #3 (OF 5)
SHERLOCK HOLMES AND THE NECRONOMICON HC
SHIELD COMPLETE COLLECTION OMNI HC STERANKO DM VAR ED
SIEGE #4 SWA
SOUTHERN BASTARDS #11 (MR)
SPACE RIDERS #4 (OF 4) (MR)
SPIDER-ISLAND #5 (OF 5) SWA
STAR WARS #10
STAR WARS DARTH VADER TP VOL 01 VADER
STAR WARS LANDO #5 (OF 5)
STAR WARS TP VOL 01 SKYWALKER STRIKES
STARVE #5 (MR)
STORY OF MY TITS GN
SURFACE #4 (MR)
SURVIVORS CLUB #1 (MR)
TELOS #1
TET #2 (OF 4) | Preview
Publisher: IDW PUBLISHING
(W) Paul Allor (A/CA) Paul Tucker
The city is on fire; the murder remains unsolved; star-crossed lovers are split apart. As the Tet Offensive begins, Eugene abandons his post, and navigates a hellish landscape, desperate to find the woman he loves. But who's going to save him? Fans of True Detective will love this tale of a murder investigation that spans decades.
THIS DAMNED BAND #3 (OF 6)
TOKYO ESP GN VOL 01
TRAIN CALLED LOVE #1 (OF 10)
TRANSFORMERS VS GI JOE #9
UBER TP VOL 05 (MR)
WALKING DEAD COMPENDIUM TP VOL 03
WEREWOLF BY NIGHT OMNIBUS HC
WHAT IF INFINITY INHUMANS #1
WHAT IF INFINITY THANOS #1
WICKED & DIVINE PANTHEON CIRCLE MENS T-Shirts, Small-XXL
WICKED & DIVINE PANTHEON CIRCLE WOMANS T-Shirts, Small-L
X-FILES SEASON 11 #3
---
Shortages
CAPTAIN CANUCK 2015 ONGOING #4
CBLDF LIBERTY ANNUAL 2015 #0
AVENGERS NO MORE BULLYING TP
BARRACUDA GN VOL 04 REVOLTS
MORTAL KOMBAT X #11 (MR)
MUTTS WINTER DIARIES TP
SURFACE TENSION #5 (OF 5)
WE STAND ON GUARD #4 (MR)
---
---
MYP HOURS CHANGING: Starting Saturday, 26 September 2015, we will be opening at 11am
on Saturdays.

---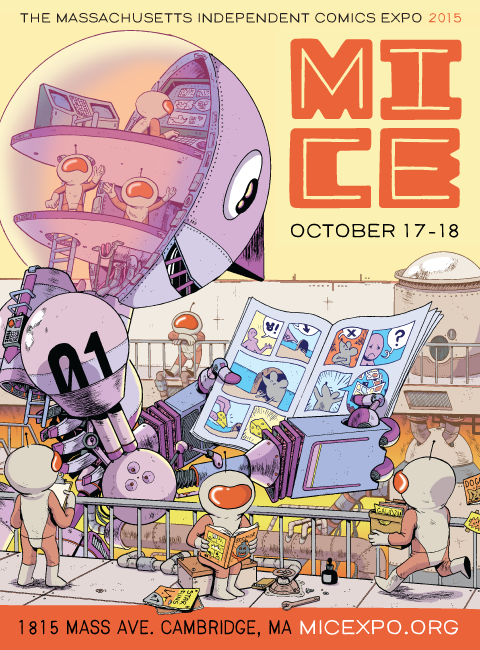 MICE IS COMING!!! The Massachusetts Independent Comics Expo (MICE) is coming to Lesley University on Saturday & Sunday, 17 & 18 October 2015! It's going to be sO AWESOME I don't even have all the words I need to tell you HOW awesome it's going to be.
http://micexpo.org
---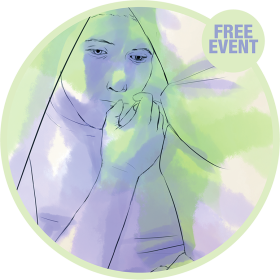 The Boston Comics Roundtable invites you to a conversational discussion on the genesis, process, and philosophy of the Inaction Comics anthology on Sunday October 11th at 7 PM with editor Kimball Anderson and fellow contributors Cathy G. Johnson, MJ Robinson, and Laurel Lynn Leake. Held at the Boston Comics Workspace at 561 Windsor St., Studio 306. Free Event.
---
IF YOU HAVE A COMICKY EVENT YOU'D LIKE TO HAVE LISTED HERE, DROP US A LINE! Just contact us.
---
Thank you!
Million Year Picnic
99 MT Auburn ST downstairs
Cambridge, MA 02138
617-492-6763
https://www.themillionyearpicnic.com