2000 AD PACK AUG 2015
ACCELERATORS MOMENTUM #4 (OF 4)
ACG COLL WORKS FORBIDDEN WORLDS HC VOL 09
ADVENTURES OF AERO GIRL TP
AMERICAN VAMPIRE SECOND CYCLE #10 (MR)
ANIBAL 5 HC (A)
AQUAMAN #44
ARCHIE #3
ARROW SEASON 2.5 TP
ATTACK ON TITAN HARSH MISTRESS OF CITY PART 2 NOVEL
BATMAN ANIMATED NBA POISON IVY Action Figure
BATMAN ANNUAL #4
BATMAN ARKHAM KNIGHT ANNUAL #1
BATMAN TP VOL 06 GRAVEYARD SHIFT (N52)
BEE AND PUPPYCAT #9 | Preview
Publisher: BOOM! STUDIOS
(W) Patrick Seery (A) Ji in Kim (CA) Rose Besch
PuppyCat needs a day off, and when it looks like Bee is incapable of looking after herself he enlists the help of their downstairs neighbor! From Bee learning some new fight moves to updating her DVD collection, these short missions are only getting started!
BEST AMERICAN COMICS HC 2015 (A)
BLOODTHIRSTY #1 (OF 5) (MR)
BOOK OF DEATH FALL OF HARBINGER #1
CAPTAIN AMERICA WHITE #2 (OF 5) | Preview
Publisher: MARVEL COMICS
(W) Jeph Loeb (A/CA) Tim Sale
BULLETS! BOMBS! EXPLOSIVE REVELATIONS!
• CAPTAIN AMERICA AND BUCKY are ready to lead the HOWLING COMMANDOS, but are the HOWLING COMMANDOS ready to follow?
• Things go from bad to worse and only Bucky can save the day!
• Will a shocking appearance from an old ally turn the tide of battle?
CASE CLOSED GN VOL 56
CAVALRY SHIELD 50TH ANNIV #1
CLIVE BARKERS NEXT TESTAMENT TP VOL 03 (MR)
CONAN THE AVENGER #18
CROSSED BADLANDS #86 (MR)
CROSSED PLUS 100 #9 (MR)
DIRK GENTLYS HOLISTIC DETECTIVE AGENCY #4 (OF 5)
DISCIPLES #4 (MR)
DOC SAVAGE DOUBLE NOVEL VOL 83 RUSTLING DEATH & TERROR LONELY
DOCTOR WHO 10TH YEAR TWO #1
DOCTOR WHO 12TH #12
DOCTOR WHO MAGAZINE #490
DOCTOR WHO TIME LORD LETTERS HC
DRIFTER #8 (MR)
E IS FOR EXTINCTION #4 SWA
EC JACK KAMEN FORTY WHACKS & OTHER STORIES HC
ELEPHANTMEN 2260 TP BOOK 03 LEARNING TO BE HUMAN (MR)
EMPTY MAN TP | Preview
Publisher: BOOM! STUDIOS
(W) Cullen Bunn (A/CA) Vanesa Del
It's been one year since the first reported case of the Empty Man disease, and no drug has been able to slow its progress. The cause is unknown, and the symptoms include fits of rage, hideous hallucinations, suicidal dementia, followed by death, or a near lifeless, "empty" state of catatonia. As murder cults rise nationwide, the FBI and CDC enter a joint investigation of the Empty Man, hoping to piece together clues to stop the cult and uncover a cure. Collects the complete miniseries, issues #1-6
EPIC CHRONICLES HAGAR THE HORRIBLE HC 1982-83
FROM UNDER MOUNTAINS #1 (MR)
GFT HALLOWEEN SPECIAL 2015 (MR)
GHOST RACERS #4 SWA
GODZILLA IN HELL #3 (OF 5)
GRAYSON ANNUAL #2 | Preview
Publisher: DC COMICS
(W) Tom King, Tim Seeley
When Dick comes home to find that the Batman he knew is gone, he seeks out his mentor, Superman. But both friends have changed since they last met. Can they find common ground and team up to stop Blockbuster's plans for Spyral?
GREEN LANTERN ANNUAL #4
GUARDIANS OF GALAXY PREM HC VOL 05 THROUGH LOOKING GLASS
HAIL HYDRA #3 SWA
HI FRUCTOSE MAGAZINE QUARTERLY #37
HIP HOP FAMILY TREE #2
INFERNO #5 SWA
INFINITE LOOP #6 (OF 6)
INVADER ZIM #1 3RD Printing
JEM & THE HOLOGRAMS OUTRAGEOUS ANNUAL #1
JIM BUTCHER DRESDEN FILES DOWN TOWN HC
JUSTICE LEAGUE #44
KAIJUMAX #6
KING OF COMICS HC 100 YEARS KING FEATURES SYNDICATE
KING PRINCE VALIANT #4 (OF 4)
KNIGHTS OF SIDONIA GN VOL 14
LIFE AFTER TP VOL 02
LUMBER JANES GINGERHAZE WOMENS T-Shirts, Small thru XL
MADS ORIGINAL IDIOTS JACK DAVIS TP
MADS ORIGINAL IDIOTS WALLY WOOD TP
MADS ORIGINAL IDIOTS WILL ELDER TP
MANTLE #5 (MR)
MATERIAL TP VOL 01 (MR)
MERCURY HEAT #4 (MR)
MODOK ASSASSIN #5 (OF 5) SWA
MONSTER OF FRANKENSTEIN TP
MOON KNIGHT TP VOL 03 IN NIGHT
MORNING GLORIES #48 (MR)
NORMAN HC VOL 02 (OF 4) (RES) (MR)
PRE CODE CLASSICS STRANGE FANTASY HC VOL 02
PROVIDENCE #5 (OF 12) (MR)
RACHEL RISING TP VOL 06 SECRETS KEPT
RASPUTIN #9 (MR)
REVIVAL #33 (MR)
RICK & MORTY #6
RUE MORGUE MAGAZINE #160
SANDMAN OVERTURE #6 (OF 6) (MR)
SAVAGE DRAGON #207 (MR) | More info.
Publisher: IMAGE COMICS
(W/A/CA) Erik Larsen
NEW STORY ARC
Malcolm Dragon, Battle Girl, and Rex Dexter go into Dimension-X to rescue Angel Dragon and bring Mr. Glum to justice.
SCARY MONSTERS MAGAZINE #99
SECRET CODERS GN VOL 01
SECRET WARS #1 (OF 9) 3RD Printing
SECRET WARS #3 (OF 9) 3RD Printing
SECRET WARS #4 (OF 9) 2ND Printing
SECRET WARS SECRET LOVE #1 2ND Printing
SEX #24 (MR)
SHIELD #10 | Preview
Publisher: MARVEL COMICS
(W) Mark Waid (A) Evan Shaner (CA) Julian Totino Tedesco
• Howard the Duck side by side with SHIELD! Why a duck? Because Coulson knows a secret about Howard that could save the multiverse!
SHIELD BY LEE AND KIRBY COMPLETE COLLECTION TP
SHOWA HISTORY OF JAPAN TP VOL 04 1953-1989 (MR)
SIMPSONS ILLUSTRATED #19
SOCK MONKEY TREASURY HC (Offered Again)
SONS OF THE DEVIL #5 (MR)
SPAWN #256
SPREAD #10 (MR)
STRANGE GIRL OMNIBUS TP (MR)
STRATFORD ZOO MIDNIGHT REVUE PRESENTS ROMEO & JULIET GN
STRAY BULLETS SUNSHINE & ROSES #8 (MR)
SUPERMAN #44
SWORDS OF SORROW SONJA JUNGLE #3 (OF 3)
THEYRE NOT LIKE US #8 (MR)
TINTIN HERGES MASTERPIECE HC
TRUE BELIEVERS SPIDER-WOMAN #1
UNCLE SCROOGE #6
UNIVERSAL WAR ONE GN
VAMPIRELLA ANNUAL 2015
VINLAND SAGA GN VOL 06
WALKING DEAD HC VOL 12 (MR)
WALT DISNEY DONALD DUCK HC VOL 07 TRICK OR TREAT
WALT KELLY POGO COMP DELL COMICS HC VOL 03
WONDER WOMAN 77 SPECIAL #2
WORLD TRIGGER GN VOL 07
X-MEN 92 #4 SWA
ZODIAC STARFORCE #2
ZOMBIES VS ROBOTS #9
---
Shortages
COLDER TOSS THE BONES #1 (OF 5) | Preview
Publisher: DARK HORSE COMICS
(W) Paul Tobin (A/CA) Juan Ferreyra
Declan has gone from a mere human to a reluctant hero-all while the subject of the horrific machinations of the monstrous creature Nimble Jack. But our hero's trials have only begun, as Jack flits freely between Boston and a deranged and dark reality known as the Hungry World, uniting agents of madness with only one purpose: to slaughter and consume Declan!
CAVEWOMAN THE RETURN #4 CVR E ROOT SPECIAL ED (NET) (A)
GREENBERG THE VAMPIRE TP (MR)
HERALD LOVECRAFT AND TESLA FINGERS TO THE BONE TP
NEW SUICIDE SQUAD ANNUAL #1
PRE CODE CLASSICS STRANGE FANTASY SLIPCASE ED VOL 02
---
MYP HOURS CHANGING: Starting Saturday, 26 September 2015, we will be opening at 11am
on Saturdays.

---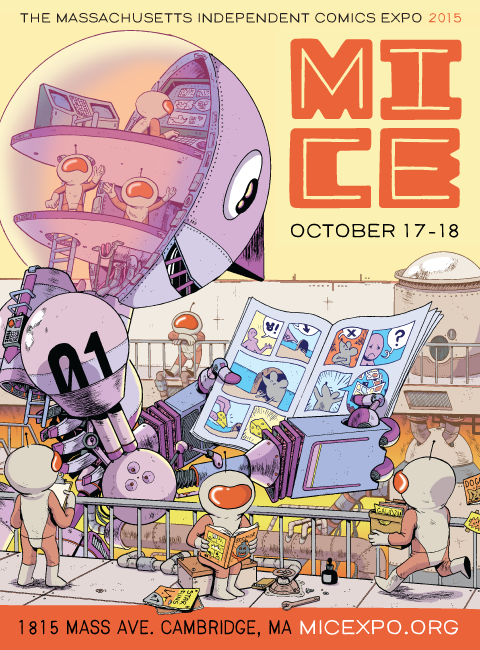 MICE IS COMING!!! The Massachusetts Independent Comics Expo (MICE) is coming to Lesley University on Saturday & Sunday, 17 & 18 October 2015! It's going to be sO AWESOME I don't even have all the words I need to tell you HOW awesome it's going to be.
http://micexpo.org
---
IF YOU HAVE A COMICKY EVENT YOU'D LIKE TO HAVE LISTED HERE, DROP US A LINE! Just contact us.
---
Thank you!
Million Year Picnic
99 MT Auburn ST downstairs
Cambridge, MA 02138
617-492-6763
https://www.themillionyearpicnic.com