A-FORCE #5 SWA
ABE SAPIEN #27
ADVENTURE TIME #45
ADVENTURE TIME MATHEMATICAL ED HC VOL 06
AMERICATOWN #3
ANAD MARVEL OCTOBER PREVIEWS
ANGEL & FAITH SEASON 10 TP VOL 03 UNITED
ARAB OF THE FUTURE GRAPHIC MEMOIR SC
BALKANS ARENA HC (MR)
BAT MITE #5 (OF 6)
BATMAN #45 | Greg Capullo News!
Publisher: DC COMICS
(W) Scott Snyder (A/CA) Greg Capullo, Danny Miki
When Batman almost gets taken out by a new threat, Jim Gordon might have to reevaluate what it means to wear the cowl before it's too late for Gotham City!
BATMAN AND ROBIN ETERNAL #2
BATMAN ANIMATED BAS BATMAN Action Figure
BATMAN ANIMATED NBA BATGIRL Action Figure
BATMAN SUPERMAN #25
BATMAN YEAR 100 DLX ED HC
BATTLING BOY FALL OF HOUSE OF WEST GN
BIG GUY & RUSTY BOY ROBOT HC SECOND Edition
BOUNCER HC (MR) (Collects all 7 volumes)
BROKEN MOON #2 (OF 4)
CAPTAIN AMERICA SAM WILSON #1 | Preview
Publisher: MARVEL COMICS
(W) Nick Spencer (A/CA) Daniel Acuña
When Steve Rogers was restored to his natural age, he chose one of his closest and most trusted allies to take up his shield. Now Sam Wilson, formerly the Avenger known as Falcon, carries on the fight for liberty and justice as the all-new, all-different Captain America!
CAPTAIN AMERICA WHITE #3 (OF 5)
CATWOMAN #45
CHEWBACCA #1 (OF 5)
CIVIL WAR #5 SWA
COFFIN HILL TP VOL 03 (MR)
COMICS ARE FOR EVERYBODY XL MENS T-Shirt
CONSTANTINE THE HELLBLAZER #5
COVENANT #4 (MR)
CRIME DOES NOT PAY ARCHIVES HC VOL 10
CROSSED BADLANDS #87 WRAPAROUND CVR (MR)
CURSED PIRATE GIRL SPECIAL ANNUAL 2015 #1
DAMAGE CONTROL TP COMPLETE COLLECTION
DAY MEN #8
DC COMICS BOMBSHELLS #3
DEAD DROP TP
DEADPOOL VS THANOS #3 (OF 4)
DEAN KOONTZ FRANKENSTEIN STORM SURGE #1 (OF 6)
DEATH VIGIL TP VOL 01
EARTH 2 SOCIETY #5
EAST OF WEST #21
EVE VALKYRIE #1 (OF 4) | Preview
Publisher: DARK HORSE COMICS
(W) Brian Wood (A) Eduardo Francisco (CA) Borkur Eiriksson
Superstar writer Brian Wood tells the origin of Rán, founder of the Valkyrie-the deadliest space-fighter pilots in the EVE universe!
This series leads into EVE: Valkyrie, one of the most hotly anticipated video games of all time, a groundbreaking virtual reality space-dogfighting shooter from the creators of EVE Online.
EVIL INC ANNUAL REPORT TP VOL 08
FABLES THE WOLF AMONG US #10 (MR)
FASTER THAN LIGHT #2 (MR)
FIGMENT 2 #2 (OF 5)
FUSE #15 (MR)
GOD IS DEAD #43 (MR)
GOLD DIGGER #225
GOON IN THEATRE BIZARRE #1
GRAPHIC INK THE DC COMICS ART OF DARWYN COOKE HC
GREEN LANTERN A CELEBRATION OF 75 YEARS HC
GRIMMISS ISLAND TP
GUARDIANS OF GALAXY #1
HACKTIVIST VOL 2 #3 (OF 6)
HARLEY QUINN #21
HARROW COUNTY #6
HAUNTED HORROR HC VOL 03 PRE CODE COMICS SO GOOD THEYRE SCARY
HERO CATS MIDNIGHT OVER STELLAR CITY #1 (OF 3) MAI
HOLY F*CKED #2 (OF 4) (MR)
I HATE FAIRYLAND #1 (MR) | Preview
Publisher: IMAGE COMICS
(W/A/CA) Skottie Young
Superstar SKOTTIE YOUNG (Rocket Raccoon, Wizard of Oz) makes his Image debut with an ALL-NEW SERIES! The Adventure Time/Alice in Wonderland-style epic that smashes it's cute little face against Tank Girl/Deadpool-esque violent madness has arrived. In an adventure that ain't for the little kiddies, (unless you have super cool parents, then whatever), you'll meet Gert-a six year old girl who has been stuck in the magical world of Fairyland for thirty years and will hack and slash her way through anything to find her way back home. Join Gert and her giant battle-axe on a delightfully blood soaked journey to see who will survive the girl who HATES FAIRYLAND!
INFINITY WAR AFTERMATH TP
ISCARIOT HC
JACK KIRBY COLLECTOR #50 KIRBY FIVE OH NEW Printing
JEM & THE HOLOGRAMS #8
JEM AND THE HOLOGRAMS TP VOL 01 SHOWTIME
JOURNEY STAR WARS FASE #3 (OF 4)
JUGHEAD & ARCHIE COMICS DOUBLE DIGEST #16
JUSTICE LEAGUE UNITED #14
JUXTAPOZ #178 NOV 2015
KILLING & DYING HC by Adrian Tomine
LANTERN CITY #6 (OF 12)
LONE WOLF & CUB OMNIBUS TP VOL 10
LOW #10 (MR)
LUCKY LUKE TP VOL 54 RODEO
LUMBERJANES BEYOND BAYLEAF #1
MAD SPY VS SPY AN EXPLOSIVE CELEBRATION
MAGNETO TP VOL 04 LAST DAYS
MAN THING BY STEVE GERBER COMPLETE COLL TP VOL 01
MARVEL ZOMBIES #4 SWA
MAXX MAXXIMIZED #24
MICKEY MOUSE #5
MIKE NORTONS BATTLEPUG HC VOL 04 DEVILS BISCUIT
MISADVENTURES OF SALEM HYDE SC VOL 05 FROZEN FIASC
MMW DEFENDERS HC VOL 05 DM VAR ED 224
MOCKINGBIRD SHIELD 50TH ANNIV #1 RENAUD 2ND Printing
MS MARVEL #19 SWA
NEW AVENGERS #1
NIMONA GN HC
NINJAK #8
NORAGAMI STRAY GOD GN VOL 07
PABLO & JANE AND HOT AIR CONTRAPTION HC
PEANUTS A TRIBUTE TO CHARLES M SCHULZ HC
PHONOGRAM THE IMMATERIAL GIRL #3 (OF 6) (MR)
POP DOCTOR WHO TARDIS 6IN VINYL FIGURE
POP STAR WARS DARTH VADER VINYL FIGURE
POP STAR WARS STORMTROOPER VINYL FIGURE
RAT GOD HC
REBELS #7
RED HOOD ARSENAL #5
RED SONJA CONAN #3 (OF 4)
RICK & MORTY #1 4TH Printing
ROCHE LIMIT CLANDESTINY #5
ROCKET RACCOON TP VOL 01 A CHASING TALE
RRH #1 (MR)
SADHU BIRTH OF THE WARRIOR #4 (OF 6) (MR)
SAVIOR #7
SECRET IDENTITIES TP VOL 01
SENSATION COMICS FEATURING WONDER WOMAN TP VOL 02
SEX CRIMINALS #13 (MR)
SEX CRIMINALS #13 ARTHUR FONZARELLIE COOPER XXX VAR (MR)
SHADOW VOL 2 #3
SKULLKICKERS TREASURE TROVE HC VOL 03
SLEEPY HOLLOW PROVIDENCE #3 (OF 4)
SPIDER-GWEN #1 | Preview
Publisher: MARVEL COMICS
(W) Jason Latour (A/CA) Robbi Rodriguez
BECAUSE YOU DEMANDED IT!
Gwen Stacy is back in the webs and has an all-new, all-different mystery to solve: the reappearance of The Lizard! Spider-Woman was convinced that the Lizard died in her arms along with Peter Parker. But when a similar monster goes on a reptilian rampage, she's left with doubts not only about Peter's life, but his death as well. And witness the debut of the Osborns of Earth-65! Fan-favorite creators Jason Latour, Robbi Rodriguez & Rico Renzi are back for more with a story that every Spider-Fan will be talking about!
Rated T
SPIDER-MAN 2099 #1
STAR TREK GREEN LANTERN #4 (OF 6)
STARFIRE #5
STRANGE FRUIT #2
SUPERMAN LOIS AND CLARK #1
SWITCH #1 | Preview
Publisher: IMAGE COMICS
(W/A) Stjepan Sejic (CA) Stejpan Sejic
After millions of views on DeviantArt, this popular web comic finally gets its own series. A teenage girl gets a mighty artifact that grants her immense powers…the catch? It's a bit haunted! This self-contained "universe" includes Artifacts and characters from other series (with permission!) in a delectably STJEPAN SEJIC fashion!
SWORDS OF SORROW #6 (OF 6)
TRICKED GN (Back in print!)
TWILIGHT CHILDREN #1 (OF 4) (MR)
TWO BROTHERS HC
TYSON HESSE DIESEL #2 (OF 4)
UNCANNY AVENGERS #1
UNCLE SCROOGE #7
UNITY #23 (NEW ARC)
UNITY TP VOL 01 (NEW Printing)
VAMPIRELLA ARMY OF DARKNESS #4 (OF 4)
VINLAND SAGA GN VOL 06
WALKING DEAD #147 (MR)
WAR STORIES #13 (MR)
WELCOME BACK #2
WHAT IF INFINITY X-MEN #1
WICKED & DIVINE #15
X-O MANOWAR #41
ZOMBIES VS ROBOTS #9
---
Shortages
CROSSED PLUS 100 #10 (MR)
ASSASSINS CREED #1
BEST OF ARCHIE COMICS 75 YEARS 75 STORIES TP
FUBAR BY THE SWORD GN (MR)
JUSTICE LEAGUE OF AMERICA #4
MAD MAGAZINE #536
---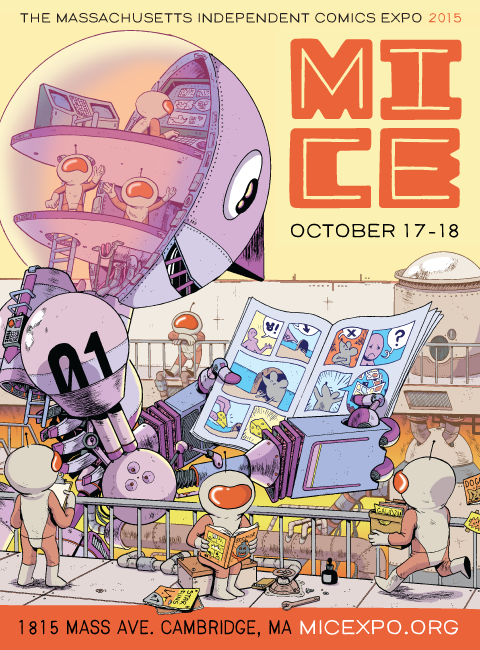 MICE IS COMING!!! The Massachusetts Independent Comics Expo (MICE) is coming to Lesley University on Saturday & Sunday, 17 & 18 October 2015! It's going to be sO AWESOME I don't even have all the words I need to tell you HOW awesome it's going to be.
http://micexpo.org
---
IF YOU HAVE A COMICKY EVENT YOU'D LIKE TO HAVE LISTED HERE, DROP US A LINE! Just contact us.
---
Thank you!
Million Year Picnic
99 MT Auburn ST downstairs
Cambridge, MA 02138
617-492-6763
https://www.themillionyearpicnic.com