ACCELERATORS TP VOL 01 (MR)
ACTION COMICS #36
ADVENTURE TIME ORIGINAL GN VOL 04 BITTER SWEETS
ALIEN VS PREDATOR FIRE AND STONE #2 (OF 4)
ALL NEW X-FACTOR #16 AXIS
ALL YOU NEED IS KILL 2IN1 MANGA GN
AMAZING SPIDER-MAN #9 SV
ANGEL AND FAITH SEASON 10 #8
ANIMAL MAN TP VOL 05 EVOLVE OR DIE (N52)
ANTARES TP VOL 05
AQUAMAN AND THE OTHERS #7
ARCHIE #661
ARCHIE FUNHOUSE COMICS DIGEST #10
ART SCHOOLED GN
ATTACK ON TITAN GN VOL 14
AVATAR LAST AIRBENDER TP VOL 09 RIFT PART 3
AVENGERS AND X-MEN AXIS #4 (OF 9)
AVENGERS PREM HC VOL 06 INFINITE AVENGERS
BABY BLUES COLLECTION TP WETTER LOUDER STICKIER
BATMAN ARKHAM ASYLUM 25TH ANNIV DLX ED HC (MR)
BATMAN ARKHAM ASYLUM 25TH ANNIV DLX ED TP (MR)
BATMAN BEYOND 2.0 TP REWIRED
BATMAN ETERNAL #31
BEHOLD THE DINOSAURS & SOME NON DINOSAURS CONCERTINA
BETTY & VERONICA #273
BETTY & VERONICA JUMBO COMICS DIGEST #228
BILL GAINES WAS RIGHT CERAMIC MUG
BILL GAINES WAS RIGHT TOTE
BIRTHRIGHT #2
BLEACH GN VOL 62
BLOOD QUEEN #6 (OF 6) (MR)
BLOODSHOT #25 | Preview
Publisher: VALIANT ENTERTAINMENT LLC
(W) Peter Milligan & Various (A) Lewis LaRosa & Various
A murderer's row of all-star talents is going all-in for an oversized, 48-page milestone anniversary blowout chronicling the classified history of Valiant's most dangerous, most brutal, most relentless hero – BLOODSHOT!
Meet the man behind Bloodshot – or is he? – when one soldier's untapped killer instinct takes over in a feature-sized lead tale of blood, guts, and heart by Peter Milligan and Lewis LaRosa! PLUS…an all-new story by comics master Howard Chaykin! The original BLOODSHOT launch team of Duane Swierczynski and Manuel García join forces again for an all-new adventure! Justin Jordan and Rafer Roberts show you just how much punishment Bloodshot can take! AND… Duffy Boudreau and Al Barrionuevo take you on Bloodshot's journey from the end of the line with H.A.R.D. Corps to the Colombian jungle where Unity found him! Along with many more bonus stories and artwork, a complete cover gallery, and more!
BOB POWELL COMPLETE CAVE GIRL HC
BTVS SEASON 10 #8
CHEW #44 (MR)
CLAYMORE GN VOL 25
COMICS CODE AUTHORITY TOTE
CONCRETE PARK RESPECT #3
DARK TOWER DRAWING OF THREE PRISONER #4 (OF 5)
DAY MEN #5
DAY MEN TP VOL 01
DC HEROES PLAYING CARDS
DEADPOOL CLASSIC TP VOL 10
DEADPOOL VS X-FORCE TP
DEADPOOLS ART OF WAR #2 (OF 4)
DEATH DEFYING DR MIRAGE #3 (OF 5)
DEATH OF WOLVERINE LIFE AFTER LOGAN #1
DEATH OF WOLVERINE WEAPON X PROGRAM #1 (OF 5)
DETECTIVE COMICS #36
DIARY OF A WIMPY KID HC VOL 09 LONG HAUL
DISNEY MICKEY MOUSE BOX SET HC VOL 05 & 06
DISNEY MICKEY MOUSE HC VOL 06 LOST LANDS LONG AGO
DOCTOR WHO 10TH #4
EARTH 2 #28
EARTH 2 WORLDS END #5
EDGE OF SPIDER-VERSE #4 (OF 5) 2ND Printing
ELEKTRA TP VOL 01 BLOODLINES
EMPTY MAN #5 (OF 6)
ETERNAL WARRIOR DAYS OF STEEL #1 (OF 3)
FAIREST #31 (MR)
FAIRY QUEST OUTCASTS #1 | Preview
Publisher: BOOM! STUDIOS
(W) Paul Jenkins (A) Humberto Ramos, Victor Olazaba
WHY WE LOVE IT: FAIRY QUEST is the passion project of Paul Jenkins and Humberto Ramos, the team behind REVELATIONS and a legendary run on Spectacular SpiderMan.  They have put their heart, love, and creative wonder into this groundbreaking series, and we're excited to explore more of the world of Fablewood!  WHY YOU'LL LOVE IT: We all grew up reading fairy tales. We all love fairy tales! But if you enjoy your fairy tales with a twist like Fables, Fairest, or Once Upon a Time, FAIRY QUEST is the perfect series for you. Plus, Paul and Humberto have already made the fans their co-publishers with a successful Kickstarter.
WHAT IT'S ABOUT: The adventures of Red and Mister Woof have only just begun. In Fablewood, all of the stories that have ever been told live side-by-side. But it is an evil place, overseen by the awful Mister Grimm and his cadre of Think Police. Red and Woof want to escape to a world where their friendship isn't prohibited, but nothing can prepare them for what lies ahead in the Dark Forest.
FICTION SQUAD #2 (OF 6)
FLASH SEASON ZERO #2
FUSE #7 (MR)
GAME OF THRONES #22 (MR)
GET FUZZY TP YOU CANT FIGHT CRAZY
GHOST #9
GOD HATES ASTRONAUTS #3 (MR)
GOD IS DEAD TP VOL 03 (MR)
GOLD DIGGER SWIMSUIT SPECIAL #22
GOTHAM ACADEMY #2
GRANDVILLE NOEL HC
GRAYSON #4
GREEN ARROW #36
GREEN LANTERN #36 (GODHEAD)
HACK SLASH SON OF SAMHAIN #5 (MR)
HULK #8
HUMANS #1 (MR) | Preview
Publisher: IMAGE COMICS
(W) Keenan Keller (A/CA) Tom Neely
Apart, they are nothing…deemed by society as outcasts, misfits, losers, no good punks! But together, they are THE HUMANS! The HUMANS is a high-octane, no-holds-barred, ape-biker-gang chopper ride into '70s exploitation genre bliss. Follow Bobby, Johnny, and all The HUMANS as they fight and fly down the road to oblivion on a ride filled with chains, sex, leather, denim, hair, blood, bananas, and chrome.
INJUSTICE GODS AMONG US YEAR THREE #3
JENNIFER BLOOD BORN AGAIN #4 (OF 5) (MR)
JOHN CARTER WARLORD #1
JUSTICE LEAGUE 3000 #11
KINSKI TP | Preview
Publisher: IMAGE COMICS
(W/A/CA) Gabriel Hardman
A salesman's self-styled mission to save a puppy from its neglectful owners escalates into a righteous crusade in this quirky crime thriller written and drawn by GABRIEL HARDMAN (Hulk, Heathentown, Planet of the Apes).
"Hardman…creates a tense atmosphere that makes Kinski the Breaking Bad of dognapping tales." – A.V. Club.  Collects KINSKI #1-6
LEGEND OF BOLD RILEY #3
LEGENDARY STAR LORD #5
LIL DEPRESSED BOY SUPPOSED TO BE THERE TOO #2
LOBO #2
MAD GREATEST ARTISTS DON MARTIN 3 DECADES GRTEST W
MADAME FRANKENSTEIN #7 (OF 7)
MEN OF WRATH BY JASON AARON #2 (OF 5) (MR)
MERCENARY SEA #7
MILES MORALES ULTIMATE SPIDER-MAN TP VOL 01 REVIVAL
MIRACLEMAN #13 (MR)
MUTTS TREASURY LIVING THE DREAM SC
NAILBITER #7 (MR)
NAMES #3 (OF 8) (MR)
NEW 52 FUTURES END #27 (WEEKLY)
NEW AVENGERS PREM HC VOL 04 PERFECT WORLD
NEW VAMPIRELLA #6
NEW YORK FOUR DARK HORSE ED TP
NIGHTWORLD #4 (OF 4)
OVER GARDEN WALL SPECIAL #1
PEARLS BEFORE SWINE TP BREAKING STEPHAN
PENNY DORA & THE WISHING BOX #1 (OF 5)
POPULAR SKULLTURE HC SKULL MOTIFS
PUNKS THE COMIC #2
REAL HEROES #4
REGULAR SHOW SKIPS TP
ROCKET RACCOON #5
SERENITY LEAVES ON WIND HC
SIXTH GUN #44
SKYMAN ONE-SHOT
SOLAR MAN OF ATOM #6
SPAWN #248
SPREAD #4 (MR)
SUICIDE RISK #19
SUPERANNUATED MAN #4 (OF 6) (MR)
SUPERMAN GOLDEN AGE SUNDAYS 1946-1949 HC
SUPERMAN UNCHAINED #9
SWAMP THING #36
TECH JACKET #5
TEEN TITANS #1 2ND Printing
TEN GRAND #11 (MR)
THE LEG GN
TINY TITANS RETURN TO THE TREEHOUSE #6 (OF 6)
TOOTH & CLAW #1 (MR)
TUROK DINOSAUR HUNTER #9
USAGI YOJIMBO SENSO #4 (OF 6)
VELVET #8 (MR)
WAKE HC (MR)
WALKING DEAD TP VOL 22 A NEW BEGINNING (MR)
WALLACE & GROMIT NEWSPAPER STRIPS HC VOL 02
WALT KELLY POGO COMP DELL COMICS HC VOL 02
WALTER SIMONSON MANHUNTER ARTIST ED HC
WAR IS HELL FIRST FLIGHT PHANTOM EAGLE TP (MR)
WOODS #7
WORST OF EERIE PUBLICATIONS HC
X-MEN #21
ZITS TREASURY TP PEACE LOVE & WI FI
We've got HELLBOUND V: End of Comics from the Boston Comics Roundtable on the shelves for your delectation!
Hellbound V: End of Comics | Previews
Publisher: River Bird Comics / Boston Comics Roundtable
Edited by Stephen Cartisano Cover art by Roho
What is the end for you? sometimes is death sometimes is the end of a bad relations ship, sometimes is just running out of rope. Hellbound V is the end of the Hellbound series with a small set of stories that will take you over the edge. Mature readers only. Returning contributors include Dan Mazur (Comics: A Global History), Ellen T. Crenshaw (Nobodies Volume II, Womanthology), Alison Burke and Tara Harris (A.R.R.O.), Patrick Flaherty, E.J. Barnes (Tales of the Ling, An Invitation to the World of Luisa Felix), and Clayton McCormack (Dead Meat, Heavy Metal Magazine). Joining them for the first time on this volume are Gary Bonesteel (Killer Ink Comics), Ben Doane (Subcultures), and Brenton Barnes (Bartkira, Mister Reusch's Black and White Illustration Book).
Have you seen local comics collection SubCultures from our own Dan Mazur's Ninth Art Press  It's quite a nice book as well!
SubCultures Anthology | Previews
Publisher: Ninth Art Press
Edited by Whit Taylor Cover by Box Brown
36 indepenent cartoonists explore the various and varied worlds-within-the-world we know as "subcultures." from Star Wars conventioneers to bigfoot hunters, from goths and gamers to record collectors and cosplayers, these stories reveal the rules, rituals and relationships that define these infinite and intricate subsets of humanity. Contributors include Sam Alden, Liz Prince, Alex Robinson, Darryl Seitchik, Noah Van Sciver, MariNaomi, Box Brown and many others!
Tony attended Jill Lepore's lecture last week & said she's a great speaker.  He's going to try to get her book, THE SECRET HISTORY OF WONDER WOMAN for the shop ASAP.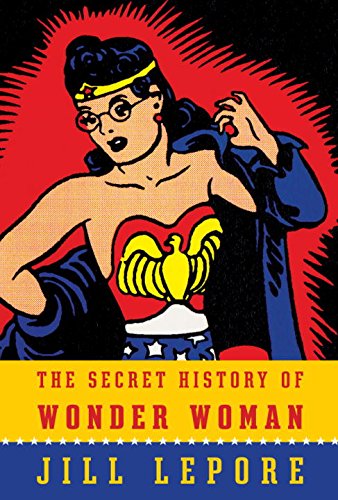 Shortages:
ENCHANTRESS ILLUSTRATIVE ART OF DAN BRERETON HC (MR)
SPIDER-VERSE TEAM UP #1 (OF 3) SV
Ordered but Delayed by Diamond:
MODESTY BLAISE TP VOL 25 GRIM JOKER
Thank you!
Million Year Picnic
99 MT Auburn ST downstairs
Cambridge, MA 02138
617-492-6763
http://www.themillionyearpicnic.com