100 BULLETS TP BOOK 01 (MR)
ADV TIME BANANA GUARD ACADEMY #4 (OF 6)
ADVENTURE TIME #33 | Preview
Publisher: BOOM! Studios/KaBOOM!
Writer: Ryan North Art: Shelli Paroline and Braden Lamb | Local Creators!
The Mnemonoid's hold on Finn is proving to be stronger than anyone had thought and it's taking the whole crew to band together to help their friend, only this time, there really might be nothing they can do. It's up to Finn to stand up to The Mnemonoid, if only he could find the bully.
ALIENS FIRE AND STONE #2
ALL NEW X-MEN #33
AMAZING SPIDER-MAN #4 2ND Printing
AND THEN EMILY WAS GONE #3 (OF 5) (MR)
ARCHER & ARMSTRONG #25
ARCHIE COMICS SPECTACULAR PARTY TIME TP
ATOMIC ROBO KNIGHTS OF GOLDEN CIRCLE #5 (OF 5)
ATTACK ON TITAN NO REGRETS GN VOL 02
AVENGERS AND X-MEN AXIS #2 (OF 9)
AXIS CARNAGE #1 (OF 3)
AXIS REVOLUTIONS #1 (OF 4) | Preview
Publisher: MARVEL COMICS
(W) Dennis Hopeless, Simon Spurrier (A) Ken Lashley, Tan Eng Huat 
Companion series to Marvel's newest blockbuster event, AVENGERS & X-MEN: AXIS!
Featuring stories from the Avengers and X-Men's epic battle with the Red Skull!
As the Red Skull broadcasts hate across the globe, will our heroes be able to quell the madness? Or might they just be swept up in it?
Rated T+
BALTIMORE WOLF AND THE APOSTLE #1 (OF 2)
BARRACUDA GN VOL 03
BASIL WOLVERTON WEIRD WORLDS ARTIST ED HC
BATMAN ETERNAL #30
BLACK BUTLER TP VOL 18
BLACK SCIENCE #10 (MR)
BLADE OF THE IMMORTAL TP VOL 30 VIGILANCE (MR) | Preview
Publisher: Dark Horse
Story and Art: Hiroaki Samura
The penultimate volume! Disgraced Edo officer Habaki faces the man he's vowed to take down—the rascally Anotsu. While Manji and Rin are forced to battle Habaki's most tenacious, frightening Rokki-dan thug in a grotesque showdown, the enigmatic Makie has to fend off several Edo Castle henchmen at once!
"Samura's work will thrill you, engage you, and even horrify you like no other artist working in film or print today."—Geof Darrow
BOBS BURGERS #3
BRASS SUN #6 (OF 6)
BRIDES STORY HC GN BOOK 06
BUNKER #7 (MR)
BURN THE ORPHANAGE TP VOL 02 REIGN OF TERROR (MR)
CAPT VICTORY & GALACTIC RANGERS #3
CAPTAIN MIDNIGHT #16
CARTOON NETWORK SUPER SECRET CRISIS WAR #5 (OF 6)
CELEBRATION OF HARUHI SUZUMIYA SHORT STORY OMNIBUS TP
CHRONICLES OF KING CONAN TP VOL 09 BLOOD OF SERPENT
COMICS REVUE PRESENTS OCT 2014
COMPLETE PEANUTS HC BOX SET 1991-1994 | Preview
Publisher: FANTAGRAPHICS BOOKS
(W/A/CA) Charles M. Schulz
Even the most devoted Peanuts fan will be surprised by revisiting Charles Schulz's last decade of work. Schulz's cartooning has never been more expressive, and his sense of humor never more unencumbered by formula or tradition. Featuring the usual gang of nuts in often surprising situations (Snoopy eyeing a seat on the Supreme Court!?), this is the 22nd volume (of 25) of the bestselling series collecting every single one of the 18,000-plus strips created by Schulz from 1950-2000.
COMPLETE PEANUTS HC VOL 01 1950-1952 (NEW Printing)
COMPLETE PEANUTS HC VOL 22 1993-1994
COMPLETE PEANUTS TP BOX SET 1950-1954
CONAN THE AVENGER #7
COWL TP VOL 01 PRINCIPLES OF POWER (MR)
CRINGE ANTHOLOGY OF EMBARRASSMENT GN (MR)
CROSSED BADLANDS #64 WRAP CVR (MR)
CUTTER #4 (MR)
DARK GODS #1 (MR)
DC COMICS DESIGNER SER 2 CAPULLO RED HOOD Action Figure
DEATH OF WOLVERINE #2 (OF 4) 2ND Printing
DEATH OF WOLVERINE LOGAN LEGACY #3 (OF 7)
DEATHLOK #1 | Preview
Publisher: Marvel Comics
Writer: Nathan Edmondson Artist: Mike Perkins
"Enemy of My Enemy" • After Michael Collins, there was Henry Hayes • A medic who travels to war zones to heal the wounded, he has no idea that when he's in the field, he's activated by a mysterious group and becomes the ultimate weapon of assassination and war: DEATHLOK • From the writer of BLACK WIDOW and THE PUNISHER comes a new take on the iconic cyborg character making waves on Marvel's Agents of S.H.I.E.L.D.
DEEP GRAVITY #4 (OF 4)
DILBERT HC GO ADD VALUE SOMEPLACE ELSE
DISNEY ROSA DUCK LIBRARY HC BOX SET VOL 01 & 02
DISNEY ROSA DUCK LIBRARY HC VOL 02 RETURN TO PLAIN AWFUL
DMC GN #1
DOCTOR WHO 11TH #4
DOONESBURY MELS STORY SURVIVING MILITARY SEXUAL ASSAULT TP
DREDD UPRISE #1 (OF 2)
EARTH 2 WORLDS END #4
EC ARCHIVES TALES FROM THE CRYPT HC VOL 05
EDGE OF SPIDER-VERSE #2 (OF 5) 2ND Printing
EDGE OF SPIDER-VERSE #3 (OF 5) 2ND Printing
ELEKTRA #7
FAIRY TAIL GN VOL 43
FANGORIA #337
FANTASTIC FOUR #12
GOD IS DEAD #23 ICONIC CVR (MR)
GOON OCCASION OF REVENGE #3 (OF 4)
GROO VS CONAN #4 (OF 4)
GUARDIANS OF GALAXY #20
HARBINGER OMEGAS #3 (OF 3)
HARLEY QUINN ANNUAL #1 | Scratch and Sniff Cover!
Publisher: DC Comics
Written by:Jimmy Palmiotti, Amanda Conner Art by:John Timms 
We have to warn you, readers: This issue stinks! Seriously! Like, unpleasant odors are literally in the story! In this first-ever HQ ANNUAL, take a trip to Harley's home of Coney Island in a groundbreaking "scent-ticular" issue, featuring actual, honest-to-gosh smells. This issue comes polybagged to contain the stench.
HAUNTED TP
HAWKEYE VS DEADPOOL #0 (OF 4) 2ND Printing
HEAVY METAL #271 (MR)
HIT PEN & INK #1
HOWARD DUCK OMNIBUS HC
HUGH HOWEYS WOOL GN
IM NOT POPULAR GN VOL 05
INHUMAN #7
IRON MAN EPIC COLLECTION TP GOLDEN AVENGER
JUDGE DREDD YEAR ONE NOVEL
JUSTICE LEAGUE DARK ANNUAL #2
JUSTICE LEAGUE UNITED ANNUAL #1
KNIGHTS OF THE DINNER TABLE #214
LEANING GIRL GN (MR)
LENORE VOLUME II #11
LITTLE NEMO RETURN TO SLUMBERLAND #2
LOW #4 (MR)
MARVEL 75TH ANNIVERSARY CELEBRATION #1
MARVEL PREVIEWS NOVEMBER 2014
MARVEL UNIVERSE ULTIMATE SPIDER-MAN #31 SYU
MASSIVE #28
MELANCHOLY OF SUZUMIYA HARUHI CHAN GN VOL 08
MIKE NORTONS BATTLEPUG HC VOL 03 SIT STAY DIE
MIND MGMT #27
MIRACLEMAN PREM HC BOOK 02 RED KING SYNDROME
MIRACLEMAN PREM HC BOOK 02 RED KING SYNDROME DM VAR ED
MMW AVENGERS TP VOL 06
NEIL GAIMAN HANSEL & GRETEL GRAPHIC DLX HC
NEIL GAIMAN HANSEL & GRETEL GRAPHIC HC
NEW 52 FUTURES END #26 (WEEKLY)
NOVA #22
ORIGINAL SIN HC
PATHFINDER CITY SECRETS #6 (OF 6)
PHANTOM #1 (OF 6)
POGO COMP SYNDICATED STRIPS HC VOL 03 EVIDENCE CONTRARY
PREACHER TP BOOK 06 (MR)
PREVIEWS #314 NOV 2014
PUELLA MAGI MADOKA MAGICA DIFFERENT STORY GN VOL 03
RACHEL RISING #29
RASPUTIN #1 (MR)
ROCHE LIMIT #2 (MR)
SAGA #24 (MR)
SAVAGE DRAGON #199
SAVAGE WOLVERINE TP VOL 02 HANDS ON DEAD BODY
SENSATION COMICS FEATURING WONDER WOMAN #3
SESAME STREET #1
SET TO SEA GN
SEX #17 (MR)
SHADOW MIDNIGHT MOSCOW #5 (OF 6)
SHOWA HISTORY OF JAPAN TP VOL 03 1944-1953 (MR)
SIMPSONS COMICS EXPLOSION #1
SINESTRO #6 (GODHEAD)
SMUT PEDDLER GN VOL 02 2014 Edition (A)
SOCK MONKEY INTO DEEP WOODS HC
SOUTHERN BASTARDS #5 (MR)
SPIDER SATANS MURDER MACHINES SMILODON PX SC
STRAY BULLETS TP VOL 01 INNOCENCE OF NIHILISM (MR)
SUNDOWNERS #3
SWAMP THING ANNUAL #3
THANOS A GOD UP THERE LISTENING #4 (OF 4)
THE TRAIN GN
THOUGHT BUBBLE ANTHOLOGY 2014 #4
THUNDERBOLTS #32
TRUE STORIES #1 (MR)
TUKI SAVE THE HUMANS #2
UBER #19 WRAP CVR (MR)
UMBRAL #10 (MR)
UMINEKO WHEN THEY CRY GN EP 4 #2 ALLIANCE O/T GOLDEN WITCH
UNCANNY X-MEN IRON MAN NOVA TP NO END IN SIGHT
USAGI YOJIMBO SC VOL 07 GENS STORY (NEW Printing)
VACHSS UNDERGROUND HC
VERTIGO QUARTERLY #1 YELLOW (MR)
WALKING DEAD MAGAZINE #10 NEWSSTAND ED (MR)
WAR STORIES #2 (MR)
WHISPERED WORDS GN VOL 02
WOLVERINE AND X-MEN #11
WOLVERINE AND X-MEN TP VOL 01 TOMORROW NEVER LEARNS
WONDER WOMAN #35
YEAR OF THE BEASTS ILLUS NOVEL HC
The HELLBOUND V RELEASE PARTY is THIS Thursday, October 30 at 6:00-9:00pm at the Cambridge Historical Society in Cambridge, MA! (That's 159 Brattle Street.)  FREE ADMISSION!  Celebrating EIGHT YEARS of the Boston Comics Roundtable!  Costume Contest!  Sketch Fight!  BEERS!  WINES!
Official poster:
http://www.themillionyearpicnic.com/hellbound-v-book-release-party/
And we got notification of a lecture, also on Thursday: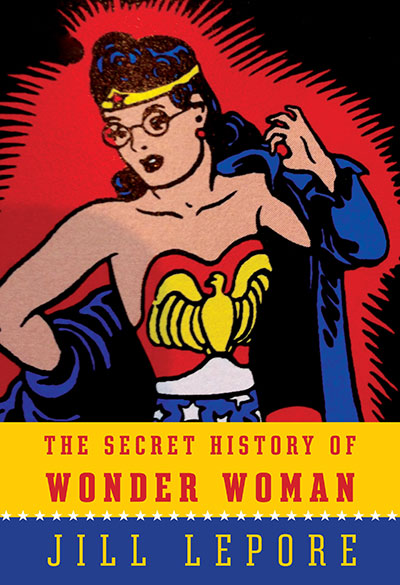 How Wonder Woman Got into Harvard
Thursday, Oct 30
4:15 pm
Harvard, Knafel Center, 10 Garden Street, Cambridge
Lecture by Jill Lepore BI '00, the David Woods Kemper '41 Professor of American History at Harvard and a staff writer at the New Yorker. Her biography of Benjamin Franklin's sister, Book of Ages: The Life and Opinions of Jane Franklin, was a finalist for the 2013 National Book Award for Nonfiction. Her latest book, The Secret History of Wonder Woman, will be published in October.
And finally, we WILL be doing Halloween ComicFest, #HCF again NEXT Saturday, with free comics and Halloween Candy!
Shortages
GARDEN OF WORDS GN (MR)
GOLD DIGGER HALLOWEEN SPECIAL 2014
PEANUTS EVERY SUNDAY HC VOL 02 1956-1960
WAYWARD #3 (MR)
Thank you!
Million Year Picnic
99 MT Auburn ST downstairs
Cambridge, MA 02138
617-492-6763
http://www.themillionyearpicnic.com