1872 #3 SWA
ADVENTURE TIME #44
AMAZING SPIDER-MAN TP VOL 05 SPIRAL
AMELIA COLE & THE IMPOSSIBLE FATE TP
ARCADIA #5
ASSASSINATION CLASSROOM GN VOL 06
ASTRO CITY #27
ASTRO CITY CONFESSION HC NEW Edition
AVATAR LAST AIRBENDER TP VOL 10 SMOKE & SHADOW PART 1
BART SIMPSON COMICS #98
BATGIRL #44
BATMAN 66 #27
BATMAN ENDGAME SPECIAL ED #1
BATMAN WAR YEARS HC
BETTY & VERONICA COMICS DOUBLE DIGEST #237
BLACK MARKET TP (MR)
BLACK RAT TP
BLACK WIDOW TP VOL 03 LAST DAYS
BOOK OF DEATH #3 (OF 4)
BPRD HELL ON EARTH TP VOL 11 FLESH AND STONE
BTVS SEASON 10 #19
CAPTAIN MARVEL AND CAROL CORPS #4 SWA
CARTOONS FOR VICTORY HC
CLAYMORE GN VOL 27
COMIC BOOK STORY OF BEER GN
COMIC FANDOM QUARTERLY #3 (OF 5)
COMP FLASH GORDON LIBRARY HC VOL 04 STORM QUEEN OF VALKIR
DC SUPER HEROES SUPERMAN YR TP LEX LUTHORS POWER G
DEADMAN WONDERLAND GN VOL 11
DEADPOOL CLASSIC TP VOL 13 DEADPOOL TEAM UP
DEADPOOL VS THANOS #2 (OF 4)
DEATHSTROKE #10
DEMOCRACY GN
DOCTOR WHO 2015 FOUR DOCTORS #5 (OF 5)
DONALD DUCK #5
DRAWN ONWARD (ONE SHOT) (MR)
DRESSING GN
ELEPHANTMEN #66 (MR)
ELFQUEST FINAL QUEST #11
EMPTY ZONE #4 (MR)
ENORMOUS V2 #2 (OF 6)
FABLES COMICS HC
FARLAINE THE GOBLIN #4
FATHOM BLUE #4
FEMFORCE #172
FIGHT CLUB 2 #5
FIRST MAN REIMAGINING MATTHEW HENSON GN
FLASH #44
FREE COUNTRY A TALE OF THE CHILDRENS CRUSADE HC (MR)
FURY SHIELD 50TH ANNIVERSARY #1 | Preview
Publisher: MARVEL COMICS
(W) David Walker (A) Lee Ferguson (CA) Mike Deodato
• A mission 50 years in the making!
• When a villain from the past shows up in the present day, Nick Fury is forced to team-up with Nick Fury Sr.!
• Will the Nick Fury of the present be able to work alongside his father?
GAG ON THIS CARTOONS BY CHARLES RODRIGUES HC
GFT COVEN #3 (OF 5) (MR)
GI JOE A REAL AMERICAN HERO #218
GOD IS DEAD TP VOL 06 (MR)
GOLDEN COMPASS GN VOL 01
GOTHAM BY MIDNIGHT #9
GRAYSON #12
HARLEY QUINN & POWER GIRL #4 (OF 6)
HE MAN THE ETERNITY WAR #10
HELLBOY 100 PROJECT HC
HELLBOY 100 PROJECT TP
HELLBOY IN HELL #8
HEXED HARLOT & THIEF TP VOL 01
HOWARD THE DUCK TP VOL 00 WHAT THE DUCK
INHUMANS ATTILAN RISING #5 SWA
INVISIBLE INK HC MY MOTHERS LOVE AFFAIR WITH CARTO
INVISIBLE REPUBLIC #6 (MR)
IXTH GENERATION #5
JOHN CARTER WARLORD #11 (MR)
JUSTICE LEAGUE 3001 #4
KANAN #6
LOKI AGENT OF ASGARD TP VOL 03 LAST DAYS
LOSE #7
MANHATTAN PROJECTS SUN BEYOND THE STARS #3
MARVEL PREVIEWS OCTOBER 2015
MISS PEREGRINES HOME PECULIAR CHILDREN HC BOOK 03
MOBILE SUIT GUNDAM ORIGIN HC VOL 11 COSMIC GLOW
MYTHIC #4 (MR)
NAMELESS #5 (MR)
NARUTO GN VOL 72
NEGATIVE SPACE #2 (OF 4) | Preview
Publisher: DARK HORSE COMICS
(W) Ryan Lindsay (A/CA) Owen Gieni
Our hero is plunged into a terrifying conflict between an emotion-harvesting corporation and the resistance cult that attempts to defy them. But as the mysteries surrounding this secret war darken and deepen, he discovers a new power within himself that could shift the balance in dramatic and unpredictable ways!
NEIL GAIMAN SLEEPER & THE SPINDLE HC
NEW DEAL HC | Preview
Publisher: DARK HORSE COMICS
(W/A/CA) Jonathan Case
The Waldorf Astoria is the classiest hotel along the Manhattan skyline in 1930s New York City. When a charming woman checks in with a high-society entourage, a bellhop and a maid get caught up in a series of mysterious thefts. The stakes quickly grow perilous, and the pair must rely on each other to discover the truth while navigating delicate class politics.
ODDLY NORMAL #10
ORPHAN BLACK TP VOL 01
OVER THE GARDEN WALL #2
PALEFIRE GN
PEANUTS WHERE BEAGLES DARE ORIGINAL GN
PHANTOM #4 (OF 6)
PIN UPS NIGHT AND DAY HC
PITIFUL HUMAN LIZARD #1
POWER UP #3 (OF 6)
PREVIEWS #325 OCTOBER 2015
PRINCELESS BE YOURSELF #4 (OF 4)
PUBLIC RELATIONS #1 (OF 5) (MR) | Preview
Publisher: DEVILS DUE /1FIRST COMICS, LLC
(W) Matthew Sturges, Dave Justus (A) David Hahn (CA) Annie Wu
Dan Clover's office crush would love to go to his father's 50th blowout birthday gala! It's in magical Sardonia! No really – magic! And father's king! And absolute ruler! From whom Dan's been estranged since birth. Ahhh Dan, can this possibly end well?
PUNISHER TP VOL 03 LAST DAYS
RED SONJA #18
RUMBLE #7 (MR)
RUNAWAYS #4 SWA | Preview
Publisher: MARVEL COMICS
(W) Noelle Stevenson (A/CA) Sanford Greene
• It's the end of the road for the Runaways!
• Betrayals! Reunions! Maybe some making out! Definitely a death or two.
• This one's got it all! (Except cowboys. That was last issue.)
SCHMUCK GN (MR)
SEARCH FOR MEADAN TP
SEVEN PERCENT #1 (OF 6)
SHRINKING MAN #3 (OF 4)
SINESTRO #15
SMOKE HC (MR)
SPIRE #3 (OF 8)
SUNNY SIDE UP GN
TECH JACKET #11
THIEF OF THIEVES #31 (MR)
THINK TANK SELF LOATHING NARCISSIST T-Shirt in Medium, LG, & XL
TITHE #5
TMNT CASEY & APRIL #4 (OF 4)
TOKYO GHOUL GN VOL 03
TRUE BELIEVERS SILK #1
UMINEKO WHEN THEY CRY GN EP 5 VOL 02 END OF GOLDEN WITCH
VERTIGO 2015 PREVIEW BOOK
WE ARE ROBIN #4
WEIRDWORLD #4 SWA
WESTWOOD WITCHES TP (MR)
WILDS END ENEMY WITHIN #1 (OF 4)
WITCHBLADE #184
WOLF #3 (MR)
X-TINCTION AGENDA #4 SWA
Y THE LAST MAN TP BOOK 03 (MR)
YEARS OF FUTURE PAST #5 SWA
---
Shortages
AAMA GN VOL 04 (OF 4) YOU WILL BE GLORIOUS (MR)
BIG HERO 6 MANGA GN VOL 02
HACKTIVIST VOL 2 #3 (OF 6)
MUIRWOOD LOST ABBEY #2 (OF 5)
POWER CUBED #1 (OF 4)
---
MYP HOURS CHANGING: Starting Saturday, 26 September 2015, we will be opening at 11am on Saturdays.

---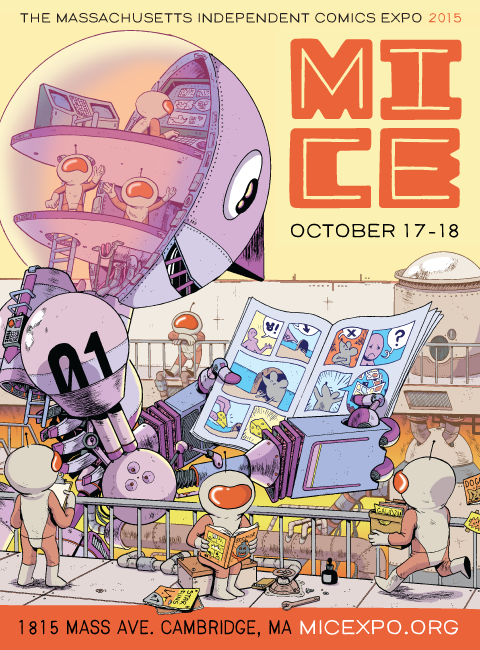 MICE IS COMING!!! The Massachusetts Independent Comics Expo (MICE) is coming to Lesley University on Saturday & Sunday, 17 & 18 October 2015! It's going to be sO AWESOME I don't even have all the words I need to tell you HOW awesome it's going to be.
---
IF YOU HAVE A COMICKY EVENT YOU'D LIKE TO HAVE LISTED HERE, DROP US A LINE! Just contact us.
---
Thank you!
Million Year Picnic
99 MT Auburn ST downstairs
Cambridge, MA 02138
617-492-6763
https://www.themillionyearpicnic.com