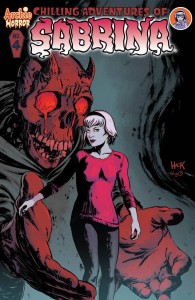 2000 AD PACK JUN 2015
ACCELERATORS MOMENTUM #3 (OF 4) (MR)
AGE OF ULTRON VS MARVEL ZOMBIES #2 SWA
AMAZING FANTASTIC INCREDIBLE MARVELOUS MEMOIR
AUTEUR SISTER BAMBI #3 (MR)
BATGIRL #41 2ND Printing
BATGIRL #42
BATGIRL ANNUAL #3
BLACK WIDOW #20 SWA
CASANOVA ACEDIA #3 (MR)
CATWOMAN TP VOL 06 KEEPER OF THE CASTLE
COMICS OF JOE SACCO JOURNALISM IN VISUAL WORLD HC
CONAN RED SONJA HC
CONAN THE AVENGER #16
COPPERHEAD #9
CROSSED BADLANDS #81 WRAP CVR (MR)
DAREDEVIL #17
DEADPOOLS SECRET SECRET WARS #3 (OF 4) SWA
DEATHLOK #10
DEATHSTROKE ANNUAL #1
DEEP STATE #8 | Preview
Publisher: BOOM! STUDIOS
(W) Justin Jordan (A) Ariela Kristantina (CA) Matt Taylor
Trapped deep underground where the government has been keeping a secret since the Cold War era, Branch and Harrow will have no choice but to confront the reason that unknowingly brought them together: neither of them are who they say they are.
DENGUE HC (MR) | Preview
Publisher: HUMANOIDS INC
(W) Rodolfo Santullo (A/CA) Matias Bergara
In the near future, thanks to global warming, Montevideo, Uruguay, is a city under siege from swarms of mosquitoes and the deadly dengue fever they carry. As the diseased bodies pile up in the streets pragmatic Police Sergeant Pronzini must solve the murder of an esteemed entomologist in order to unlock the true secret of a specific type of dengue infection that may just change the face of humanity forever. From writer and journalist Rodolfo Santullo and artist Matías Bergara, Dengue is a dry and sardonic sci-fi thriller dealing with the ultimate consequences of climate change.
DOCTOR WHO 10TH #13
DOCTOR WHO 12TH #10
DOCTOR WHO 9TH #3 (OF 5)
DOCTOR WHO MAGAZINE #488
DONALD DUCK #3
DORBZ BATMAN BLACK SUIT BATMAN VINYL FIG
EC ARCHIVES WEIRD SCIENCE HC VOL 04
FAIRY QUEST TP VOL 02
FAIRY TAIL GN VOL 49
FLASH ANNUAL #4 | Preview
Publisher: DC COMICS
(W) Robert Venditti, Van Jensen (A) Bong Davo, Norm Rapmund (CA) Brett Booth, Norm Rapmund
Meet the new hunting party gathered by Professor Zoom – and see how The Flash's nemesis recruited each of these deadly players to plague the life of Barry Allen.
GENUS #96 (A)
GOODBYE CHUNKY RICE PANTHEON ED NEW P
GOTHAM BY MIDNIGHT ANNUAL #1
GRINDHOUSE DRIVE IN BLEED OUT #7 (A)
GUARDIANS TEAM-UP #8
HAWKEYE TP VOL 04 RIO BRAVO
HE MAN THE ETERNITY WAR #8
HELP US GREAT WARRIOR #6 (OF 6)
HERALD LOVECRAFT AND TESLA #5
HIKARI ASTRO BOY NVS FIG
HIT 1957 #4 (OF 4)
HOWARD THE DUCK #3 2ND Printing
ILLUSTRATED BRITISH CLASSICS LAST OF THE MOHICANS
INVISIBLE REPUBLIC #5 (MR)
JEM & THE HOLOGRAMS #5
JLA GODS AND MONSTERS SUPERMAN #1
JUNGLE GIRL SEASON 3 #4 (OF 4)
LAZARUS #18 (MR) | About the Series
Publisher: IMAGE COMICS
(W) Greg Rucka (A) Michael Lark (CA) Owen Freeman
"POISON," Part Two
Hock forces have engaged Carlyle troops on the shores of Lake Superior, and to turn them back Forever must take her place on the front…where the enemy is waiting for her.
LOBO ANNUAL #1
LOBSTER JOHNSON A CHAIN FORGED IN LIFE ONE SHOT
LOW #8 (MR)
MAD MAX FURY ROAD FURIOSA #1 2ND Printing (MR)
MAD MAX FURY ROAD MAX #1 OF(2)
MAGNETO TP VOL 03 SHADOW GAMES
MANHATTAN PROJECTS SUN BEYOND THE STARS #1 2ND Printing
MANHATTAN PROJECTS SUN BEYOND THE STARS #2
MARVEL UNIVERSE ULT SPIDER-MAN WEB WARRIORS #9
MATERIAL #3 (MR)
MAXX MAXXIMIZED HC VOL 04
MEANWHILE #3
MELODY STORY OF A NUDE DANCER GN (MR)
MERCY SPARX #8 (MR)
MODOK ASSASSIN #3 (OF 5) SWA
MORE PEANUTS TP VOL 02 1952-1954 (TITAN ED)
MRS DEADPOOL AND HOWLING COMMANDOS #1 2ND Printing
MULAN REVELATIONS #2 (OF 4)
MYTHIC #3 (MR)
NINJAK #5
NOT FUNNY HA HA HC
OH MY GODDESS OMNIBUS TP VOL 01
PASTAWAYS #5
PEANUTS TP VOL 01 1950-1952 (TITAN ED)
PHOEBE GLOECKNER DIARY OF TEENAGE GIRL GN REVISED Edition (MR)
POCKET POP DC COMICS 3PC TIN GIFT SET
POWERS #4 (MR)
PRE CODE CLASSICS STRANGE FANTASY HC VOL 01
PREVIEWS BACKLIST CATALOG 2015 EXTRAS
PRIMATES FEARLESS SCIENCE OF GOODALL FOSSEY & GALDIKAS SC
PRINCELESS BE YOURSELF #2 (OF 4)
RASPUTIN #7 (MR)
RED SONJA #17
RESIDENT ALIEN SAM HAIN MYSTERY #3 (OF 3)
ROY THOMAS PRESENTS RULAH JUNGLE GODDESS HC VOL 03
SABRINA #4 (MR) | Preview
Publisher: ARCHIE COMIC PUBLICATIONS
(W) Roberto Aguirre Sacasa (A/CA) Robert Hack
Hell hath no fury! It's Sabrina in the underworld as she and her companions risk everything – including their immortal souls – to rescue Harvey's consciousness, trapped in the Dark Pit. Meanwhile, with Greendale's most powerful witch missing in action, Madame Satan launches an attack on the Spellman household, but Hilda and Zelda are not helpless, and then of course there's Cousin Ambrose to contend with! For TEEN+ readers.
SANDMAN OVERTURE #5 SPECIAL EDITION (MR)
SCARLETT COUTURE #4 (OF 4)
SEA URCHIN GN (MR)
SEX CRIMINALS #11 (MR)
SHIELD #8
SHRINKING MAN #1 (OF 4)
SIMPSONS ILLUSTRATED #18
SOUTHERN BASTARDS #10 (MR)
SPAWN #254
STAR WARS #7
STAR WARS LITTLE GOLDEN BOOK ATTACK OF CLONES
STAR WARS LITTLE GOLDEN BOOK EMPIRE STRIKES BACK
STAR WARS LITTLE GOLDEN BOOK NEW HOPE
STAR WARS LITTLE GOLDEN BOOK PHANTOM MENACE
STAR WARS LITTLE GOLDEN BOOK RETURN OF JEDI
STAR WARS LITTLE GOLDEN BOOK REVENGE OF SITH
STEVE DITKO ARCHIVES HC VOL 05 DRIPPING FEAR
SUPERMAN #42
SWAMP THING THE ROOT OF ALL EVIL TP (MR)
THORS #2 SWA
THUNDER AGENTS 50TH ANNV SPECIAL
TITHE #4
TOMB RAIDER #18
UNCANNY AVENGERS TP VOL 05 AXIS PRELUDE
WASTELAND TP VOL 11 FLOODLAND
WAYWARD #10 (MR)
WEIRD LOVE #8
X-FILES ANNUAL 2015 | Preview
Publisher: IDW PUBLISHING
(W) Mike Raicht (A) Kevin VanHook (CA) Russell Walks
Each year on the anniversary of his sister's abduction, Mulder investigates the mysterious disappearance of a child in an effort to bring others peace. This year's search takes him to the high school reunion of a teen who disappeared in an abandoned house with friends who would go on to start their very own ghost-hunting show.
X-MEN 92 #2 SWA
ZERO TP VOL 04 WHO BY FIRE (MR)
---
Shortages
FUBAR DECLASSIFIED TP (MR)
1602 WITCH HUNTER ANGELA #2 SWA
COMIC FANDOM QUARTERLY #2 (OF 5)
PRE CODE CLASSICS STRANGE FANTASY SLIPCASE ED VOL 01
TRANSFORMERS VS GI JOE #8
X-O MANOWAR DLX HC VOL 02
Hey! Although the POP DOCTOR WHO 4TH DOCTOR VINYL FIG is listed as officially coming out this week, it actually came out LAST WEEK and we still have one in the shop right now! (And we're getting a couple more on Wednesday.)
---
Boston Comic Con is at the Seaport World Trade Center on Friday, 31 July through Sunday, 2 August.
http://bostoncomiccon.com/
Oh and if you ARE at Comic Con Boston, Gerald Peary stopped by today to let us know that he will be there at Table W85 and his film, ARCHIE'S BETTY: AN INDEPENDENT DOCUMENTARY SEARCH FOR THE REAL-LIFE CHARACTERS BEHIND ARCHIE COMICS, will be at the BCC Film Festival at the Back Bay Complex (2nd level of the Seaport World Trade Center) playing Saturday, 8/1 at 3:35pm and Sunday, 8/2 at 3:30pm. For more info, see www.bigsleepfilms.com
---
Summer Cosplay Celebration on Saturday, 8/1, at Arts at the Armory in Somerville!
See https://www.facebook.com/events/437456759766654/ for event details
---
IF YOU HAVE A COMICKY EVENT YOU'D LIKE TO HAVE LISTED HERE, DROP US A LINE!
Thank you!
Million Year Picnic
99 MT Auburn ST downstairs
Cambridge, MA 02138
617-492-6763
https://www.themillionyearpicnic.com