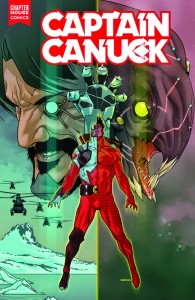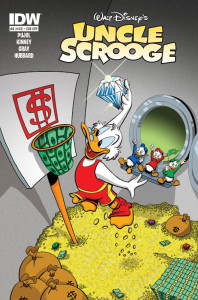 2000 AD SUMMER SCI-FI SPECIAL 2015
ADV OF DR MCNINJA TP VOL 03 KING RADICAL
ADVENTURE TIME #42 | Preview
Publisher: BOOM! STUDIOS
(W) Christopher Hastings, Ian McGinty (A) Zachary Sterling & Various (CA) Vivian Ng
Finn and Jake are on the run, trying to figure out who on the inside framed them for the destruction of Peppermint Butler's secret security team.
ALL NEW HAWKEYE #4 | Preview
Publisher: MARVEL COMICS
(W) Jeff Lemire (A/CA) Ramon K. Perez
• In a very special issue, the past and the present collide as a young Clint and an older Hawkeye attempt to save whatever innocence they have left.
• Jeff Lemire and Ramon Perez bring you an issue unlike any other–reminding us why Hawkeye is a series unlike any other.
AQUAMAN #42
ARCHIE COMICS SPECTACULAR FRIENDS FOREVER TP
ARCHIE FUNHOUSE COMICS DOUBLE DIGEST #16
ARCHIE VS PREDATOR #4 (OF 4)
ARCHIE VS SHARKNADO ONE SHOT
BART SIMPSON COMICS #97
BATMAN 66 #25
BATWOMAN TP VOL 06 THE UNKNOWNS
BETTY & VERONICA COMICS DOUBLE DIGEST #235
BIRTHRIGHT #9
BLACK BUTLER TP VOL 20
BOOK OF DEATH FALL OF BLOODSHOT #1
BTVS SEASON 10 #17
CAPTAIN CANUCK 2015 ONGOING #3 | Read Issue #1 for FREE
Kalman Andrasofszky & Leonard Kirk
New regular artist Leonard Kirk (Fantastic 4, X-Factor, JSA) joins the team! Captain Canuck's brother, Michael Evans has vanished. It's up to Canuck and Equilibrium to mount a rescue op and find him. All the clues point to the mysterious Site ALEPH! Plus: Classic Canuck faces an all new threat in a back-up story by Ed Brisson and Scott Hepburn!
CAVEWOMAN CASTAWAY ONE SHOT CVR E (NET) (A)
CONDITIONS ON THE GROUND HC
COWL #11 (MR)
CYBORG #1 | Preview
Publisher: DC COMICS
(W) David Walker (A/CA) Ivan Reis, Joe Prado
The machine that gives Cyborg his powers is evolving! The only problem is that machine is his body and he has no idea what's causing these changes!
DAREDEVIL TP VOL 03 DAREDEVIL YOU KNOW
DC COMICS NEW 52 THE JOKER Action Figure
DEADPOOL CLASSIC TP VOL 12 DEADPOOL CORPS
DEATHSTROKE #8
DEMONS & ANGELS HC VOL 02 CLAY WILSON (MR)
DISCIPLES #2 (MR)
DOC SAVAGE DOUBLE NOVEL VOL 82 BOSS OF TERROR & MAGIC FOREST
DOCTOR WHO 10TH HC VOL 02 WEEPING ANGELS OF MONS
DORBZ BATMAN HARLEY QUINN VINYL FIG
DREAM MERCHANT TP (MR)
DUNGEONS & DRAGONS LEGEND OF DRIZZT TP VOL 02 EXILE
E IS FOR EXTINCTION #2 SWA
EFFIGY #7 (MR)
EGOS #8
ELFQUEST FINAL QUEST #10
ENORMOUS V2 #1 (OF 6)
FABLES TP VOL 22 (MR)
FANTE BUKOWSKI GN
FASTER THAN LIGHT PROMO BOOK
FIGHT CLUB 2 #3
FIVE GHOSTS #17
FLASH #42
FRANKENSTEIN UNDERGROUND #5 (OF 5)
GALAXY QUEST JOURNEY CONTINUES TP
GANTZ TP VOL 36 (MR)
GI JOE A REAL AMERICAN HERO #216
GIRL WHO KICKED THE HORNETS NEST HC (MR)
GOD IS DEAD #39 (MR)
GOTHAM BY MIDNIGHT #7
GRAYSON #10
GUARDIANS OF GALAXY TP VOL 03 GUARDIANS DISASSEMBLED
HARLEY QUINN & POWER GIRL #2 (OF 6)
HULK TP VOL 03 OMEGA HULK BOOK 02
INFINITE LOOP #4 (OF 6)
INJUSTICE GODS AMONG US YEAR FOUR #6
INSUFFERABLE #3
IVAR TIMEWALKER #7
IXTH GENERATION #4
JIM BUTCHER DRESDEN FILES DOWN TOWN #6 (OF 6)
JLA GODS AND MONSTERS BATMAN #1
JOHN CARTER WARLORD #9 (MR)
JUDGE DREDD MEGAZINE #361
JUSTICE LEAGUE 3001 #2
KANAN #4
KNIGHTS OF THE DINNER TABLE #222
LEAF HC
LEGENDARY STAR-LORD TP VOL 02 RISE OF BLACK VORTEX
LIL DEPRESSED BOY TP VOL 05
LOKI AGENT OF ASGARD #16 SWA
MAGNETO #20 SWA
MALEFIC TIME APOCALYPSE HC VOL 01
MARVEL PREVIEWS AUGUST 2015
MARVEL ZOMBIES #2 SWA
MICKEY MOUSE #2
MIND MGMT #35
MIND MGMT HC VOL 05 THE ERASER
MONSTER TP VOL 05 PERFECT ED URASAWA
MTG (Magic The Gathering) TCG 2015 ORIGINS BOOSTER DIS
MY LITTLE PONY FRIENDSHIP IS MAGIC #32
OCTOBER FACTION TP VOL 01
OLD MAN LOGAN #3 SWA
OREIMO KURONEKO TP VOL 02
POP DOCTOR WHO DALEK VINYL FIG
POWER OF TANK GIRL OMNIBUS TP
POWER UP #1 (OF 6) | Preview
Publisher: BOOM! STUDIOS
(W) Kate Leth (A/CA) Matt Cummings
It has been foretold that four noble warriors of incredible strength would be gifted with cosmic abilities at a moment of planetary alignment…which, yeah, something definitely went wrong here. Amie is a disaffected twentysomething with a lot of attitude, Kevin is a washed-up athlete way past his prime, Sandy's a mother of two teenagers, and Silas…is a goldfish. Just a normal goldfish. Are we sure we read that prophecy right?
PREVIEWS #323 AUG 2015
PREZ #2 (OF 12)
PUNISHER #20 SWA
RICK & MORTY #1 3RD Printing
RICK & MORTY #4
ROCKET RACCOON PREM HC VOL 02 STORYTAILER
RUNLOVEKILL #4 (MR)
SAVAGE WOLVERINE TP VOL 04 BEST THERE IS
SECRET WARS #3 (OF 8) 2ND Printing
SECRET WARS #4 (OF 8)
SECRET WARS BATTLEWORLD #3 (OF 4) SWA
SENSATION COMICS FEATURING WONDER WOMAN #12
SIDEKICK #11 (MR)
SINESTRO #13
SIXTH GUN TP VOL 08 HELL AND HIGH WATER
SOMETHING AT WINDOW IS SCRATCHING GN
SPIDER-MAN AND X-MEN TP
SPIDER-MAN BIG TIME TP VOL 04 COMPLETE COLLECTION
SPIDER-WOMAN #9
STAR TREK ONGOING #47
STAR-LORD AND KITTY PRYDE #1 SWA
STRAY BULLETS SUNSHINE & ROSES #6 (MR)
SUNNY HC VOL 05
SWORDS OF SORROW SONJA JUNGLE #1 (OF 3)
TEEN TITANS #10
TERRA FORMARS GN VOL 07 (MR)
TIM GINGER TP (MR)
UNCANNY X-MEN #35
UNCLE SCROOGE #4 | Preview #3
Publisher: IDW PUBLISHING
(W) Miquel Pujol & Various (A) Miquel Pujol, Al Hubbard (CA) Miquel Pujol
"The Grand Canyon Conquest," Part 1 of 2: When an old Klondike debt spirals out of control, Scrooge fears his fortune will be colonized by con men!
VALHALLA MAD #3
VERTIGO CMYK TP (MR)
WALLY WOOD EC COMICS ARTISAN ED TP
WALT DISNEY COMICS & STORIES #721
WE ARE ROBIN #2
WEIRDWORLD #2 SWA
WINTERWORLD FROZEN FLEET #3 (OF 3)
WOLF #1 (MR)
WONDER WOMAN #42
WORLD WAR 3 ILLUSTRATED #46
ZITA THE SPACEGIRL GN NEW Printing
---
Shortages
DEVIL IS PART TIMER GN VOL 02
FUTURE IMPERFECT #3 SWA
JUSTICE SOCIETY OF AMERICA A CELEBRATION OF 75 YEARS HC
PUELLA MAGI MADOKA MAGICA HOMURAS REVENGE GN VOL 01
SEVEN WILD SISTERS SC
TMNT CASEY & APRIL #2 (OF 4)
ZENITH HC PHASE FOUR
---
SIGNING! SIGNING! WE'RE DOING A SIGNING!

Jay Kennedy's new book DONEGAL: AN IRISH GHOST STORY TP
is out and Jay will be at the Million Year Picnic THIS WEDNESDAY, 22 July 2015 signing copies from 4-6pm. Jay's work includes 2:03AM, GRITTY COMICS, THE SLEEPLESSNESS, and DISTRACULA. Jay is a member of the Boston Comics Roundtable. You can find him on Facebook here: https://www.facebook.com/jay.kennedy.562
More about this event here.
---
Cary Memorial Library presents "Women in Comics"
by Robin Brenner on Tuesday, 21 July
2015, from 7pm-8:30pm in the large meeting room.
1874 Massachusetts Avenue, Lexington, MA 02420, (Tel) 781-862-6288
http://www.libraryinsight.com/eventdetails.asp?jx=gxp&lmx=634484&v=3
---
Boston Comics Roundtable CREATOR TALKS: DAN MAZUR
Sunday, 26 July 2015 2-4PM
At the Boston Comics Workspace
561 Windsor St, Studio 306, Somerville, Massachusetts
Event Page:
http://bostoncomics.com/creator-talks-dan-mazur/
Facebook Event:
https://www.facebook.com/events/1447527692218802/
---
Boston Comic Con 2015
is at the Seaport World Trade Center on Friday, 31 July through Sunday, 2 August.
http://bostoncomiccon.com/
---
Summer Cosplay Celebration
on Saturday, 8/1, at Arts at the Armory in Somerville!
See https://www.facebook.com/events/437456759766654/ for event details
IF YOU HAVE A COMICKY EVENT YOU'D LIKE TO HAVE LISTED HERE, DROP US A LINE!
Thank you!
Million Year Picnic
99 MT Auburn ST downstairs
Cambridge, MA 02138
617-492-6763
https://www.themillionyearpicnic.com