8HOUSE ARCLIGHT #2 (MR)
ADVENTURE TIME ORIGINAL CARTOON TITLE CARDS HC VOL 02
AGE OF APOCALYPSE #2 SWA
AGE OF REPTILES ANCIENT EGYPTIANS #3 (OF 4)
AIRBOY #3 (OF 4) (MR)
AMAZING SPIDER-MAN RENEW YOUR VOWS #3 SWA
AMERICAN BARBARIAN COMP SERIES HC | Preview
Publisher: IDW PUBLISHING
(W/A/CA) Tom Scioli
American Barbarian is a pop art odyssey from the artist and co-author of Transformers vs. G.I. JOE. A red-white-and-blue-haired hero must defend a post-post-apocalyptic world from the immortal Two-Tank Omen.
AMERICAN VAMPIRE SECOND CYCLE #9 (MR)
ANGEL AND FAITH SEASON 10 #17
ANGELA ASGARDS ASSASSIN TP VOL 01 PRICELESS
ARCHIE COMICS ANNUAL DIGEST #263
ART OF SATOSHI KON HC
ASSASSINATION CLASSROOM GN VOL 05
BABA YAGAS ASSISTANT YR GN
BALTIMORE CULT OF THE RED KING #4 (OF 5)
BAT MITE #3 (OF 6)
BATMAN BEYOND #3
BERKELEY BREATHEDS ACADEMIA WALTZ & OTHER TRANSGRES HC
BLOODSHOT REBORN #5 (NEXT)
BOBS BURGERS ONGOING #2
BOWERY BOYS OUR FATHERS HC
BRIGHT EYED AT MIDNIGHT HC
BROKEN WORLD #3 (OF 4)

BUCKY BARNES WINTER SOLDIER #10 | Preview
Publisher: MARVEL COMICS
(W) Ales Kot (A) Marco Rudy, Langdon Foss (CA) Mike Del Mundo
"INTO THE VOID"
• The climax reaches its climax!
• Planet Mer-Z-Bow under siege!
• Bucky Barnes times two: one too many??
BUNKER #13 (MR)
CAPTAIN CANUCK SERIES ONE COMPENDIUM TP VOL 01
CAPTAIN KEN GN VOL 02
CHEW TP VOL 10 BLOOD PUDDIN (MR)
CIVIL WAR #2 SWA
CLUSTER #6
CONAN TP VOL 17 SHADOWS OVER KUSH
CREEPS GN VOL 01 NIGHT OF FRANKENFROGS
CREEPY COMICS #21
DARK CORRIDOR #1 (MR)
DARTH VADER #8 | Preview
Publisher: MARVEL COMICS
(W) Kieron Gillen (A/CA) Salvador Larroca
• Bounty Hunters on the attack-against the Empire!
• Darth Vader and Aphra continue their alliance – but how long will it last?
• Plus: Who is Tagge's mysterious new agent?
DEADLY CLASS #15 (MR)
DETECTIVE COMICS #43
DREAM POLICE #7
FADE OUT #8 (MR)
FBP FEDERAL BUREAU OF PHYSICS #23 (MR)
FILMFAX #141
FLASH SEASON ZERO #11
FOX (DARK CIRCLE) #5 (MR)
FRANK MILLERS DAREDEVIL ARTIFACT ED HC
FUSE #13 (MR)
FUTURE IMPERFECT #4 SWA
GIANT SIZE LITTLE MARVEL AVX #3 SWA
GIRL GENIUS SECOND JOURNEY TP VOL 01 BEAST OF THE
GOD IS DEAD #40 (MR)
GOLD DIGGER #224
GOLDEN AGE MASTERWORKS FROM GOLDEN AGE ILLUSTRAT HC VOL 02
GREEN LANTERN #43
GROOT #3
GUARDIANS OF KNOWHERE #2 SWA
GUARDIANS TEAM-UP #9
HUMANS #7 (MR)
IMPERIUM #7
INFINITE CRISIS FIGHT FOR THE MULTIVERSE TP
INFINITY GAUNTLET #3 SWA
INJUSTICE GODS AMONG US YEAR FOUR #7
INSUFFERABLE #4
JLA GODS AND MONSTERS WONDER WOMAN #1 | Watch Wonder Woman Short!
Publisher: DC COMICS
(W) J. M. DeMatteis, Bruce Timm (A) Rick Leonardi, Dan Green (CA) Jae Lee
Prequel to the DC Universe movie Justice League: Gods & Monsters!
Earth in the 1960s-where a woman-warrior from a faraway world finds herself among a group of young idealists, seeking peace and love in a time of turbulence and upheaval. But Bekka of the New Gods finds her Aquarian dream abruptly shattered when she encounters the monstrous genius of Doctor Psycho and the Shock Exchange!
JOHN FLOOD #1
JOJOS BIZARRE ADV PHANTOM BLOOD HC VOL 03
JUPITERS CIRCLE #5 (MR)
KAPTARA #4
LADY MECHANIKA TABLET OF DESTINIES #4 (OF 6)
LOBO #9
LONG DISTANCE #3 (OF 4)
LOOKING FOR GROUP #5
LOONEY TUNES #226
MAD MAX FURY ROAD MAX #2 (MR) | Preview Issue 1
Publisher: DC COMICS
(W) George Miller & Various (A) Mark Sexton (CA) Tommy Lee Edwards
Left for dead and his V8 Interceptor stolen, Max Rockatansky sets out to retrieve it…heading straight into the bowels of the sunken city with nothing but his sawed-off shotgun. But the stakes are much higher than the fate of Max's ride-an innocent girl, Glory, has also been kidnapped by the depraved Buzzards. By the time Max arrives, it may already be too late…
From George Miller, the mastermind behind the Mad Max Trilogy, comes the turbocharged grand finale to Vertigo's MAD MAX: FURY ROAD specials!
MARVEL UNIVERSE AVENGERS ASSEMBLE SEASON TWO #10
MIDNIGHTER #3
MIGHTY SKULLBOY ARMY 2ND Edition TP VOL 01
MINIMUM WAGE SO MANY BAD DECISIONS #4 (OF 6) (MR)
MORNING GLORIES #47 (MR)
MS MARVEL #17 SWA
MY LITTLE PONY FRIENDS FOREVER #19
NAILBITER #15 (MR)
NARUTO GN VOL 71
NEVERBOY #6 (OF 6)
OMEGA MEN #3
ONE PIECE GN VOL 75
OUTCAST BY KIRKMAN & AZACETA #11 (MR)
PATHFINDER ORIGINS #6 (OF 6)
PEARLS BEFORE SWINE SKIP SCHOOL FLY TO SPACE TP
PHANTOM COMP DAILIES HC VOL 08 1947-1948
POWERPUFF GIRLS SUPER SMASH-UP TP VOL 01
PS BLACKCROSS #5 (OF 6)
PSYCHEDELIC ROCK ART OF CARL LUNDGREN HC
RED SKULL #2 (OF 3) SWA
RED SONJA CONAN #1 (OF 4)
REGULAR SHOW #26
REGULAR SHOW ORIGINAL GN VOL 02 NOIR MEANS NOIR BUDDY
RUE MORGUE MAGAZINE #158
SAVAGE DRAGON #205
SCRATCH9 CAT OF NINE WORLDS TP
SEX #23 (MR)
SHADOW VOL 2 #1
SHAHRAZAD #5
SIEGE #2 SWA
SKULLKICKERS #100
SPIDER-ISLAND #2 (OF 5) SWA
SPIRE #2 (OF 8)
STAR TREK ONGOING #48
SWORDS OF SORROW THORIS ADLER #3 (OF 3)
THIS DAMNED BAND #1 (OF 6) | Preview
Publisher: DARK HORSE COMICS
(W) Paul Cornell (A/CA) Tony Parker
1972: the world's most famous rock band thought they were "worshiping Satan," only to find they were actually . . . worshiping Satan.
From Paul Cornell (Wolverine, Action Comics) and Tony Parker (Mass Effect: Foundation) comes a darkly hilarious adventure of black magic and classic rock!
o A hilarious documentary-style thrill ride of black magic and rock music!
"Paul Cornell's ability to introduce us to a character at the beginning of an episode and have us crying for them at the end-for whatever reason-is, in my opinion, unmatched."-Doctor Who TV
TICK COMPLETE EDLUND TP NEW Edition
UFOLOGY #4 (OF 6)
VEDA ASSEMBLY REQUIRED TP
WAR STORIES #11 (MR)
WE STAND ON GUARD #2 (MR)
WICKED & DIVINE #13 (MR)
WILL EISNER SPIRIT #2
WITCHER FOX CHILDREN #5 (OF 5)
WOODS #15
X-9 SECRET AGENT CORRIGAN HC VOL 06
ZOMBIES VS ROBOTS #8
---
Shortages
GODKILLER WALK AMONG US #7 (RES) (MR)
PSYCHEDELIC ROCK ART OF CARL LUNDGREN LTD S&N ED
TEEN TITANS TP VOL 01 BLINDED BY THE LIGHT
ULTIMATE END #4 (OF 5) SWA
---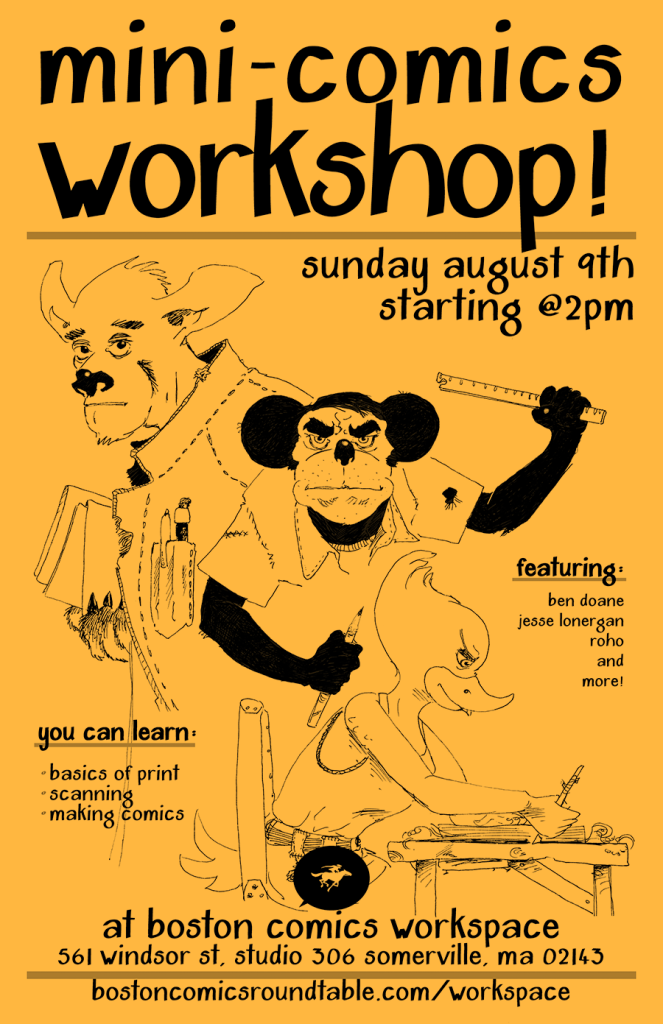 MINI-COMICS WORKSHOP! Sunday, 9 August 2015, starting at 2pm at the Boston Comics Roundtable (BCR) workspace in Somerville, 561 Windsor Street, Studio 306, in the TAZA Chocolate Factory building between Union Square and Inman Square.
http://bostoncomics.com/mini-comics-workshop/

---
---
And, I just found out about KIDS CON (http://www.kidsconne.com) and how they're doing events within other events (http://www.kidsconne.com/kcevents/) and that they will be appearing at the Dover, NH Makers Faire Cartooning Workshops on August 29th! (http://makerfairedover.com/) There are more events scheduled in September for NH & VT too.
---
IF YOU HAVE A COMICKY EVENT YOU'D LIKE TO HAVE LISTED HERE, DROP US A LINE! Just reply to this email & we'll see your note.
Thank you!
Million Year Picnic
99 MT Auburn ST downstairs
Cambridge, MA 02138
617-492-6763
https://www.themillionyearpicnic.com