100 BULLETS TP BOOK 03 (MR)
2 SISTERS SUPER SPY HC
A-FORCE PRESENTS TP VOL 01
ADVENTURE TIME FIONNA & CAKE CARD WARS #3 (OF 6)
AGE OF APOCALYPSE #4 SWA
AGENT CARTER SHIELD 50TH ANNIVERSARY #1 | Preview
Publisher: MARVEL COMICS
(W) Kathryn Immonen (A) Rich Ellis (CA) Declan Shalvey
• Agent Carter is back in an all-new adventure that reveals her secret history with S.H.I.E.L.D.!
• When Dum Dum Dugan attempts to recruit her to S.H.I.E.L.D., will Peggy join up or go her own way?
• Operation S.I.N.'s crackerjack team of Kathryn Immonen and Rich Ellis return to the world of Peggy Carter!
ALL NEW HAWKEYE #5
ARCHER & ARMSTRONG TP VOL 07 ONE PERCENT & OTHER TALES
ARMOR WARS #5 SWA
ASTRO BOY OMNIBUS TP VOL 01 | Preview
Publisher: DARK HORSE COMICS
(W/A/CA) Osamu Tezuka
Built by a brilliant scientist to replace his lost son, but with powers beyond imagination, Astro Boy fights for the oppressed and helpless-human, alien, or robot. Created by Osamu Tezuka, "Japan's Walt Disney," Astro Boy is action-packed, classic fun for all ages, now featured in value-priced omnibus editions!
AUTEUR SISTER BAMBI #4 (OF 5)
AWAKE #1
BACK ISSUE #84
BATMAN ARKHAM KNIGHT GENESIS #2 (OF 6)
BATMAN HC VOL 07 ENDGAME
BEAUTY #2 (MR)
BIRTHRIGHT TP VOL 02
BIZARRO #4 (OF 6)
BLACK CANARY #4
BLOODSHOT REBORN #6 (NEW ARC)
BOZZ CHRONICLES TP
BPRD HELL ON EARTH #135
BUCKY BARNES WINTER SOLDIER #11
CAPTAIN AMERICA WHITE #1 (OF 5)
CONSTANTINE THE HELLBLAZER #4
COURAGEOUS PRINCESS HC VOL 03 DRAGON QUEEN
CREEPY COMICS TP VOL 04
CUSTOM NAMCO RISE OF INCARNATES #13 (OF 15)
D4VE2 #1 (OF 4)
DARK HORSE PRESENTS 2014 #14
DEATH HEAD #3 (OF 6)
DEATH VIGIL #8 (OF 8)
DEBBIES INFERNO (ONE SHOT) (MR)
DOCTOR FATE #4
DOOMED #4 | Preview
Publisher: DC COMICS
(W) Scott Lobdell (A/CA) Javi Fernandez
It's Wonder Girl vs. Doomed on the streets of Metropolis! Reiser is just a regular, everyday teenager who changes into a huge, poisonous doom-monster…But all that turns upside down when he gets the chance to meet his big crush…the only problem is, Wonder Girl's idea of a "crush" is beating Doomed senseless!
FADE OUT #9 (MR)
FADE OUT TP VOL 02 (MR)
FICTION #4 (OF 4)
FIRES ABOVE HYPERION GN (MR)
FLASH SEASON ZERO TP
FLOP TO THE TOP HC
FRANK FRAZETTA ADVENTURES OF SNOW MAN HC
GFT VAN HELSING VS DRACULA #2 (OF 5)
GODZILLA RULERS OF EARTH TP VOL 06
GOLD DIGGER SWIMSUIT SPECIAL #23
GREEN LANTERN THE LOST ARMY #4
GROO FRIENDS AND FOES #9
GUARDIANS OF KNOWHERE #4 SWA
HAGANAI I DONT HAVE MANY FRIENDS GN VOL 12 (MR)
HARLEY QUINN #20
HEART IN A BOX TP
HEAVY METAL #276 CVR B KIRBY (MR)
HILO GN VOL 01 BOY WHO CRASHED TO EARTH
HOUSE OF M #3 SWA
I AM HELEN KELLER YR HC
INFINITY GAUNTLET #4 SWA
INJUSTICE GODS AMONG US YEAR FOUR #10
INVADER ZIM #3
INVINCIBLE #123
ISLAND #3 (MR)
IVAR TIMEWALKER #9 (NEW ARC)
JEM & THE HOLOGRAMS #7
JUXTAPOZ #176 SEP 2015
KIMI NI TODOKE GN VOL 22 FROM ME TO YOU
LADY MECHANIKA TABLET OF DESTINIES #5 (OF 6)
LOOKING FOR GROUP #6
LOVE AT FOURTEEN GN VOL 04
LUMBERJANES #18
MAGNUS ROBOT FIGHTER TP VOL 03 CRADLE & GRAVE
MANIFEST DESTINY #17
MARTIAN MANHUNTER #4
MASTER KEATON GN VOL 04
MICKEY MOUSE #4
MIDNIGHT SOCIETY THE BLACK LAKE #3 (OF 4)
MIRACLEMAN BY GAIMAN AND BUCKINGHAM #2
MISTRY PI #3 (OF 5)
MIXTAPE #1 (OF 5)
MMW DAREDEVIL HC 09 DM VAR ED 223
MOOMIN AND THE MARTIANS GN
MOOMIN COMPLETE LARS JANSSON COMIC STRIP HC VOL 10
MY LITTLE PONY FRIENDSHIP IS MAGIC #34 | Preview
Publisher: IDW PUBLISHING
(W) Jeremy Whitley (A/CA) Andy Price
"Siege of the Crystal Empire" Part 1! A enigmatic new foe brings together some of the most villainous characters in Equestria to attack the Crystal Empire! What is their true aim and will our ponies be able to save the day?
NEW TEEN TITANS TP VOL 03
NO MERCY TP VOL 01
ODYC #7 (MR)
OLIVIA BETTIE PAGE 2016 WALL CALENDAR (MR)
PAYBACKS #1 | Preview
Publisher: DARK HORSE COMICS
(W) Donny Cates, Eliot Rahal (A) Geoff Shaw (CA) Lauren Affe
Heroism doesn't come cheap, so when superheroes borrow money to finance their genetic enhancements or crime-fighting supercomputers, their debts make student loans look like IOUs! Enter the Paybacks, a repo squad composed of bankrupt former heroes here to foreclose on everybody's secret lairs! From the team that delivered the acclaimed Buzzkill!
PEARLS BEFORE SWINE TP PEARLS GETS SACRIFICED
POP STAR WARS PRINCESS LEIA VINYL FIGURE
PREZ #4 (OF 6)
PRINCELESS RAVEN PIRATE PRINCESS #3
PUELLA MAGI SUZUNE MAGICA GN VOL 01
RAI #10
RAT QUEENS #12 (MR)
RIVERS OF LONDON #3 (OF 5) (MR)
ROBIN SON OF BATMAN #4
SECRET IDENTITIES #7
SECRET SIX #6
SECRET WARS JOURNAL #5 (OF 5) SWA
SENSATION COMICS FEATURING WONDER WOMAN #14
SEX CRIMINALS #11 2ND Printing (MR)
SEX CRIMINALS #12 (MR)
SEX CRIMINALS #12 KATE LETH XXX VAR (MR)
SHADOW DOUBLE NOVEL VOL 99 MARDI GRAS MYSTERY & CITY OF FEAR
SHERMANS LAGOON TALES FROM DEEP COMPLETELY FABRICA
SHUTTER #15 (MR)
SIMPSONS TREEHOUSE OF HORROR #21
SNOOPY TP 1955-1958 (TITAN ED)
SOUTHERN CROSS #5 (MR)
SPIDER-ISLAND #4 (OF 5) SWA
SPIDER-VERSE #5 SWA
STAR TREK ONGOING #49
STAR WARS #9
STAR WARS LANDO #4 (OF 5)
STEP ASIDE POPS HARK A VAGRANT COLLECTION HC (MR)
SUPERMAN WONDER WOMAN #21
TERRA FORMARS GN VOL 08 (MR)
THE MARVELS ILLUSTRATED NOVEL HC
TOKYO GHOST #1 (MR) | Preview
Publisher: IMAGE COMICS
(W) Rick Remender (A/CA) Sean Murphy
The Isles of Los Angeles 2089: Humanity is addicted to technology, a population of unemployed leisure seekers blissfully distracted from toxic contamination, who borrow, steal, and kill to buy their next digital fix. Getting a virtual buzz is the only thing left to live for. It's the biggest industry, the only industry, the drug everyone needs, and gangsters run it all.
And who do these gangsters turn to when they need their rule enforced? Constables Led Dent and Debbie Decay. This duo is about to be given a job that will force them out of the familiar squalor of Los Angeles to take down the last tech-less country on Earth: The Garden Nation of Tokyo.
Bestselling writer RICK REMENDER (BLACK SCIENCE, DEADLY CLASS) and superstar art team SEAN MURPHY (CHRONONAUTS, Punk Rock Jesus) and MATT HOLLINGSWORTH (WYTCHES, Hawkeye) examine our growing addiction to technology while thirsting for a nature we continue to destroy.
UFOLOGY #5 (OF 6)
US JUDGE DREDD DAY OF CHAOS FOURTH FACTION TP
USAGI YOJIMBO #148
WEIRD LOVE #9
WILL EISNER SPIRIT #3
WONDER WOMAN #44
WORLD OF ARCHIE COMICS DOUBLE DIGEST #52
X TP VOL 06 MARKED FOR DEATH ENTER THE MARK (MR)
YOURE OUT OF YOUR MIND CHARLIE BROWN TP 1957-1959
---
Shortages
ANGELTOWN THE NATE HOLLIS INVESTIGATIONS GN
NUTMEG #4
PIXIES GN (MR)
---
MYP HOURS CHANGING: Starting Saturday, 26 September 2015, we will be opening at 11am on Saturdays.
---

The delightful folks at the Boston Comics Roundtable are offering classes! There are two sections this fall of their "Introduction to Comics' Storytelling: Comics, Graphic Novels and More" for folks ages 16 and up, $100 each, starting 9/15 or 9/17 depending on which section you choose.
http://bostoncomics.com/education/
---

If you are jonesin' for a comic con, the Hartford Comic Con is coming up on 19-20 September 2015.
http://hartfordcomiccon.com/
---
Have you heard about KIDS CON (http://www.kidsconne.com) and how they're doing events within other events (http://www.kidsconne.com/kcevents/)?
Burlington, VT – Sept 19-20, 2015 – Vermont Comic Con Jr.
Portland, ME – Oct 25, 2015 – Portland Comic Expo Kids Zone
---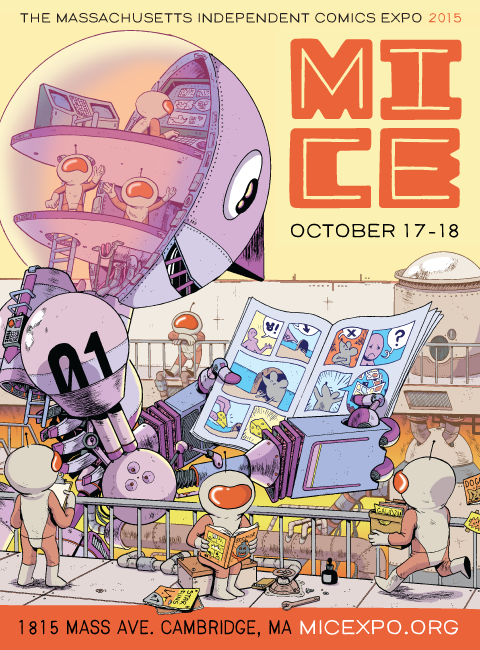 MICE IS COMING!!!
The Massachusetts Independent Comics Expo (MICE) is coming to Lesley University on Saturday & Sunday, 17 & 18 October 2015! It's going to be sO AWESOME I don't even have all the words I need to tell you HOW awesome it's going to be.
---
IF YOU HAVE A COMICKY EVENT YOU'D LIKE TO HAVE LISTED HERE, DROP US A LINE! Just contact us.
Thank you!
Million Year Picnic
99 MT Auburn ST downstairs
Cambridge, MA 02138
617-492-6763
https://www.themillionyearpicnic.com