---
ITEMS ON SALE: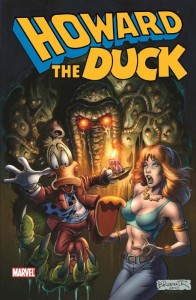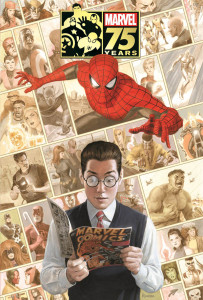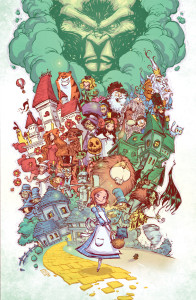 And there may be MORE!!! Keep an eye on our Twitter feed:
https://twitter.com/myp_comics
---

1602 WITCH HUNTER ANGELA TP
ABE SAPIEN #31
ACG COLL WORKS FORBIDDEN WORLDS HC VOL 10
ADVENTURE TIME #49
AETHER AND EMPIRE #1
AGENTS OF SHIELD #2
ALABASTER THE GOOD THE BAD & THE BIRD #3
ALIENS VAMPIRELLA #6 (OF 6)
ALL NEW ALL DIFFERENT AVENGERS #5
ALL NEW HAWKEYE #4
ALL NEW WOLVERINE #5
ALL NEW X-MEN #4
AMAZING SPIDER-MAN EPIC COLL TP RETURN OF SINISTER SIX
APAMA UNDISCOVERED ANIMAL TP VOL 01
ARCADIA #8
ARCHIE ARCHIVES HC VOL 12
ARCHIE JUMBO COMICS DOUBLE DIGEST #266
AS YOU WERE VOL 04 LIVING SITUATIONS
ASSASSINS CREED #5 (MR)
ATOMIC ROBO TP CRYSTALS ARE INTEGRAL COLLECTION
AUTUMNLANDS TOOTH & CLAW #9 (MR)
BADGER #1 (OF 5) (MR) | Preview
Publisher: DEVILS DUE /1FIRST COMICS, LLC
(W) Mike Baron (A) Jim Fern, Paul Mounts (CA) Val Mayerik, Andres Esparza
Fans have demanded it and now, at long last, the Badger returns! A brand new story ripped from today's headlines, from the inimitable Mike Baron! Badger as you've never seen him: Raw! Furious! Crazier than Randy Quaid! Jim Fern's art will astonish! With a killer variant cover by Paul Pope!
BATMAN #49
BATMAN & ROBIN ADV YR TP CLAYFACES SLIME SPREE
BATMAN & ROBIN ADV YR TP JOKERS MAGIC MAYHEM
BATMAN & ROBIN ADV YR TP SCARECROWS NIGHTMARE MAZE
BATMAN & ROBIN ADV YR TP TWO FACE FACE OFF
BATMAN 66 MEETS THE MAN FROM UNCLE #3 (OF 6)
BATMAN AND ROBIN ETERNAL #19
BATMAN ARKHAM KNIGHT BATGIRL AND HARLEY QUINN #1
BATMAN HARLEY AND IVY DELUXE ED HC
BATMAN SUPERMAN #29
BATMAN TEENAGE MUTANT NINJA TURTLES #3 (OF 6)
BLACK CANARY #8
BLACK JACK KETCHUM #3 (OF 4)
BLACK KNIGHT #4
BLACK SCIENCE #20 (MR) | More on Facebook
Publisher: IMAGE COMICS
(W) Rick Remender (A/CA) Matteo Scalera
"Godworld" Part 4
The last Dimensionaut returns to save the Eververse.
BLOODSHOT REBORN TP VOL 02 THE HUNT
BTVS SEASON 10 TP VOL 04 OLD DEMONS
CATWOMAN #49
CAVEWOMAN SHORTS #2 (OF 2) CVR E ROOT (NET)(A)
CONSTANTINE THE HELLBLAZER #9
CONSTANTINE THE HELLBLAZER TP VOL 01 GOING DOWN
CYRUS PERKINS AND THE HAUNTED TAXI CAB TP
DARK AND BLOODY #1 (OF 6) (MR)
DARK KNIGHT RETURNS TP NEW EDITION
DARTH VADER #16
DC COMICS BOMBSHELLS #9
DEADPOOL #4 2ND Printing
DEADPOOL #7 | Preview
Publisher: MARVEL COMICS
(W/A) Various (CA) Tony Moore
Twenty-five years ago in February 1991, the New Mutants encountered a blabber mouthed mercenary who tore through Xavier's mansion and into the very heart of the 1990s. Now, that self-same degenerate is one of the most popular heroes in the world, an Avenger, and maybe the smelliest and grossest person that tumblr swoons over. Come see how Deadpool reacts to life at the top of the world…(hint: he does not handle it well). PLUS: A full array of stories from Deadpool's new allies, the members of the Mercs for Money! Oh…and I think there is, like…some other Deadpool thing this month people are excited about? I forget what.
Parental Advisory
DESCENDER #10
DOC SAVAGE SPIDERS WEB #3
DOCTOR WHO 10TH YEAR TWO #6
DOCTOR WHO 12TH YEAR TWO #2
DR MIRAGE SECOND LIVES #3 (OF 4)
EARTH 2 SOCIETY #9
EC REED CRANDALL & FELDSTEIN HIGH COST OF DYING HC
ELTINGVILLE CLUB HC
FABLES THE WOLF AMONG US #14 (MR)
FLASH #48 | Preview
Publisher: DC COMICS
(W) Robert Venditti, Van Jensen (A) Jesus Merino (CA) Ivan Reis, Joe Prado
In the aftermath his recent clash with Zoom, The Flash finds himself on the run…from the law! And the task force charged with arresting him is made up of his enemies, The Rogues!
FRANKEN FRAN OMNIBUS TP VOL 01
GANGES #5
GEARHEARTS STEAMPUNK GLAMOR REVUE #12
GI JOE A REAL AMERICAN HERO #225
GIGANTO MAXIA TP | Preview
Publisher: DARK HORSE COMICS
(W/A/CA) Kentaro Miura
From Berserk creator Kentaro Miura comes Giganto Maxia, a science-fiction/fantasy manga of titanic proportions! One hundred million years in the future, the Empire of Olympus uses colossal mutant beasts to crush its adversaries. Only the gladiator Delos, the mystic Prome, and the titan Gohra can hope to prevent genocide!
GOLD DIGGER #229
GOTHAM ACADEMY #15
GREEN LANTERN CORPS EDGE OF OBLIVION #2 (OF 6)
GUARDIANS OF GALAXY #5
GUNNERKRIGG COURT TP VOL 03 REASON
HARLEYS LITTLE BLACK BOOK #2
HARROW COUNTY #9
HAYATE COMBAT BUTLER GN VOL 27
HIP HOP FAMILY TREE #7
ILLUMINATI #4
IMMORTAL WINGS #2 (OF 4)
INJECTION #7 (MR)
INJUSTICE GODS AMONG US YEAR FIVE #3
INSEXTS #3 (MR)
INVADER ZIM #7
JAMES BOND #4
JEM & THE HOLOGRAMS VALENTINES DAY SPEC 2016
JUDGE DREDD MEGAZINE #368
JUGHEAD #4
LANTERN CITY #10 (OF 12)
LEAVING MEGALOPOLIS SURVIVING MEGALOPOLIS #2
LEGEND OF WONDER WOMAN #2 (OF 9)
LETTER 44 #23
LIMBO #4 (OF 6) (MR)
LOW #11 SHORE OF THE DYING LIGHT PART 1 (OF 5)
MANHATTAN PROJECTS SUN BEYOND THE STARS #4
MARVEL UNIVERSE CAPTAIN AMERICA CIVIL WAR DIGEST TP
MASSIVE NINTH WAVE #3
MICKEY MOUSE #9
MIGHTY THOR #2 2ND Printing
MMW DAREDEVIL HC VOL 10 DM VAR ED 228
MONSTER MUSUME GN VOL 08 (MR)
MOON GIRL AND DEVIL DINOSAUR #2 2ND Printing
MS MARVEL #4
MY LITTLE PONY FRIENDSHIP IS MAGIC #39
NARCOPOLIS CONTINUUM #2 (OF 4) (MR)
NEW AVENGERS #6
NEW ROMANCER #3 (OF 12) (MR)
NEW SUICIDE SQUAD #17
NINJAK #12
NO MERCY #7
OCTOBER FACTION #13
OLD MAN LOGAN #2
PEANUT BUTTER GN VOL 01 FULL COLOR NEW Printing (A)
PEANUT BUTTER GN VOL 02 NEW Printing (A)
PEANUT BUTTER GN VOL 05 (Offered Again) (A)
PEANUT BUTTER VOL 07 (Offered Again) (A)
POPEYE CLASSICS ONGOING #43
PRE CODE CLASSICS WEB OF EVIL HC VOL 03
PRECINCT 69 GN VOL 02 (A)
PUBLIC RELATIONS #5 (MR)
RED HOOD ARSENAL #9
RED SKULL TP
RED WOLF #3
RENEE GN (MR) | Preview
Publisher: IDW – TOP SHELF
(W/A/CA) Ludovic Debeurme
French graphic novelist Ludovic Debeurme returns with a devastating sequel to his prize-winning graphic novel Lucille. While Lucille moves back in with her overbearing mother and Arthur serves time in prison for murder, new character Renée becomes obsessed with a married jazz musician twice her age. Debeurme's haunting border-less panels follow these three lovers between dreams and reality, twining their stories together into a poignant and universal search for love
SAGA BURNING HEART MENS 3XL T/S
SECOND SIGHT #1
SECRET SIX TP VOL 01 FRIENDS IN LOW PLACES
SECRET WARS JOURNAL BATTLEWORLD TP
SEVEN PERCENT #5 (OF 6)
SHADOW DOUBLE NOVEL VOL 103 ROMANOFF JEWELS
SILK #4
SNOW BLIND #3
SPIDER-GWEN #5
SPIDER-MAN 2099 #6
SPIDER-MAN DEADPOOL #1 2ND Printing
SPIDER-MAN DEADPOOL #2
SPREAD #13 CVR A SOBREIRO (MR)
STAR TREK STARFLEET ACADEMY #3 (OF 5)
STARFIRE #9
TELOS #5
THEYRE NOT LIKE US #11 (MR)
TINKER #1 (OF 4)
TOTALLY AWESOME HULK #3
ULTIMATES #4
VENTURE TP
WALT & SKEEZIX HC VOL 06 1931 – 1932
WAS SHE PRETTY GN (D&Q ED) (MR)
WEIRDWORLD #3
WELCOME BACK #5
WELCOME BACK TP VOL 01
X-FILES SEASON 11 #7
X-MEN TP AGE OF APOCALYPSE DAWN
Y THE LAST MAN TP BOOK 04 (MR)
ZAP COMIX #16
ZODIAC STARFORCE #4
ZOMBIES VS ROBOTS TP VOL 02 WAR BOTS
---
Shortages
DEC151393 REINCARNATION MAN #1 (OF 4) (1 sub)
Delayed by Diamond
OCT151358 VAMPIRELLA ARCHIVES HC VOL 13 (MR) (1 sub)
---
IF YOU HAVE A COMICKY EVENT YOU'D LIKE TO HAVE LISTED HERE, DROP US A LINE! Just contact us!
---


Vericon is an annual science fiction, fantasy, and speculative fiction convention, run by the Harvard-Radcliffe Science Fiction Association, and featuring awesome events like book signings, movie screenings and author panels. This year, Vericon will run from Friday, March 18th to Sunday, March 20th. For more information visit http://www.vericon.org.

---
The Soul of Anime, and How Japanese Manga and Music Defy Zombie Capitalism
Thursday, February 4
3:00 PM to 4:30 PM
Harvard University Lamont Library, Forum Room , 11 Quincy Street. Cambridge
Guest speaker: Ian Condry, Professor, Global Studies and Languages, MIT
More info & RSVP at https://www.eventbrite.com/e/the-soul-of-anime-and-how-japanese-manga-and-music-defy-zombie-capitalism-tickets-20016971300
---

Disaster Drawn: Visual Witness, Comics, and Documentary Form by Hillary Chute
Friday, February 19
3:00 PM
Harvard Book Store, 1256 Massachusetts Avenue, Cambridge
This event is free; no tickets are required.
http://www.harvard.com/event/hillary_l._chute1/


---
ANIME BOSTON
Is on 25-27 March 2016:


http://animeboston.com/
---
Thank you!
Million Year Picnic
99 MT Auburn ST downstairs
Cambridge, MA 02138
617-492-6763
https://www.themillionyearpicnic.com