A-FORCE #2
ACTION COMICS #49
AGATHA H & VOICE OF THE CASTLE GIRL GENIUS NOVEL SC
AMAZING FOREST #2 | Preview #1
Publisher: IDW PUBLISHING
(W) Ulises Farinas, Erick Freitas (A) Caitlin Rose Boyle & Various (CA) Ulises Farinas
Tales for the bold. Ideas for the strange. Ulises Farinas, Erick Freitas, and a cavalcade of new talents bring to life amazing fantastical tales: a detective hunts down a cannibal cult! A villain fed up with the evil business! A king tries to protect his people from turning into giraffes! And a tale of creation run amok!
AMAZING SPIDER-MAN #7
ANGEL AND FAITH SEASON 10 #23
BATGIRL #48
BATMAN AND ROBIN ETERNAL #18
BATMAN BEYOND #9
BATMAN EUROPA #4 (OF 4)
BOBS BURGERS ONGOING #8
CAPTAIN AMERICA 75TH ANNIV VIBRANIUM COLLECTION HC
CAPTAIN AMERICA SAM WILSON #6
CAPTAIN MARVEL #2
CLIVE BARKERS NIGHTBREED TP VOL 02 (MR)
CODE PRU #2 (MR)
COMIC BOOK LETTERING THE COMICRAFT WAY NEW Printing
COMIC FANDOM QUARTERLY #4 (OF 5)
CONAN TP VOL 18 DAMNED HORDE
CONTEST OF CHAMPIONS #5
CRICKETS #5 (MR)
CROSSED BADLANDS #93 WRAP CVR (MR)
DEADPOOL MERCS FOR MONEY #1 (OF 5)
DEJAH THORIS #1
DETECTIVE COMICS #49
DEVIL TALES HC
DOCTOR STRANGE #5
DONALD DUCK #10
EXODUS LIFE AFTER #3 (MR)
FALCON FEAR OF FLYING WORLD OF READING SC
FAMOUS MONSTERS OF FILMLAND #284
FUTURE SHOCK ZERO GN (MR)
GFT ESCAPE FROM MONSTER ISLAND #1 (OF 5)
GIANT DAYS #11
GOD IS DEAD #47 ICONIC CVR (MR)
GOLDEN AGE CAPTAIN AMERICA OMNI HC VOL 01 WEEKS CV
GOON LIBRARY HC VOL 02
GRANT MORRISONS 18 DAYS #8
GREAT PET ESCAPE GN CHAPTERBOOK
GREEN ARROW #49
GREEN LANTERN #49
GUARDIANS OF INFINITY #3
HAUNTED HORROR PRE-CODE COVER COLORING BOOK TP VOL 01
HINGES TP BOOK 02 PAPER TIGERS
HOWARD DUCK OMNIBUS HC
HOWARD THE DUCK #4 | Preview
Publisher: MARVEL COMICS
(W) Chip Zdarsky (A) Joe Quinones (CA) Joe Quinones, Kevin Wada
• She's obsessed, she's powerful, she's ALMOST the new herald of Galactus! And like the rest of the universe, SCOUT is after Howard. But with an eye to ending the hunger of the Devourer of Worlds!
• Plus: The Silver Surfer! The Stranger! The Guardians of the Galaxy! All in a story of Howard on the run we're calling … FOWL MOVEMENT!
• Oh god, are we really calling it that?
IDENTITY CRISIS TP NEW EDITION
INVINCIBLE IRON MAN #6
JOE GOLEM OCCULT DETECTIVE #4
JOHNNY RED #4 (OF 8)
KLAUS #3
KNIGHTS OF THE DINNER TABLE #228
LARA CROFT FROZEN OMEN #5 (OF 5)
LEGEND OF OZ WICKED WEST #5
LONE WOLF 2100 #2 (OF 4)
LOVE & ROCKETS LIBRARY GILBERT GN VOL 06 COMICS DE
LOVE AND ROCKETS NEW STORIES TP VOL 08
LUMBERJANES TP VOL 03
MANIFEST DESTINY TP VOL 03 (MR)
MARVEL 75TH ANNIVERSARY OMNIBUS HC
MERCURY HEAT #7 (MR)
MIDNIGHTER #9 | Preview
Publisher: DC COMICS
(W) Steve Orlando (A/CA) Aco
Spyral wants the deadly Perdition Pistol back-so they turn to the only man who stands a chance of recovering it: Midnighter! The only problem is who has possession of it now…the near-unbeatable Suicide Squad!
MIRROR #1 (MR) | Preview
Publisher: IMAGE COMICS
(W) Emma Rios (A/CA) Hwei Lim
EMMA RÍOS (PRETTY DEADLY, ISLAND) and HWEI LIM (Lalage, Hero)
team up for a new ongoing series, following a terrorist talking dog, an idealist mage, and a heroic lab rat on their quest for acceptance.
MY LITTLE PONY FRIENDS FOREVER #25
MYSTERY GIRL #3 | Preview
Publisher: DARK HORSE COMICS
(W) Paul Tobin (A/CA) Alberto Alburquerque
While hot on the trail of the mysterious Siberian mammoths, Trine uncovers a much deadlier conundrum that surrounds a multibillion-dollar dynasty, their ill-gotten gains, and the shadowy hit squad who have Trine and her friends in their crosshairs!
NAILBITER #20 (MR)
NEW SUICIDE SQUAD TP VOL 02 MONSTERS
NOD AWAY GN
NOVA #4
OBI-WAN AND ANAKIN #2 (OF 5)
OREIMO KURONEKO TP VOL 04
OXYMORON LOVELIEST NIGHTMARE TP (MR)
OZ OMNIBUS HC
PAPER GIRLS #5
PRETTY DEADLY #8 (MR)
PREZ TP VOL 01 CORNDOG IN CHIEF
PRINCELESS RAVEN PIRATE PRINCESS #5
PROVIDENCE #7 (OF 12) (MR)
REGULAR SHOW #32
REPLICA #3 (MR)
ROCKET RACCOON AND GROOT #2
SAINTS #5 (MR)
SCARLET WITCH #3
SHERIFF OF BABYLON #3 (OF 8) (MR)
SHERLOCK HOLMES CRIME ALLEYS HC
SHERLOCK HOLMES TP VOL 03 MORIARTY LIVES
SHUTTER #18 (MR)
SIDEKICK TP VOL 02 (MR)
SILK #2 2ND Printing
SKYDOLL DECADE GN (MR)
SPAWN #260
SPIDER-MAN #1 | Preview
Publisher: MARVEL COMICS
(W) Brian Michael Bendis (A/CA) Sara Pichelli
Miles Morales has been doing the super hero thing for a while, now, but after SECRET WARS, he'll be a full-fledged member of the Marvel Universe. Swinging next to The Invincible Iron Man, The Mighty Thor and the All-New Captain America as a card-carrying member of the Avengers is an adventure, but it's not all fun and games for New York City's main Spider-MAN! What happened in the eight month gap? It all starts in SPIDER-MAN #1!
SPIDEY #3
SURVIVORS CLUB #5 (MR)
SWAMP THING #2 (OF 6)
TIPPING POINT HC
TOIL & TROUBLE #6 (OF 6)
TOMBOY #3 (MR)
TRAIN CALLED LOVE #5 (OF 10) (MR)
TUKI SAVE THE HUMANS #4
UNCANNY AVENGERS #5
UNCANNY TP VOL 02
UNCANNY X-MEN #3
UNCLE SCROOGE #11
UNFOLLOW #4 (MR)
VELVET #13 (MR)
VISION #4
WALKING DEAD #151 (MR)
WALT DISNEY COMICS & STORIES #728
WAR STORIES #16 (MR)
WHERE IS JAKE ELLIS TP
WICKED & DIVINE TP VOL 03 (MR)
WOODS #20
WORLD OF ARCHIE WINTER ANNUAL DIGEST #56
X-O MANOWAR #44
---
Shortages
SCHOOL JUDGMENT GAKKYU HOTEI GN VOL 01
---
IF YOU HAVE A COMICKY EVENT YOU'D LIKE TO HAVE LISTED HERE, DROP US A LINE! Just contact us!
---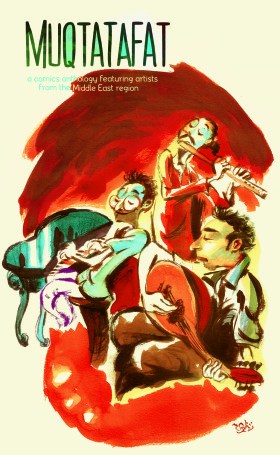 Celebrate the publication of Muqtatafat, the first anthology of independent comics from the Arab world published in the U.S.
Edited by Boston and Cambridge-based team of Anna Mudd, A. David Lewis and Paul Beran, and published by local Ninth Art Press, Muqtatafat presents to North American readers a glimpse of the vibrant and diverse world of Arab comics, featuring 15 artists from Lebanon, Egypt, Jordan and elsewhere. Political, personal, satirical and whimsical, these comics present unusual insights into the creativity and culture of the Middle East.
At this event, the editors and publisher will discuss and disiplay the contents of the book, describe the process of its publication, and give an introduction to the world of Arab comics in general, including the legal and censorship problems facing Samandal, the groundbreaking Lebanese comics journal, for which all sales of Muqtatafat are a benefit.
THURSDAY FEB 4, 6:30 PM AT THE CAMBRIDGE PUBLIC LIBRARY, 449 BROADWAY, CAMBRIDGE.
---
The Soul of Anime, and How Japanese Manga and Music Defy Zombie Capitalism
Thursday, February 4
3:00 PM to 4:30 PM
Harvard University Lamont Library, Forum Room , 11 Quincy Street. Cambridge
Guest speaker: Ian Condry, Professor, Global Studies and Languages, MIT
More info & RSVP at https://www.eventbrite.com/e/the-soul-of-anime-and-how-japanese-manga-and-music-defy-zombie-capitalism-tickets-20016971300
---

Disaster Drawn: Visual Witness, Comics, and Documentary Form by Hillary Chute
Friday, February 19
3:00 PM
Harvard Book Store, 1256 Massachusetts Avenue, Cambridge
This event is free; no tickets are required.
http://www.harvard.com/event/hillary_l._chute1/


---
ANIME BOSTON
Is on 25-27 March 2016:


http://animeboston.com/
---
Thank you!
Million Year Picnic
99 MT Auburn ST downstairs
Cambridge, MA 02138
617-492-6763
https://www.themillionyearpicnic.com