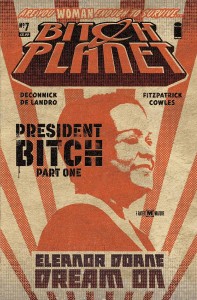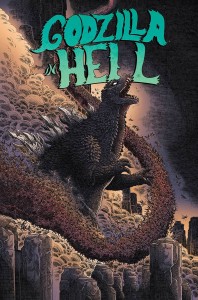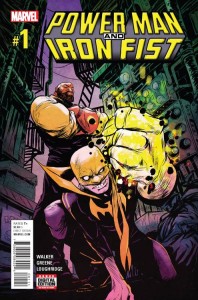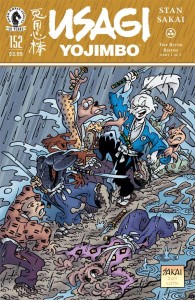 ---
Happy Valentine's Day, Comics Lovers!
---
ITEMS ON SALE: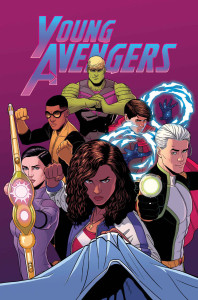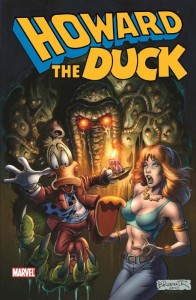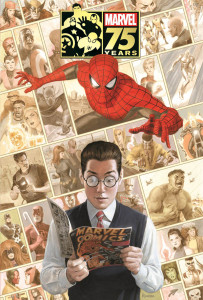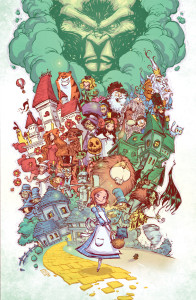 And there may be MORE!!! Keep an eye on our Twitter feed:
https://twitter.com/myp_comics
---
WEEKLY SHIPLIST
12 REASONS WHY I LOVE HER 10TH ANNVIVERSARY ED HC
ADVENTURE TIME ICE KING #2
AMAZING SPIDER-MAN #8
AMAZING WORLD OF GUMBALL TP VOL 02
AMERICAN MONSTER #2 (MR)
AMERICAN VAMPIRE HC VOL 08 (MR)
AMULET SC VOL 07 FIRELIGHT
ARCHIE #6
ASTRO CITY #32
AVENGERS STANDOFF WELCOME PLEASANT HILL #1 ASO
AVENGERS TIME RUNS OUT TP VOL 04
BARB WIRE TP VOL 01 STEEL HARBOR BLUES
BATGIRL TP VOL 02 FAMILY BUSINESS
BATMAN AND ROBIN ETERNAL #20
BATMAN TEENAGE MUTANT NINJA TURTLES #1 (OF 6) 2ND Printing
BATMAN VS SUPERMAN DOJ GRAPHIC NOVEL BACKLIST POST
BELUSHI ON A MISSION FROM GOD
BETTY & VERONICA COMICS DOUBLE DIGEST #241
BIRTHRIGHT #14
BITCH PLANET #7 (MR) | Preview Other Issues
Publisher: IMAGE COMICS
(W) Kelly Sue DeConnick (A/CA) Valentine De Leandro
Makoto arrives on Bitch Planet. Whitney has to answer for Meiko's death. Kam gets a new cellmate and a critical clue to the whereabouts of her sister.
BROKEN MOON TP VOL 01 WELCOME TO THE NEW AGE
BTVS SEASON 10 #24
CARNAGE #5
CATWOMAN TP VOL 07 INHERITANCE
CAVEWOMAN SISTERS OF THE ARENA #2 (OF 2) CVR E ROOT
CIVIL WAR WARZONES TP
CLEAN ROOM #5 (MR)
CREEPY ARCHIVES HC VOL 23
CROSSED BADLANDS #94 WRAP CVR (MR)
DARK HORSE PRESENTS 2014 #19
DC COLLECTIBLES CATALOG 2016
DEADPOOL AND CABLE SPLIT SECOND #3 (OF 3)
DEVOLUTION #2 (OF 5) (MR)
DIVINITY #1 (OF 4) ONE DOLLAR DEBUT
DOCTOR FATE #9
DOCTOR WHO 8TH #4 (OF 5)
DOOM PATROL TP BOOK 01 (MR)
DRAGON AGE MAGEKILLER #3 (OF 5)
DUNGEON MONSTRES GN VOL 06 GREAT ANIMATOR
DUSU PATH OF THE ANCIENT #1 (OF 4)
E IS FOR EXTINCTION WARZONES TP
ETERNAL SOULFIRE #6
EXTRAORDINARY X-MEN #7
FADE OUT TP VOL 03 (MR)
FROM UNDER MOUNTAINS #5
GODZILLA IN HELL TP | Preview #1
Publisher: IDW PUBLISHING
(W/A) James Stokoe & Various (CA) James Stokoe
Godzilla meets his greatest adversary of all time-the impossible tortures of Hell! Each issue of this special miniseries will see Godzilla enter a new level of the underworld to do battle with the impossible.
GRUMPY CAT & POKEY #1 (OF 6)
HARLEY QUINN #25 | Preview
Publisher: DC COMICS
(W) Amanda Conner, Jimmy Palmiotti (A) Chad Hardin (CA) Amanda Conner
At long last, it's Harley Quinn and The Joker, face-to-face! The life of Harley's new love, Mason Macabre, is in the Joker's hands…but can he or Harley survive another round of The Joker's twisted mind games?
HERO CATS MIDNIGHT OVER STELLAR CITY #3 (OF 3)
HUCK #4
I HATE FAIRYLAND #5 (MR)
IMPERIUM #13 (NEW ARC)
INJUSTICE GODS AMONG US YEAR FIVE #4
INVINCIBLE TP VOL 22
JIM HENSONS STORYTELLER DRAGONS #3
JUXTAPOZ #182 MAR 2016
KUROSAGI CORPSE DELIVERY SERVICE OMNIBUS ED TP BOOK 03
LAST MAN GN VOL 04 CHASE
LEONARD STARRS MARY PERKINS ON STAGE TP VOL 15 (OF
LOOKING FOR GROUP #11
LUCIFER #3 (MR)
LUCKY LUKE TP VOL 56 UNDER A WESTERN SKY
LUMBERJANES #23
MAN PLUS #2 (OF 4) (MR)
MANDRAKE THE MAGICIAN COMP KING YEARS HC VOL 01
MARTIAN MANHUNTER #9
MARVEL KAMALA KHAN FIST NAVY WMNS T-Shirt sizes Small-XL
MARVEL UNIVERSE AVENGERS ASSEMBLE SEASON TWO #16
MIDNIGHTER TP VOL 01 OUT
MIGHTY THOR #4
NORAGAMI STRAY GOD GN VOL 09
POISON IVY CYCLE OF LIFE AND DEATH #2 (OF 6)
POWER MAN AND IRON FIST #1 | Preview
Publisher: MARVEL COMICS
(W) David Walker (A/CA) Sanford Greene
THE ORIGINAL HEROES FOR HIRE, BACK ON THE CLOCK!
We KNOW you've been waiting to see LUKE CAGE and DANNY RAND back together and back to STREET-STOMPING basics! POWER MAN and IRON FIST are tracking a mystery with all the ingredients of a classic Heroes-for-Hire tale. Expect old friends, hired goons, crime lords, weird magic, plenty of power, a flurry of fists and as much bromance as you can handle! It's Power Man and Iron Fist reunited, and writer DAVID WALKER and artist SANFORD GREENE are making it feel so GOOD!
PUKE FORCE HC (MR)
PUNISHER VS MARVEL UNIVERSE TP
RACHEL RISING #40
RED SONJA VOL 3 #2
RED THORN #4 (MR)
REVENGER GN VOL 01 (MR)
ROBIN SON OF BATMAN #9
SECONDS HELPING DRAWING ASST MEMOIR ONE SHOT
SECRET SIX #11
SEX CRIMINALS #14 (MR)
SHIELD (DARK CIRCLE) #2
SILVER SURFER #2
SIMPSONS COMICS #226
SINESTRO #20
SNOWFALL #1 (MR) | Preview
Publisher: IMAGE COMICS
(W) Joe Harris (A/CA) Martin Morazzo
Writer JOE HARRIS (The X-Files) and artist MARTÍN MORAZZO (Vertigo Quarterly), creators of GREAT PACIFIC, reunite for a brand new ongoing science-fiction series and an OVERSIZED DEBUT ISSUE featuring thirty-two pages of story!
In the year 2045 it no longer snows. A catastrophic crash has left the climate ravaged, society splintered, and the newly-christened "Cooperative States of America" propped up and administered by the powerful Hazeltyne Corporation. Only one man wages an all-out weather war against the system, wielding the forces of nature themselves as weapons. He is the White Wizard. The ghost in the night. Genius. Terrorist. Outlaw. Hero?
SONIC COMICS SPECTACULAR SPEED OF SOUND TP
SPIDER-WOMAN #4
SQUADRON SUPREME #4
STAR WARS #16
STAR-LORD #4
STARBRAND AND NIGHTMASK #3
STARVE #6 (MR)
STRAY BULLETS SUNSHINE & ROSES #12 (MR)
SUPERMAN AMERICAN ALIEN #4 (OF 7)
SURFACE TENSION TP
SYMMETRY #3
TEEN TITANS GO #14
TITANS HUNT #5 (OF 12)
TITHE #8
TOMB RAIDER 2016 #1
TWILIGHT ZONE #1959
UNCANNY INHUMANS #5
UNCANNY X-MEN OMNIBUS HC VOL 03 DM VAR SMITH CVR
USAGI YOJIMBO #152 | Preview
Publisher: DARK HORSE COMICS
(W/A/CA) Stan Sakai
Usagi's travels take him to a village plagued by rainstorms threatening to destroy it. While the rabbit ronin organizes the men to build a levee, the defenseless town is ransacked by bandits. Now Usagi and his companions must choose: chase after the brigands and risk a flood or finish the dike and face starvation!
VAMPIRELLA ARCHIVES HC VOL 13 (MR)
WEB WARRIORS #4
WONDER WOMAN #49
WONDER WOMAN AMAZON WARRIOR YR SC
WRAITHBORN #1 (OF 6)
WRATH OF THE ETERNAL WARRIOR #4
X-TINCTION AGENDA WARZONES TP
---
SHORTAGES
ENORMOUS V2 #5 (OF 6)
STEAM MAN #5 (OF 5)
SUPERZERO #3
---
IF YOU HAVE A COMICKY EVENT YOU'D LIKE TO HAVE LISTED HERE, DROP US A LINE! Just contact us!
---
LOCAL EVENTS:
Askwith Forum: The Pursuit of Hipponess
WHEN: Tue., Feb. 23, 2016, 5:30 – 7 p.m.
WHERE: Harvard, Longfellow Hall, 13 Appian Way, Cambridge
Speaker: Sandra Boynton, author, illustrator, and songwriter
Moderator: Pamela A. Mason, M.A.T.'70, Ed.D.'75, Senior Lecturer on Education and
Introduction: James E. Ryan, Dean and Charles William Eliot Professor, HGSE
COST: Free and open to the public
CONTACT INFO: askwith_forums@gse.harvard.edu
http://www.gse.harvard.edu/askwith/calendar?trumbaEmbed=view%3Devent%26eventid%3D117774291
---
Vericon
is an annual science fiction, fantasy, and speculative fiction convention, run by the Harvard-Radcliffe Science Fiction Association, and featuring awesome events like book signings, movie screenings and author panels. This year, Vericon will run from Friday, March 18th to Sunday, March 20th. For more information visit
http://www.vericon.org
.
---
The Soul of Anime, and How Japanese Manga and Music Defy Zombie Capitalism
Thursday, February 4
3:00 PM to 4:30 PM
Harvard University Lamont Library, Forum Room , 11 Quincy Street. Cambridge
Guest speaker: Ian Condry, Professor, Global Studies and Languages, MIT
More info & RSVP at https://www.eventbrite.com/e/the-soul-of-anime-and-how-japanese-manga-and-music-defy-zombie-capitalism-tickets-20016971300
---

Disaster Drawn: Visual Witness, Comics, and Documentary Form by Hillary Chute
Friday, February 19
3:00 PM
Harvard Book Store, 1256 Massachusetts Avenue, Cambridge
This event is free; no tickets are required.
http://www.harvard.com/event/hillary_l._chute1/


---
ANIME BOSTON
Is on 25-27 March 2016:


http://animeboston.com/
---
Thank you!
Million Year Picnic
99 MT Auburn ST downstairs
Cambridge, MA 02138
617-492-6763
https://www.themillionyearpicnic.com