ACG COLL WORKS ADV INTO UNKNOWN HC VOL 09
ADVENTURE TIME #32
ADVENTURE TIME MATHEMATICAL ED HC VOL 04
ALEX + ADA #9
ALL NEW GHOST RIDER TP VOL 01 ENGINES OF VENGEANCE
ALONE GN VOL 02 MASTER OF KNIVES
AMERICAN VAMPIRE SECOND CYCLE #5 (MR)
ANTARES TP VOL 05
ARMOR HUNTERS AFTERMATH #1
ART OF BOOK OF LIFE HC
ART OF JIM BURNS HYPERLUMINAL HC
ART OF VAMPIRELLA DYNAMITE YEARS HC
BATMAN TP VOL 04 ZERO YEAR SECRET CITY (N52)
BEATLES WITH AN A HC (KNOCKABOUT) (MR)
BLACKHAND COMICS HC (MR)
BLOOD QUEEN #5 (MR)
BLOODSHOT #24
BRIDES OF HELHEIM #1 (MR)
BUCKY BARNES WINTER SOLDIER #1
COMPLETE CHESTER GOULD DICK TRACY HC VOL 17
CONCRETE PARK HC VOL 01 YOU SEND ME
CROSSED BADLANDS #62 WRAP CVR (MR)
CRYPTOZOIC MAN TP VOL 01
DEATH OF WOLVERINE #3 (OF 4)
DEATHLOK DEMOLISHER TP COMPLETE COLLECTION
DOCTOR WHO 11TH #3
EDGAR ALLAN POE SPIRITS OF DEAD HC
EERIE ARCHIVES HC VOL 17
EVIL INC ANNUAL REPORT TP VOL 01
EVIL INC ANNUAL REPORT TP VOL 02
FABLES DELUXE EDITION HC VOL 09 (MR)
FAIREST TP VOL 04 OF MEN AND MICE (MR)
FAIRY TAIL GN VOL 42
FANTASTIC FOUR ANNUAL #1
FBP FEDERAL BUREAU OF PHYSICS TP VOL 02 (MR)
FICTION SQUAD #1 (OF 6)
FLESH & STEEL ART OF RUSS HEATH HC
GOD IS DEAD #21 (MR)
GRAPHIC NOVEL CLASSROOM SC
GREEN ARROW CROSSED ARROWS PX GREEN T-Shirt Small-XL
GUARDIANS 3000 #1
HACK SLASH SON OF SAMHAIN #4 (MR)
HAPPY WARRIOR LIFE STORY OF SIR WINSTON CHURCHILL
HARVEY HORRORS BLACK CAT MYSTERY SOFTIE TP VOL 04
HEROES OF OLYMPUS GN VOL 01 LOST HERO
HOSPITAL SUITE GN (MR)
IN A GLASS GROTESQUELY GN
JIM BUTCHER DRESDEN FILES WAR CRY #5 (OF 5)
JIM HENSON MUSICAL MONSTERS OF TURKEY HOLLOW HC
LIL DEPRESSED BOY SUPPOSED TO BE THERE TOO #1
LOVERBOYS HC
MADAME FRANKENSTEIN #6 (OF 7)
MAGNETO TP VOL 01 INFAMOUS
MASTERPLASTY ONESHOT
MEN OF WRATH BY JASON AARON #1 (OF 5) (MR)
MOOMIN ON THE RIVIERA GN
MOON KNIGHT EPIC COLLECTION TP BAD MOON RISING
MOON KNIGHT TP VOL 01 FROM DEAD
MORNING GLORIES #41 (MR)
NAILBITER #6 (MR)
NEIL GAIMAN FORTUNATELY THE MILK Softcover
NEIL GAIMAN GRAVEYARD BOOK COMMEMORATIVE Edition
NEW VAMPIRELLA #5
NIGHTWORLD #3 (OF 4)
PLUME V2 #1 (OF 4)
POPEYE CLASSICS ONGOING #27
POWER OF TANK GIRL OMNIBUS TP
PRE CODE CLASSICS STRANGE WORLDS HC VOL 02
PROTECTORS INC #9 (MR)
PUCK WHAT FOOLS THESE MORTALS BE HC
RAT QUEENS #8 (MR)
RED BARON GN VOL 01 MACHINE GUNNERS BALL
REGULAR SHOW #15
SAMURAI JACK TP VOL 02 SCOTSMANS CURSE
SECRET HISTORY OMNIBUS HC VOL 03 (MR)
SIMPSONS ILLUSTRATED #13
SKANDALON GN (MR)
SKULLKICKERS TP VOL 05 DOZEN COUSINS & A CRUMPLED
SOUL SWALLOWER GN
SOUTHERN BASTARDS TP VOL 01 HERE WAS A MAN (MR)
SQUIDDER #4
STAR TREK GOLD KEY ARCHIVES HC VOL 02
STAR WARS DARTH MAUL SON OF DATHOMIR TP
STAR WARS ONGOING TP VOL 03 REBEL GIRL
SUICIDE RISK #18
TARDI WWI HC BOX SET WAR TRENCHES & GODDAMN WAR
TEEN TITANS GO TITANS TOGETHER TP NEW Printing
UBER #18 WRAP CVR (MR)
USAGI YOJIMBO SENSO #3 (OF 6)
WALKING DEAD #132 (MR)
WITCHBLADE #178
WONDER WOMAN #34
WONDER WOMAN HC VOL 05 FLESH (N52)
WONDER WOMAN TP VOL 04 WAR (N52)
WOODS #6
WORLD OF ARCHIE COMICS DIGEST #43
X-FILES YEAR ZERO #3 (OF 5)
---
Shiplist for Wednesday September 24 2014
A VOICE IN THE DARK GET YOUR GUN #1 (OF 5)
ADVENTURES OF SUPERMAN #17
ALIEN LEGION UNCIVIL WAR #4 (OF 4)
ALIENS FIRE AND STONE #1 | Preview
ALL NEW GHOST RIDER #7
ALL NEW INVADERS #10
ALL THE WRONG QUESTIONS HC VOL 03 SHOULDNT YOU BE
AMAZING SPIDER-MAN #1.5
AMAZING SPIDER-MAN EPIC COLLECTION TP GREAT POWER
AMAZING X-MEN #11
AMERICAN COMIC BOOK CHRONICLES HC 1970S
AQUAMAN AND THE OTHERS FUTURES END #1
ARCHIE FUNHOUSE COMICS DIGEST #8
ARMOR HUNTERS #4 (OF 4)
AUTEUR TP VOL 01 (MR)
BALTIMORE WITCH OF HARJU #3 (OF 3)
BARBARELLA DLX ED SUPER OVERSIZED HC (MR)
BART SIMPSON COMICS #92
BATMAN 66 #15
BATMAN BEYOND UNIVERSE #14
BATMAN DEATH OF THE FAMILY BOOK & JOKER MASK SET (N52)
BATMAN ETERNAL #25
BATMAN GORDON OF GOTHAM TP
BATTLE ANGEL ALITA LAST ORDER TP VOL 19
BEE AND PUPPYCAT #4
BEFORE THE INCAL HC NEW Printing (MR)
BIRD & SQUIRREL GN VOL 02
BOBS BURGERS #2
BODIES #3 (OF 8) (MR)
BOOSTER GOLD FUTURES END #1
BRAMBLE DLX ED HC (MR)
BRASS SUN #5 (OF 6)
BRAVEST WARRIORS #24
BUMPERHEAD HC (MR)
CAPTAIN MIDNIGHT #15
CARTOON NETWORK SUPER SECRET CRISIS WAR #4 (OF 6)
CATWOMAN FUTURES END #1
CHEW #43 (MR)
CHRONICLES OF HATE HC (MR)
CINEFEX #139
CLIVE BARKERS NIGHTBREED #5 (MR)
CONAN THE AVENGER #6
COWL #5 (MR)
CYCLOPS #5
DC COMICS NEW 52 BATGIRL Action Figure
DC COMICS NEW 52 TEEN TITANS RED ROBIN A
DEAD BOY DETECTIVES #9
DEADPOOL #35
DEEP GRAVITY #3 (OF 4)
DISAPPEARANCE OF NAGATO YUKI CHAN GN VOL 06
DOC SAVAGE DOUBLE NOVEL VOL 29
DOCTOR WHO 10TH #2
DOCTOR WHO ENGINES OF WAR SC
DOCTORS GN (by Dash Shaw)
DRUMHELLAR #9 (MR)
EDGE OF SPIDER-VERSE #3 (OF 5)
ELFQUEST FINAL QUEST #5 | Preview
EMPTY MAN #4 (OF 6)
EX MACHINA TP BOOK 03 (MR)
FADE OUT #1 2ND Printing (MR)
FATALE TP VOL 05 CURSE THE DEMON (MR)
FEMFORCE #168
FILMFAX #138
FLASH FUTURES END #1
FLASH OMNIBUS HC VOL 01
FOREVER EVIL ARGUS TP (N52)
FOREVER EVIL BLIGHT TP (N52)
FOREVER EVIL ROGUES REBELLION TP (N52)
GHOST #8
GIRLS UND PANZER GN VOL 02
GROO VS CONAN #3 (OF 4)
GUARDIANS OF GALAXY #19
GUARDIANS OF GALAXY TP VOL 02 ANGELA
GYO GN VOL 01 2ND Edition (MR)
HARBINGER OMEGAS #2 (OF 3)
HARLEY QUINN FUTURES END #1
HARLEY QUINN VENGEANCE UNLIMITED TP
HE MAN AND THE MASTERS OF THE UNIVERSE #17
I AM ALBERT EINSTEIN YR HC | Preview
INHUMAN #6
INJUSTICE GODS AMONG US YEAR TWO #12
JUDGE DREDD MEGAZINE #351
JUSTICE INC #2 (OF 6)
JUSTICE LEAGUE DARK FUTURES END #1
KNIGHTS OF THE DINNER TABLE #213
LEGENDERRY A STEAMPUNK ADV #7 (OF 7)
LEONARD STARRS MARY PERKINS ON STAGE TP VOL 13
LETTER 44 #10
LOKI AGENT OF ASGARD #6 MTAX
LONE WOLF & CUB OMNIBUS TP VOL 06
LONESOME GO GN
LOW #2 2ND Printing (MR)
LOW #3 (MR)
LUMBERJANES #6 (OF 8)
MAGNETO #10 MTAX
MARVEL COVERS ARTIST ED HC
MARVEL PREVIEWS OCTOBER 2014
MARVEL UNIVERSE ULT SPIDER-MAN DIGEST TP VOL 07
MARVEL UNIVERSE ULTIMATE SPIDER-MAN #30 SYU
MASSIVE #27
MAXX MAXXIMIZED HC VOL 02
MIGHTY AVENGERS #14
MIND MGMT #26
MINECRAFT OFFICIAL MOJANG CONSTRUCTION HANDBOOK HC
MMW MIGHTY THOR TP VOL 05
MY LITTLE PONY 2014 ANNUAL
NEW 52 FUTURES END #21 (WEEKLY)
NEW AVENGERS #24 TRO
NEW WARRIORS #10
NON SPORT UPDATE VOL 25 #5
ON THE BOOKS GN
OUTCAST BY KIRKMAN & AZACETA #4 (MR)
PARIAH #8 (OF 8)
PATHFINDER CITY SECRETS #5 (OF 6)
POP #2
PREVIEWS #313 OCT 2014
PRINCESS UGG #4
RACHEL RISING #28
RED LANTERNS FUTURES END #1
RED SONJA #12
REVIVAL TP VOL 04 ESCAPE TO WISCONSIN
ROBERT E HOWARDS SAVAGE SWORD #9
ROCHE LIMIT #1 | Preview
ROCKET RACCOON #1 3RD Printing
ROVER RED CHARLIE TP VOL 01 (MR)
SAGA #23 (MR)
SALLY HEATHCOTE SUFFRAGETTE HC
SAMURAI JACK #12
SANDMAN OVERTURE #3 SPECIAL Edition (MR)
SAVAGE WOLVERINE #23
SCARY MONSTERS MAGAZINE #94
SECRET AVENGERS #8
SEX #16 (MR)
SHADOW DOUBLE NOVEL VOL 87 POOLTEX TANGLE
SIMPSONS TREEHOUSE OF HORROR #20
SINESTRO FUTURES END #1
SIXTH GUN #43
SIXTH GUN TP VOL 07
SPICE AND WOLF GN VOL 09 (MR)
STAN DRAKE HEART JULIET JONES TP VOL 04 SUNDAYS
STAR SPANGLED WAR STORIES GI ZOMBIE FUTURES END #1
STAR TREK CITY O/T EDGE OF FOREVER #4 (OF 5)
TREK ONGOING #37
STAR TREK ONGOING TP VOL 08
STEED & MRS PEEL NEEDED #3
STORM #3
SUNDOWNERS #2
SUPERMAN DOOMED #2
SUPERMAN FUTURES END #1
THE INCAL HC NEW Printing (MR)
THUNDER AGENTS THE BEST OF WALLY WOOD HC
THUNDERBOLTS #31
TOMB RAIDER #8
TONOHARU GN PART ONE (NEW Printing)
TOWN CALLED DRAGON #1 (OF 5)
TUROK DINOSAUR HUNTER #7
UMBRAL #9 (MR)
WAYWARD #2 (MR)
WITCHER TP VOL 01
WOMEN OF GOLD DIGGER SUMMER VACATION SPL ONE SHOT
X-O MANOWAR #29 (AH)
XXXHOLIC OMNIBUS TP VOL 03
Kimball Anderson Special: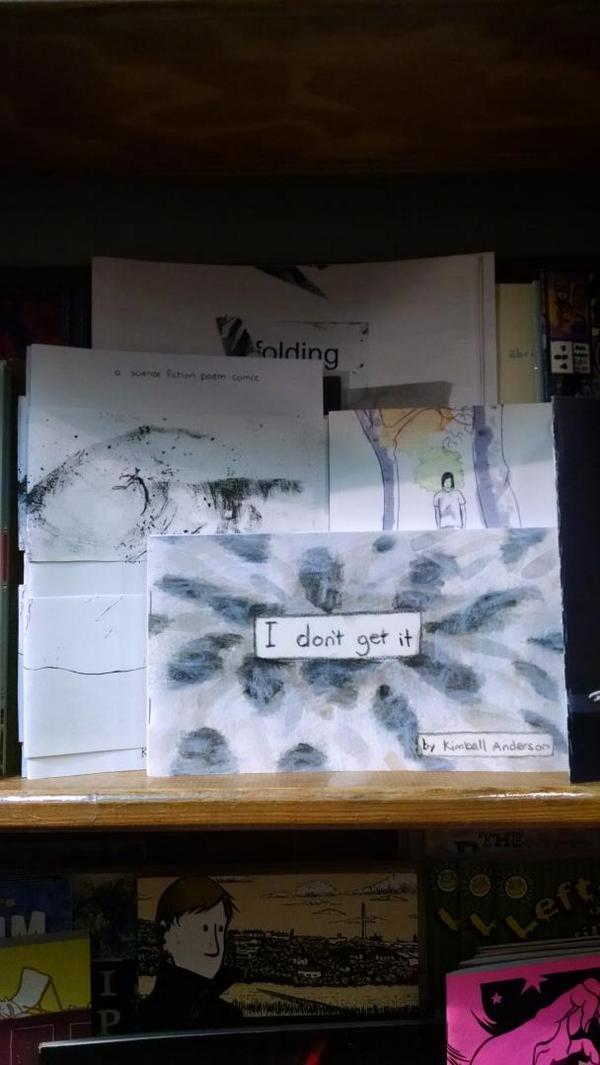 Bought so many Kimball Anderson minis I had to create a little section for his stuff! -kjc
A Note:
Sorry about missing last week's shiplist folks.  And this week's is delayed because we had a massive ordering problem.  You'll noticed many MANY titles will be delayed, hopefully by no more than a day.  Some may arrive as soon asWednesday afternoon, but we'll still need time to get them into folders.  We appreciate your patience.
Thanks,
The MYP Crew
Shortages:
ALL NEW X-MEN HC VOL 01
AND THEN EMILY WAS GONE #3 (OF 5) (MR)
GREEN LANTERN NEW GODS GODHEAD #1
HOLMES VS HOUDINI #1 (OF 5)
IRON MAN PREM HC VOL 05 RINGS OF MANDARIN
LOBO #1
NEW MUTANTS X-FORCE TP DEMON BEAR
Delayed by Diamond
ACTION COMICS #35
ANGEL AND FAITH SEASON 10 #7
AQUAMAN AND THE OTHERS #6
BATMAN 66 MEETS GREEN HORNET #5 (OF 6)
BATMAN ETERNAL #26
BATMAN SUPERMAN #14
BLACK WIDOW #11
CAPTAIN AMERICA #25
DARK TOWER DRAWING OF THREE PRISONER #3 (OF 5)
DETECTIVE COMICS #35
DREAM THIEF ESCAPE #4
EDGE OF SPIDER-VERSE #4 (OF 5)
FADE OUT #2 (MR) (12 subs)
FAIREST #30 (DEFY) (MR)
FIGMENT #5 (OF 5)
FLASH SEASON ZERO #1
GOTHAM ACADEMY #1
GRAYSON #3
GREEN ARROW #35
GREEN LANTERN #35 (GODHEAD)
HINTERKIND #12 (DEFY) (MR)
INJUSTICE GODS AMONG US YEAR TWO ANNUAL #1
JUSTICE LEAGUE #34
JUSTICE LEAGUE 3000 #10
LEGENDARY STAR LORD #4
MIRACLEMAN #11 (MR) (18 subs)
MOBILE SUIT GUNDAM ORIGIN HC VOL 07
MOON KNIGHT #8
NAMES #2 (OF 8) (MR)
NEW 52 FUTURES END #22 (WEEKLY)
PIRATES OF THE SILVER COAST GN
SILVER SURFER #6
SPIDER-MAN 2099 #4
SWAMP THING #35
TECH JACKET #4
THOR #1
TINY TITANS RETURN TO THE TREEHOUSE #5 (OF 6)
UNCANNY AVENGERS #25 AXIS
X-MEN #20
Thank you!
Million Year Picnic
99 MT Auburn ST downstairs
Cambridge, MA 02138
617-492-6763
http://www.themillionyearpicnic.com