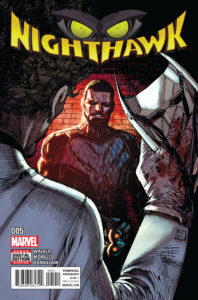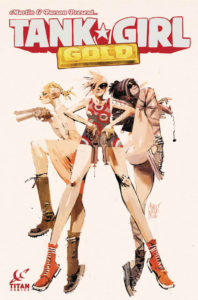 ACCELERATORS RELATIVITY #5 (OF 5) (MR)
ACTION COMICS #964
ADVENTURE TIME COMICS #3
ALIENS DEFIANCE #5
ALL NEW ALL DIFFERENT AVENGERS TP VOL 02 FAMILY BUSINESS
ALTER EGO #143
ASSASSINS CREED LOCUS #1 (OF 4) (MR)
ASTRO CITY #39
BACK ISSUE #92
BATGIRL #3
BATMAN BEYOND REBIRTH #1
BECOMING ANDY WARHOL GN
BEST AMERICAN COMICS HC 2016 (MR) | Preview Coming Soon!
(W) Various (A) Various (CA) Marc Bell
Fresh off the success of Can't We Talk About Something More Pleasant?, New Yorker cartoonist Roz Chast picks the best graphic pieces of the year. It showcases the work of both established and up-and-coming contributors and highlights both fiction and nonfiction from graphic novels, pamphlet comics, newspapers, magazines, minicomics, and the Web to make a collection that is "full of varied, provocative feats of cartooning" (The Comics Journal).
BLACK PANTHER EPIC COLLECTION TP PANTHERS RAGE
BLOODSHOT REBORN #17
BLOOM COUNTY EPISODE XI A NEW HOPE TP
BLUE BEETLE #1
BRIEF HISTORIES OF EVERYDAY OBJECTS GN
CAPTAIN AMERICA SAM WILSON #13 CW2
CAPTAIN AMERICA SAM WILSON TP VOL 02 STANDOFF
CAPTAIN AMERICA STEVE ROGERS #5 CW2
CAPTAIN CANUCK 2015 ONGOING #9
CAPTAIN MARVEL #9 CW2
CARTHAGO HC (MR)
CHEAP NOVELTIES PLEASURES OF URBAN DECAY HC
CIVIL WAR II KINGPIN #3 (OF 4)
COCKTAIL WAITRESS MMPB
CONAN THE SLAYER #3
CRYPTOCRACY #4
DARK AND BLOODY TP (MR)
DC ICONS FIRESTORM JUSTICE LEAGUE Action Figure
DC ICONS GREEN LANTERN JOHN STEWART MOSAIC Action Figure
DC UNIVERSE REBIRTH #1 5TH Printing
DEADLY CLASS #22 (MR)
DEADPOOL #19
DEADPOOL ANNUAL #1
DEATHSTROKE #3
DELETE TP (MR)
DESCENDER #15
DESIGNER SERIES COOKE CATWOMAN Action Figure
DESIGNER SERIES COOKE GREEN LANTERN Action Figure
DESIGNER SERIES COOKE THE FLASH Action Figure
DESIGNER SERIES COOKE WONDER WOMAN Action Figure
DETECTIVE COMICS #941 (MONSTER MEN)
DIRK GENTLYS HOLISTIC DETECTIVE AGENCY TP VOL 01 SPOON TOO
DISNEY DARKWING DUCK #5
DISNEY ZOOTOPIA GN
DOCTOR STRANGE ANNUAL #1
DOCTOR WHO 11TH YEAR TWO #13
DOCTOR WHO 12TH TP VOL 03 HYPERION
DOCTOR WHO MAGAZINE #503
DREAM POLICE #12
EC ARCHIVES WEIRD FANTASY HC VOL 02
ELFQUEST FINAL QUEST #16
ERB LAND THAT TIME FORGOT #2
EVIL HEROES #2 (OF 6) (MR)
EXTRAORDINARY X-MEN #14
FAIRY TAIL GN VOL 56
FLASH #7
FONE BONE 4IN VINYL FIGURE
FROM UNDER MOUNTAINS TP
FROSTBITE #1 (OF 6) (MR) | Preview
(W) Joshua Williamson (A/CA) Jason Shawn Alexander
Long after Earth has entered its second ice age, humanity has learned to cope with the frozen elements. In this cold and bleak future, heat is power, and brutal gangs roam the icy wasteland looking for it. If that wasn't enough, a terrible disease nicknamed "frostbite" is literally freezing people from the inside out. Once you catch it, the effect is instantaneous. There is no immunity, there is no cure.
Until now. Doctor Henry Bonham and his daughter Victoria have found the key to ending frostbite. If they can get from Mexico City to a secret government outpost in Alcatraz, they could stabilize life across the globe. But to do that they'll need to stay alive. That's where Keaton comes in. She and her crew have faced worse journeys before, but never with the potential consequences this one poses if they fail.
A new miniseries from acclaimed writer Joshua Williamson (The Flash: Rebirth; Nailbiter) and artist Jason Shawn Alexander (Empty Zone; BATMAN: ARKHAM CITY), FROSTBITE is a science-fiction action miniseries unlike any other.
GARDEN OF FLESH HC HERNANDEZ (MR)
GERTIES LEAP TO GREATNESS HC NOVEL
GFT PRESENTS APOCALYPSE #2 (MR)
GHOST STORIES OF AN ANTIQUARY GN VOL 01
HAL JORDAN AND THE GREEN LANTERN CORPS #5
HARLEY QUINN AND HER GANG OF HARLEYS #6 (OF 6)
HELLBLAZER #2
HILDA & STONE FOREST GN HC
HILLBILLY #3
HOME TP VOL 01 (MR)
HONOR TP VOL 01 (MR)
HUNT #3 (MR)
I AM GEORGE WASHINGTON YR HC
ILLUSTRATORS MAGAZINE #15
IMAGE PLUS #6 (WALKING DEAD HERES NEGAN PT 6)
ISLAND #11
JONESY TP VOL 01
JOSIE & THE PUSSYCATS #1
KIM AND KIM #3 (MR)
KINGS QUEST #5 (OF 5)
LADY MECHANIKA LA DAMA DE LA MUERTE #1 (OF 3)
LAKE OF FIRE #1 2ND Printing (MR)
LAKE OF FIRE #2 (MR)
LEAVING MEGALOPOLIS SURVIVING MEGALOPOLIS #6
LUMBERJANES #30
MAE #5
MARVEL NOW FREE PREVIEWS 2016 #1
MARVEL PREVIEWS #15 OCTOBER 2016
MARVEL UNIVERSE DOCTOR STRANGE DIGEST TP
MEDIC TP VOL 01 (MR)
MINI MARVELS COMPLETE COLLECTION TP NEW P
MOON GIRL AND DEVIL DINOSAUR #11′
MS MARVEL #11 CW2
MUNCHKIN #21
MY LITTLE PONY FRIENDSHIP IS MAGIC #46
NEW AVENGERS #16 CW2
NIGHTHAWK #5 | Preview
(W) David Walker (A) Martin Morazzo (CA) Bill Sienkiewicz, Denys Cowan
NIGHTHAWK vs THE REVELATOR!
• While riots and racial unrest ravage the city of Chicago, NIGHTHAWK squares off against the serial killer known as THE REVELATOR.
• Can Nighthawk stop the killer from fanning the flames that engulf the city, or is it already too late?
NOVA #11
ODYC #11 (MR)
OUTCAST BY KIRKMAN & AZACETA #21 (MR)
OVER GARDEN WALL ONGOING #6
POSTAL #15 (MR) | Preview
(W) Bryan Edward Hill (A/CA) Isaac Goodhart
Eden strikes back at the Aryan brotherhood, and the Aryan brotherhood responds with a psychopath hungry for retribution. The battlefield is set and both sides march towards their final confrontation. What happens when violent supremacy meets righteous violence? War.
PRE CODE CLASSIC JOURNEY INTO FEAR HC VOL 03
PREVIEWS #337 OCTOBER 2016
REMOTE TP VOL 01 (MR)
RICK & MORTY #18
ROCKET RACCOON AND GROOT #10 CW2
SAGA #38 (MR)
SENSUOUS FRAZETTA DLX SLIPCASED HC (MR)
SERENITY HC VOL 01 THOSE LEFT BEHIND 2ND Edition
SHANG-CHI MASTER KUNG FU OMNIBUS HC VOL 02 CASSADAY VAR
SHES NOT INTO POETRY GN (MR)
SILVER SURFER TP VOL 04 CITIZEN OF EARTH
SIMPSONS ILLUSTRATED #25
SIXPACK & DOGWELDER HARD-TRAVELIN HEROZ #2 (OF 6)
SLAB TP VOL 01 (MR)
SNOTGIRL #3 (MR)
SPIDER-GWEN #12
SPIDER-MAN DEADPOOL #9
SPIDER-WOMAN #11 CW2
STAR WARS #23
STAR WARS LEGENDS EPIC COLLECTION TP VOL 01 LEGACY
SUICIDE SQUAD #3
SUPERMAN TP VOL 01 BEFORE TRUTH
SURGEON X #1 (MR)
TANK GIRL GOLD #1 (OF 4) (MR) | Interview
(W) Alan Martin (A) Brett Parson (CA) Andrey Tkachenko
Tankie and her trigger-happy family are going for gold in the first of a brand new series! Take a trip with us down the Furry Road for an issue of vim, volitility and verbal abuse!
---
TARZAN ON THE PLANET OF THE APES #1 (OF 5) | Preview
(W) Tim Seeley, David Walker (A) Fernando Dagnino (CA) Duncan Fegredo
Raised as brothers but separated by slave traders, Tarzan and his ape brother Caesar reunite when the war between man and ape takes them from the jungles of Africa to the center of the earth.
TEEN TITANS REBIRTH #1
THE CASTOFFS #1
THIEF OF THIEVES #35 (MR)
THINK TANK TP VOL 04 CREATIVE DESTRUCTION
THUNDERBOLTS #5 CW2
TITANS #3
TOMBOY #8 (MR)
TOTALLY AWESOME HULK #10 CW2
TOWARD A HOT JEW GN (MR)
ULTIMATES #11 CW2
UNBEATABLE SQUIRREL GIRL #12
WALT DISNEY COMICS & STORIES #734
WAYWARD #16 (MR)
WEB WARRIORS #11
WITCHFINDER CITY OF THE DEAD #2
WONDER WOMAN #7
WONDER WOMAN A CELEBRATION OF 75 YEARS HC
WONDER WOMAN THE TRUE AMAZON HC
X-FILES ORIGINS #2
X-MEN 92 #7
X-O MANOWAR #50
Z-MEN TP VOL 01 (MR)
ZACK ZOMBIE EXTERMINATOR GN (MR)
---
Shortages
ABSOLUTE BEST OF HARVEY HORRORS FEATURING MAN IN BLACK HC
BAGGYWRINKLES LUBBERS GUIDE TO LIFE AT SEA GN
DISHONORED #3 (OF 4)
DOCTOR WHO 12TH YEAR TWO #9
DOCTOR WHO 4TH #5 (OF 5)
MY LITTLE PONY FRIENDSHIP IS MAGIC #46 SUBSCRIPTION VAR
NORTHGUARD #2
PAYBACKS #3
PENNY DREADFUL #4 (OF 5) CVR C PHOTO (MR)
POP DOCTOR WHO 12TH DOCTOR W/ GUITAR VINYL FIGURE
POP DOCTOR WHO DAVROS 6IN VINYL FIGURE
RISE TP VOL 01 (MR)
STAR WARS JEDI MASTER #6
---
Posibly Delayed by Diamond:
JACK KIRBY KAMANDI ARTIST ED HC VOL 02
---
IF YOU HAVE A COMICKY EVENT YOU'D LIKE TO HAVE LISTED HERE, DROP US A LINE!
Just contact us!
And for Local Comics Related Events don't forget to check our Events section.

---
Thank you!
Million Year Picnic
99 MT Auburn ST downstairs
Cambridge, MA 02138
617-492-6763
https://www.themillionyearpicnic.com