1872 #2 SWA
ADVENTURE TIME FIONNA & CAKE CARD WARS #2 (OF 6)
AGE OF ULTRON VS MARVEL ZOMBIES #3 SWA
AMAZING SPIDER-MAN RENEW YOUR VOWS #4 SWA
ANNIHILATOR HC VOL 01
ARCHIE #1 2ND Printing
ARCHIE #2
ARMOR WARS #4 SWA
ASTRO CITY #26
AVENGERS WORLD TP VOL 04 BEFORE TIME RUNS OUT
BATMAN ARKHAM KNIGHT #7
BIRTHRIGHT #10
BIZARRO #3 (OF 6)
BLACK CANARY #3
BLACKER THE INK CONSTRUCTIONS BLACK IDENTITY IN COMICS SC
BOOK OF DEATH #2 (OF 4)
BPRD HELL ON EARTH #134
BRAVEST WARRIORS TP VOL 05
BTVS SEASON 10 #18
CAPTAIN AMERICA TP VOL 05 TOMORROW SOLDIER
CAPTAIN BRITAIN AND MIGHTY DEFENDERS #2 (OF 2) SWA
CAPTAIN MARVEL TP VOL 03 ALIS VOLAT PROPRIIS
CONSTANTINE TP VOL 04 THE APOCALYPSE ROAD TP
DAREDEVIL EPIC COLLECTION TP WIDOWS KISS
DARK HORSE PRESENTS 2014 #13
DC COMICS DESIGNER JAE LEE SER 1 BATMAN Action Figure
DC COMICS DESIGNER JAE LEE SER 1 CATWOMAN Action Figure
DC SUPER HEROES BATMAN YR TP ATTACK OF MAN-BAT
DC SUPER HEROES SUPERMAN YR TP DARK SIDE OF APOKOLIPS
DEATH HEAD #2 (OF 6)
DEFINITIVE BETTY BOOP TP VOL 01
DISCIPLES #3 (MR)
DISNEY ROSA DUCK LIBRARY HC VOL 03 TREASURE UNDER
DOCTOR FATE #3
DOCTOR WHO 2015 FOUR DOCTORS #2 (OF 5)
DONALD DUCK #4
DOOMED #3
DORBZ BATMAN KILLER CROC VINYL FIG
EMPOWERED TP VOL 09
EMPTY ZONE #3 (MR)
ETERNAL #4
FAIREST TP VOL 05 THE CLAMOR FOR GLAMOUR (MR)
FALCON FIGHT OR FLIGHT YR CHAPTER BOOK
FATHOM BLUE #3
FICTION #3 (OF 4) | Preview
Publisher: BOOM! STUDIOS
(W) Curt Pires (A/CA) David Rubin
Kassie, Max, and Tyler are held captive by the Corruption in the Fiction.
GI JOE A REAL AMERICAN HERO #217
GIANT DAYS #6 (OF 12)
GOD IS DEAD #41 (MR)
GOTHAM BY MIDNIGHT TP VOL 01 WE DO NOT SLEEP
GREEN LANTERN THE LOST ARMY #3
GROO FRIENDS AND FOES #8
GUARDIANS OF GALAXY BEST STORY EVER TP
GUARDIANS OF KNOWHERE #3 SWA
GUARDIANS TEAM-UP #10
GUNNERKRIGG COURT HC VOL 05 REFINE
HARLEY QUINN & POWER GIRL #3 (OF 6)
HELLBREAK #6 (MR)
HEXED #12
HIP HOP FAMILY TREE #1
HOUSE OF M #1 SWA | Preview
Publisher: MARVEL COMICS
(W) Dennis Hopeless (A) Marco Failla (CA) Kris Anka
• The House of Magnus controls all, having crushed all resistance to their reign. Magneto rules with an iron-fist, while his children and grandchildren live their lives as royals-with all the privileges and pit-falls that come with that title.
• But is Magneto's control as all-encompassing as it seems? And what happens to a conqueror when there is no one left to conquer?
HOWARD THE HUMAN #1 SWA | Preview
Publisher: MARVEL COMICS
(W) Skottie Young (A/CA) Jim Mahfood
Spend a day with Howard, a private investigator and the only human living in city full of animals. But not, like, criminals and lowlifes. We're talking elephants, apes, ducks and kitty cats. Catching a case, grinding a few gears, dodging some bullets and almost getting killed by an anthropomorchic monstrosity. It's just another Monday for Howard the Human brought to you by Skottie Young (ROCKET RACCOON) and Jim Mahfood (MIAMI VICE REMIX).
INFERNO #4 SWA
INFINITE LOOP #5 (OF 6)
INJUSTICE GODS AMONG US YEAR FOUR #8
INVADER ZIM #1 2ND Printing
INVADER ZIM #2
INVINCIBLE #122
ISLAND #2 (MR) | More
Publisher: IMAGE COMICS
(W/A) Emma Rios & Various (CA) Emma Rios
SECOND ISSUE OF THE OVERSIZED COMICS MAGAZINE!
This issue introduces SIMON ROY'S (PROPHET, Tiger Lung) tale of cannibals in space.
IVAR TIMEWALKER #8
JASON IF YOU STEAL HC
JLA GODS AND MONSTERS #2 (OF 3)
JUSTICE LEAGUE #43
KANAN #5
LOKI AGENT OF ASGARD #17 SWA
MAD MAGAZINE #535
MAGIC WIND GN VOL 07 WINDIGO
MANIFEST DESTINY #16 (MR)
MANTLE #4 (MR)
MARTIAN MANHUNTER #3
MARVEL FIRSTS 1990S OMNIBUS HC
MIDNIGHT SOCIETY THE BLACK LAKE #2 (OF 4)
MMW LUKE CAGE HERO FOR HIRE HC VOL 01 DM VAR ED 22
MOPEEZ DC COMICS 12PC PLUSH FIGURES
MOX NOX HC
MS MARVEL HC VOL 01
MU ULT SPIDER-MAN WEB WARRIORS DIGEST TP VOL 02
MY LITTLE PONY FRIENDSHIP IS MAGIC #33
NAMES TP (MR)
NANJING THE BURNING CITY HC
NEW VAMPIRELLA #13
ODDLY NORMAL #9
POET ANDERSON DREAM WALKER #3 (OF 3) (MR)
POWER UP #2 (OF 6)
PRINCELESS RAVEN PIRATE PRINCESS #2
PRINCESS UGG TP VOL 02
PUELLA MAGI HOMURA TAMURA GN VOL 01
RAI #9 (NEW ARC)
RAT QUEENS #11 (MR)
RESURRECTIONISTS TP VOL 01 NEAR DEATH EXPERIENCED
REVIVAL #32 (MR)
RICK & MORTY #5 | Preview
Publisher: ONI PRESS INC.
(W) Zac Gorman (A) CJ Cannon, Marc Ellerby (CA) CJ Cannon
Rick and Morty team up to save a summer camp from an evil real estate developer in this cameo-packed homage to cheesy 1980s camp comedies, "Mortballs!" Unfortunately for Morty, his idyllic summertime adventure begins to unravel when reality itself starts coming apart at the seams!
RIVERS OF LONDON #2 (OF 5) (MR)
ROBIN SON OF BATMAN #3
ROD ESPINOSAS STEAMPUNK SNOW QUEEN #3 (OF 3)
ROGUE TP COMPLETE COLLECTION
RUNAWAYS #3 SWA
SAMURAI JACK TP VOL 04 WARRIOR KING
SAVAGE DRAGON #206 (MR)
SECRET SIX #5
SECRET WARS JOURNAL #4 (OF 5) SWA
SECRET WARS SECRET LOVE #1 SWA
SENSATION COMICS FEATURING WONDER WOMAN #13 | More about Sensation Comics
Publisher: DC COMICS
(W) Barbara Kesel (A) Irene Koh & Various (CA) Giuseppe Camuncoli
In "Besties," three artists take on the challenge of a lifetime as a trio of high school track stars face Wonder Woman in a foot race-and the afternoon gets even scarier when Superwoman shows up! By the time the epic battle concludes, Superwoman and the girls learn an important lesson: Nobody beats Diana!
SHADOW MIDNIGHT IN MOSCOW TP
SILK #6
SIMPSONS COMICS #223
SOLITARY TP
SPACE DUMPLINS GN VOL 01
SPIDER-VERSE #4 SWA
STAR WARS #8
STRAIN NIGHT ETERNAL #12 (MR)
STRAY BULLETS SUNSHINE & ROSES #7 (MR)
STRAY BULLETS TP VOL 03 OTHER PEOPLE (MR)
SUNNY SIDE UP GN
SUPERMAN WONDER WOMAN #20
SWORDS OF SORROW VAMPIRELLA JENNIFER BLOOD #4 (OF 4)
TEEN TITANS GO #11
TOKYO GHOUL GN VOL 02
TREES #12 (MR)
ULTRAMAN GN VOL 01
UNBEATABLE SQUIRREL GIRL TP VOL 01 SQUIRREL POWER
WEIRDWORLD #3 SWA
WELCOME BACK #1
WOLF #2 (MR)
WONDER WOMAN #43
X-MEN AGE OF APOCALYPSE TP VOL 01 ALPHA
X-TINCTION AGENDA #3 SWA
---
Shortages
CAGE OF EDEN GN VOL 18
DEVIL IS PART TIMER HIGH SCHOOL GN VOL 01
EX-CON TP VOL 01 FADING LIGHTS (MR)
---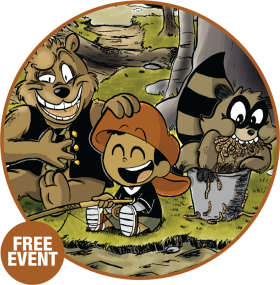 Please join the Boston Comics Roundtable for the next Creator Talk with cartoonist L.J.-Baptiste on his webcomic series COMIXSCAPE, a story about the absurd adventures of a young boy and his pet raccoon in his new town. The event will take place at the Boston Comics Workspace at 561 Windsor Street in Somerville, Studio 306, and begin at 2:00 pm on Sunday August 23. Admission is free and open to the public, though a suggested donation of $5 is welcome.
http://bostoncomics.com/creator-talks-l-j-baptiste/
---
Have you heard about KIDS CON (http://www.kidsconne.com) and how they're doing events within other events (http://www.kidsconne.com/kcevents/) and that they will be appearing at the Dover, NH Makers Faire Cartooning Workshops on August 29th?! (http://makerfairedover.com/) There are more events scheduled in September for NH & VT too.
---
IF YOU HAVE A COMICKY EVENT YOU'D LIKE TO HAVE LISTED HERE, DROP US A LINE! Contact US.
---
Thank you!
Million Year Picnic
99 MT Auburn ST downstairs
Cambridge, MA 02138
617-492-6763
https://www.themillionyearpicnic.com