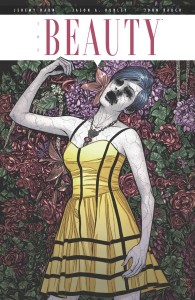 21ST CENTURY TANK GIRL #3 (OF 3) (MR)
A-FORCE #3 SWA
ABE SAPIEN #25
ACTION COMICS #43
ALEX + ADA TP VOL 03
ALL STAR SECTION 8 #3 (OF 6)
ALTER EGO #134
AMAZING SPIDER-MAN #20.1
ANGEL AND FAITH SEASON 9 LIBRARY ED HC VOL 02
ARCADIA #4
ARCHIE #1 2ND Printing
ARROW SEASON 2.5 #11
AVATAR LAST AIRBENDER TP POSTER COLLECTION
BACK ISSUE #82
BATMAN #43
BATMAN BLACK & WHITE HC VOL 1 BOOK & DVD BLU RAY S
BATMAN SUPERMAN #23
BATMAN YEAR ONE HC BOOK & DVD BLU RAY SET
BEAUTY #1 (MR) | Preview
Publisher: IMAGE COMICS
(W) Jeremy Haun, James A. Hurley (A/CA) Jeremy Haun
THE PILOT SEASON WINNER RETURNS!
Modern society is obsessed with outward beauty. What if there was a way to guarantee you could become more and more beautiful every day? What if it was a sexually transmitted disease? In the world of The Beauty, physical perfection is attainable. The vast majority of the population has taken advantage of it, but Detectives Foster and Vaughn will soon discover it comes at a terrible price.
Writer/artist JEREMY HAUN (Constantine, Batwoman) and co-writer JASON A. HURLEY offer up a startling reflection on the cost of looking good in this procedural science fiction tale.
BLACK PANTHER BY PRIEST TP VOL 01 COMPLETE COLLECTION
BLACK SCIENCE TP VOL 03 VANISHING POINT (MR)
BRAVEST WARRIORS #35 | Preview
Publisher: BOOM! STUDIOS
(W) Kate Leth, Paul Allor (A) Ian McGinty, Kat Leyh (CA) Ian McGinty
Penultimate issue! It's the Bravest Warriors biggest adventure yet, and it'll take all of them working together to make it through this one!
CATWOMAN #43
CLARENCE #3
CONSTANTINE THE HELLBLAZER #3
CROSSED BADLANDS #83 (MR)
CROSSED PLUS 100 #7 (MR)
CUSTOM NAMCO RISE OF INCARNATES #12 (OF 15)
DAREDEVIL TYPHOIDS KISS TP
DC COMICS BOMBSHELLS #1
DEADMAN WONDERLAND GN VOL 10 (MR)
DEATH SENTENCE LONDON #3 (MR)
DESCENDER #6 (MR)
DEVIANT VIRTUES DLX HC (A)
DOC SAVAGE DOUBLE NOVEL VOL 82 BOSS OF TERROR BAMA VAR CVR
DOCTOR WHO 10TH #14
DOCTOR WHO 11TH #15
DOCTOR WHO 2015 FOUR DOCTORS #1 (OF 5)
DORBZ GOTG GROOT VINYL FIG
DRIFTER #7 (MR)
EARTH 2 SOCIETY #3
ELTINGVILLE CLUB #2 (OF 2)
EMPIRE UPRISING #4
ETERNAL SOULFIRE #2
FABLES THE WOLF AMONG US #8 (MR)
GARBAGE PAIL KIDS GO HOLLYWOOD (ONE SHOT)
GHOST RACERS #3 SWA
GOTHAM ACADEMY #9
GRANT MORRISONS 18 DAYS #2
GREEN ARROW #43
HARROW COUNTY #4
HELLBLAZER TP VOL 11 LAST MAN STANDING (MR)
HELLBOY AND THE BPRD 1952 TP | Preview
Publisher: DARK HORSE COMICS
(W) Mike Mignola, John Arcudi (A) Alex Maleev (CA) Mike Mignola
A bizarre series of murders and rumors of something worse lead Professor Bruttenholm to send a young Hellboy to a Brazilian village on his first mission. Hellboy and a small group of agents uncover something terrible in the shadows of a sixteenth-century Portuguese fortress . . . Collects the five-issue miniseries.
HERO CATS #7
HIP HOP FAMILY TREE GN VOL 03
HOWARD THE DUCK #5
INHUMANS ATTILAN RISING #4 SWA
INJECTION #4 (MR)
IT WILL ALL HURT #3 (MR)
JLA EARTH 2 HC BOOK & DVD BLU RAY SET
JUDGE DREDD MEGAZINE #362
JUGHEAD & ARCHIE JUMBO COMICS DIGEST #15
JUSTICE INC AVENGER #3
JUSTICE LEAGUE UNITED #12
JUSTICE LEAGUE VOL 1 HC ORIGIN BOOK & DVD BLU RAY
KAIJUMAX #5
KING MANDRAKE MAGICIAN #3 (OF 4)
KORVAC SAGA #3 SWA
LANTERN CITY #4 (OF 12)
LETTER 44 #19
LITTLE NEMO BIG NEW DREAMS HC
LOBO TP VOL 01 TARGETS
MASKS 2 #5 (OF 8)
MASTER OF KUNG FU #4 (OF 4) SWA
MERCY SPARX #9 (MR)
MICE TEMPLAR V NIGHTS END #4 (OF 5)
MILLENNIUM TP
MONA AGENT X GN VOL 01 DANGEROUS INITIATION (Offered Again)
MORTAL KOMBAT X #9 (MR)
MRS DEADPOOL AND HOWLING COMMANDOS #3 SWA
MY LITTLE PONY FRIENDS FOREVER TP VOL 04
NEW SUICIDE SQUAD #11
ODYC #6 (MR)
OLYMPUS HC (MR)
OPERATION SIN TP AGENT CARTER
ORPHAN BLACK #5
PEANUT BUTTER VOL 08 (A)
PHONOGRAM THE IMMATERIAL GIRL #1 (OF 6) (MR) | Preview
Publisher: IMAGE COMICS
(W) Kieron Gillen (A/CA) Jamie McKelvie
The team behind the New York Times bestselling and Eisner-nominated smash hit THE WICKED + THE DIVINE return to the acclaimed urban-fantasy where they first made their names. Nearly a decade ago, Emily Aster sold half her personality for the power to rule a coven of phonomancers. I'm sure nothing could go horribly, monstrously wrong now. In a world where Music is Magic, a song can save or ruin your life. In THE IMMATERIAL GIRL, we discover what a video can do.
PLANET HULK #4 SWA
POPEYE CLASSICS ONGOING #37
PROVIDENCE #3 (OF 12) (MR)
QUANTUM & WOODY TP VOL 04 QUANTUM & WOODY MUST DIE
REBELS #5
RED HOOD ARSENAL #3
SATELLITE SAM TP VOL 03 LIMESTONE CAVES OF FIRE (MR)
SAVIOR #5
SCOOBY DOO WHERE ARE YOU #60 | Preview
Publisher: DC COMICS
(W/A/CA) Scott Gross
When the ghosts of legendary Norse explorers-better known as Vikings!-start to haunt a local ferry operator, Scooby and the Mystery Gang take to the water! Will running their own ferry boat help them get to the bottom of this mystery, or just sink to the bottom of the river? Find out in "The Case of the Frightful Ferry"!
SECRET WARRIORS COMPLETE COLLECTION TP VOL 02
SECRET WARS #2 (OF 8) 3RD Printing
SECRET WARS #5 (OF 8) SWA
SECRET WARS 2099 #4 (OF 5) SWA
SHADOW DOUBLE NOVEL VOL 98 GEMS OF DOOM & TEAR DROPS OF BUDD
SHIELD 50TH ANNIVERSARY BY KIRBY AND STERANKO POSTER
SHRINKING MAN #2 (OF 4)
SHUTTER #14 (MR)
SLEEPY HOLLOW PROVIDENCE #1 (OF 4)
SMURFS GN VOL 19 JEWEL SMURFER
STAR TREK GREEN LANTERN #2 (OF 6)
STAR WARS LANDO #2 (OF 5)
STAR-LORD AND KITTY PRYDE #2 SWA
STARFIRE #3
STARVE #3 (MR)
STRANGE FRUIT #1 (2ND Printing)
STRING DIVERS #1 (OF 5) | Preview
Publisher: IDW PUBLISHING
(W) Chris Ryall (A) Nelson Daniel (CA) Ashley Wood
Meet the String Divers! A renegade team called upon to save the universe from arcane threats at the sub-microscopic level! String theory made real, and real thrilling, in "Unified Chaos Theory," part 1!
STUMPTOWN V3 #7
SWORDS OF SORROW #4 (OF 6)
UBER #27 (MR)
UNBEATABLE SQUIRREL GIRL #8
UNCANNY SEASON 2 #5 (OF 6)
UNCLE SCROOGE #5
UNITY #21
UNITY TP VOL 05 HOMEFRONT
VAMPIRELLA ARMY OF DARKNESS #2 (OF 4)
VELVET #11 (MR)
WALKING DEAD #145 (MR)
WAR STORIES TP NEW ED VOL 01 (MR)
WONDER WOMAN GODS & MORTAL HC BOOK & DVD BLU RAY S
X-FILES SEASON 11 #1
X-O MANOWAR #39 (NEW ARC)
YEARS OF FUTURE PAST #4 SWA
---
Shortages
AMERICATOWN #1
BLOODSHOT REBORN #5 (NEXT)
MERCURY HEAT #2 (MR)
MUIRWOOD LOST ABBEY #1 (OF 5)
SADHU BIRTH OF THE WARRIOR #2 (OF 6) (MR)
SECRET WARS BATTLEWORLD #4 (OF 4) SWA
---
Future signing in the works for Margaret de Heer!
Have you heard about KIDS CON (http://www.kidsconne.com) and how they're doing events within other events (http://www.kidsconne.com/kcevents/) and that they will be appearing at the Dover, NH Makers Faire Cartooning Workshops on August 29th?! (http://makerfairedover.com/) There are more events scheduled in September for NH & VT too.
---
IF YOU HAVE A COMICKY EVENT YOU'D LIKE TO HAVE LISTED HERE, DROP US A LINE! Just contact us.
---
Thank you!
Million Year Picnic
99 MT Auburn ST downstairs
Cambridge, MA 02138
617-492-6763
https://www.themillionyearpicnic.com