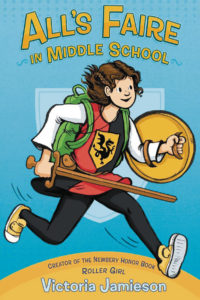 Shortages
GREEN HORNET 66 MEETS SPIRIT #3 (OF 5)
INUYASHIKI GN VOL 08
IRON FIST TP VOL 01 TRIAL OF THE SEVEN MASTERS
MERCY SPARX YEAR ONE #3 (OF 3)
Weekly Shiplist for Wednesday, 6 September 2017
4 KIDS WALK INTO A BANK #5 (MR)
ADVENTURE TIME #68
ALL NEW GUARDIANS OF GALAXY #9
ALL STAR BATMAN TP VOL 01 MY OWN WORST ENEMY (REBIRTH)
ALLS FAIRE IN MIDDLE SCHOOL GN | Preview
(W) Victoria Jamieson (A/CA) Victoria Jamieson
From the author of the Newbery Honor winner Roller Girl, a heartwarming graphic novel about starting middle school, surviving your embarrassing family, and life at the Renaissance Faire that's perfect for fans of Raina Telgemeier. Eleven-year-old Imogene (Impy) has grown up with two parents working at the Renaissance Faire, and she's eager to begin her own training as a squire. First, though, she'll need to prove her bravery. Luckily Impy has just the quest in mind – she'll go to public school after a life of being homeschooled! But it's not easy to act like a noble knight-in-training in middle school. Impy falls in with a group of girls who seem really nice… until they don't. For the first time, she's embarrassed of her thrift shop apparel, her family's unusual lifestyle, and their small, messy apartment. And when her new friends encourage her to do something mean, Impy goes along with it. Before long, Impy doesn't even recognize herself. Is she the dragon in her own story or the heroic knight?
ANIMOSITY THE RISE #3
ART OF OLIVIA 2018 WALL CALENDAR (MR)
ASTONISHING X-MEN #3
ASTRO CITY #47
BACK ISSUE #100
BANE CONQUEST #5 (OF 12)
BATMAN #30
BATMAN YEAR ONE DELUXE ED HC
BEIRUT WONT CRY GN | Preview
Throughout the summer of 2006, during the Israeli attack on Lebanon, Mazen Kerbaj published drawings, comics, and writing giving a first-hand account of someone creating during a time of intense everyday brutality. Drawn and written in English, French, and Arabic, Beirut Won't Cry shows us how an artist views the world and everything in it – his relationships, his family, and his creative pursuits – as it violently crumbles around him. Both historically vital and hilarious, Beirut Won't Cry introduces Kerbaj's unique voice and urgent pen to an American audience for the very first time, teaching readers how to carry on and resist in times of war and oppression.
BLACK BEETLE KARA BOCEK HC
BLACK BOLT #5
BOMBSHELLS UNITED #1
CAVEWOMAN STARSHIP BLISH #2 (A)
CHAMPIONS #12 SE
CLOUDIA & REX #3 (OF 3)
CRIMINAL DLX ED HC VOL 01
CYBORG #16
DAREDEVIL #26
DASTARDLY AND MUTTLEY #1 (OF 6)
DEATHSTROKE #23
DISNEY MICKEY MOUSE HC VOL 11 MICKEY VS MICKEY
DOC SAVAGE DOUBLE NOVEL VOL 12 RESTORED MANUSCRIPT ED BAMA
DOCTOR WHO 12TH HC VOL 07 TERROR BENEATH
DOCTOR WHO 9TH DOCTOR YEAR TWO #1
DOOM PATROL #8 (MR)
DR EIGHTH
DR SECOND
DR SEVENTH
EDGAR RICE BURROUGHS BIBLIOGRAPHY DLX SIGNED ED
FANTE BUKOWSKI GN VOL 01 (NEW Printing) (Offered Again)
GARTH ENNIS RED TEAM TP VOL 02 DOUBLE TAP (MR) | Preview
(W) Garth Ennis (A) Craig Cermak (CA) Dan Panosian
One year after the catastrophic events that ended Red Team, the NYPD's elite anti-narcotics unit, the surviving Detectives Eddie Mellinger and Trudy Giroux are in the doldrums. Considered a political liability, the two are kept busy on small-time cases by their suspicious NYPD commanders, but a chance encounter with an out-of-his-depth rich kid in the ghetto gives them a chance to get back in the game. The trouble is, it means going far beyond the law… which is what almost got them killed last time around!
GENERATION X #6
GENERATIONS IRON MAN & IRONHEART #1
GIANT DAYS #30
GOLDEN COMPASS COMPLETE ED GN SC
GOLDEN TIME GN VOL 08
GREATEST ADVENTURE #5
GREEN ARROW #30
GREEN LANTERNS #30
HAIKYU GN VOL 15
HARBINGER RENEGADE #7
HARLEY QUINN #27
HAWKEYE #10
ICEMAN #5
ILLUSTRATION MAGAZINE #57
INHUMANS ONCE FUTURE KINGS #2 (OF 5)
INJUSTICE 2 #9
IRON FIST #7
JACK KIRBY COLLECTOR #72
JEM & THE HOLOGRAMS MISFITS INFINITE #2 (OF 3)
JESSICA JONES #12
JOHNNY APPLESEED HC
JOURNEY SW LAST JEDI CAPT PHASMA #1 (OF 4)
JUDGE DREDD BLESSED EARTH #5
JUSTICE LEAGUE #28
KIMI NI TODOKE GN VOL 27 FROM ME TO YOU
KINGSMAN RED DIAMOND #1 (OF 6) (MR)
KINGSMAN SECRET SERVICE TP
LARKS KILLER #2 (OF 7)
LAST GIRL STANDING SC TRINA ROBBINS | Preview
(W) Trina Robbins (A/CA) Trina Robbins
Trina Robbins' Last Girl Standing chronicles a life of sex, drugs, rock 'n' roll and comics. From her New York childhood in the 1940s to visiting the EC offices and posing for men's magazines in the 1950s, interacting with rock royalty and entering the orbit of underground cartoonists in the 1960's before moving to San Francisco, co-founding Wimmen's Comix and ultimately transforming into a comics historian and lecturer in the '90s and 2000s, Trina Robbins broke the rules and takes no prisoners in this heavily illustrated memoir.
LUCY & ANDY NEANDERTHAL HC GN VOL 02 STONE COLD AG
MADE MEN #1
MANIFEST DESTINY TP VOL 05 MNEMOPHOBIA & CHRONOPHOBIA (MR)
MARVEL HIP HOP COVERS HC VOL 02
MILLENNIUM GIRL WHO PLAYED WITH FIRE #1 (OF 2)
MMW LUKE CAGE POWER MAN HC VOL 02 DM VAR ED 248
MOTOR CRUSH #6
MOUSE GUARD ALPHABET BOOK HC | Preview
(W) David Peterson (A/CA) Serena Malyon
Learn the ABCs in the world of David Petersen's Mouse Guard where brave mice protect one another from predators large and small, explore the expansive nature around them, and thrive in harsh conditions. Hand-painted by Serena Malyon, this is a look into a beautiful world with rich culture and stalwart friendships, worth exploring one letter at a time.
MY LITTLE PONY LEGENDS OF MAGIC #5
NANCY DREW HARDY BOYS #6 (OF 6)
NIGHTWING #28
NISEKOI FALSE LOVE GN VOL 23
NON NON BIYORI GN VOL 08
ONE PUNCH MAN GN VOL 12
OUTCAST BY KIRKMAN & AZACETA #30 (MR)
PATHFINDER WORLDSCAPE HC VOL 01
PENNY DREADFUL #5
POPPIES OF IRAQ HC | Preview
(W) Brigitte Findakly, Lewis Trondheim (A/CA) Brigitte Findakly, Lewis Trondheim
Poppies of Iraq is Brigitte Findakly's nuanced chronicle of her relationship with her homeland Iraq, co-written and drawn by her husband, the acclaimed cartoonist Lewis Trondheim. In spare and elegant detail, they share memories of her middle class childhood touching on cultural practices, the education system, Saddam Hussein's state control, and her family's history as Orthodox Christians in the arab world. Poppies of Iraq is intimate and wide-ranging; the story of how one can become separated from one's homeland and still feel intimately connected yet ultimately estranged.
ROCKET GIRL #9
ROYALS #7
RUE MORGUE MAGAZINE #178
SEVEN TO ETERNITY #9
SHADE THE CHANGING GIRL #12 (MR)
SHADOW DOUBLE NOVEL VOL 121 HIDDEN DEATH & MEETS THE MASK
SKIP BEAT GN VOL 39
SPIDER-MAN #20
SPIDER-MAN DEADPOOL #21
STAR TREK NEW VISIONS TP VOL 05
STAR WARS ADVENTURES #1
STAR WARS DARTH MAUL TP
STAR WARS DARTH VADER #5
STAR WARS ROGUE ONE ADAPTATION #6 (OF 6)
SUPER F*CKERS FOREVER TP (MR)
SUPERMAN #30
SWEET TOOTH BOOK 01 (MR)
SWORDQUEST #3
TARZAN AND THE CANNIBAL KING DLX SGN ED
THOR & HULK DIGEST TP
THROWAWAYS TP VOL 02 (MR)
UBER INVASION #8 (MR)
USAGI YOJIMBO #161
WALKING DEAD #171 (MR)
WICKED & DIVINE #31 (MR)
WICKED & DIVINE HC VOL 02 (MR)
WOODS #35
X-MEN GOLD #11
Thank you!
Million Year Picnic
99 MT Auburn ST downstairs
Cambridge, MA 02138
617-492-6763
https://www.themillionyearpicnic.com