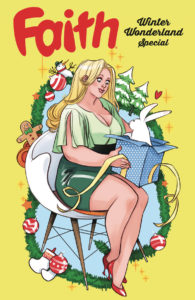 Shortages
IN THE NIGHT STUDIO ILLUSTRATION AFTER DARK DAN BRERETON
INHUMANS ONCE FUTURE KINGS #5 (OF 5)
JETSONS #2
Weekly Shiplist for Wednesday 5 December 2017
ADVENTURE TIME #71
ALTERS #8 (MR)
AMAZING SPIDER-MAN VENOM INC ALPHA #1 (OF 1) LEG
ARCHIE #26
ASTONISHING X-MEN #6
AVENGERS #674 LEG
BANE CONQUEST #8 (OF 12)
BARBARELLA #1 (MR)
BATMAN #36
BATMAN TEENAGE MUTANT NINJA TURTLES II #1 (OF 6)
BATMAN WHITE KNIGHT #3 (OF 8)
BELLADONNA FIRE FURY #1 (MR)
BLACK BOLT #8 LEG
BLACK BOLT TP VOL 01 HARD TIME
BLACK CLOUD #6 (MR)
BLACK LIGHTNING COLD DEAD HANDS #2 (OF 6)
BOMBSHELLS UNITED #7
CABLE TP VOL 01 CONQUEST
CAPTAIN AMERICA #696 LEG
CAPTAIN CANUCK YEAR ONE #1
CARTOONS MAGAZINE #12
CHARLTON ARROW #2
CHIMICHANGA SORROW OF WORLDS WORST FACE #4 (OF 4)
CYBORG #19
DAN DARE #3
DASTARDLY AND MUTTLEY #4 (OF 6)
DC UNIVERSE HOLIDAY SPECIAL 2017 #1 | Preview
(W) Greg Rucka, Tom King, Dennis O'Neil, Jeff Lemire, Max Landis, Christopher Priest, Shea Fontana, Joshua Williamson (A) Steve Epting, Rafael Albuquerque, Bilquis Evely, Otto Schimdt, Neil Googe, Francis Manapul (CA) Andy Kubert
DC Comics' finest talents have assembled to bring you a holiday special like you've never seen before! Join Superman, Wonder Woman and the Flash as they deliver powerful messages of hope like only The Worlds Greatest Super-Heroes can! Plus: Sgt. Rock fights the Nazis on Hanukah, the Teen Titans take on the literal ghost of Christmas past, and Swamp Thing battles that creeping feeling of existential dread! And don't miss the legendary Denny O'Neil's return to comics with an all-new Batman story! RATED T
DEADMAN #2 (OF 6)
DEATHSTROKE #26
DEATHSTROKE THE TERMINATOR TP VOL 03 NUCLEAR WINTER
DOCTOR STRANGE #382 LEG
DOCTOR WHO 12TH YEAR THREE #10 (SEASONS)
EXTREMITY #9
FAITHS WINTER WONDERLAND SPECIAL #1 | Preview
(W) Marguerite Sauvage (A) Francis Portela, Mj Kim (CA) Marguerite Sauvage
Eisner Award and Russ Manning Award-nominated artistic sensation Marguerite Sauvage (FAITH, Shade the Changing Girl) takes the helm for a fanciful tale of Faith Herbert's very first holiday extravaganza! As cheer fills the air, Faith "Zephyr" Herbert is about to take a trip down the rabbit hole… and into a mind-bending winter wonderland where every day is something special! But hiding behind the tinsel, all is not what it seems… White rabbit meets red-nosed reindeer as Faith squares off against a realm of make-believe and merriment for a whimsical flight of superhero fancy!
FEMFORCE #180
FIX #10 (MR)
GIANT DAYS #33
GRAVEDIGGERS UNION #2 (MR)
GREEN ARROW #35
GREEN ARROW TP VOL 04 THE RISE OF STAR CITY (REBIRTH)
GREEN LANTERNS #36
GUARDIANS OF GALAXY #148 LEG
GWENPOOL #23 LEG
HARLEY & IVY MEET BETTY & VERONICA #3 (OF 6)
HAWKEYE #13 LEG
ICEMAN #8 LEG
INJUSTICE 2 #15
IRON FIST #75 LEG
JEM & THE HOLOGRAMS DIMENSIONS #1
JUDGE DREDD MEGA-CITY ZERO TP
JUPITER JET #1
JUSTICE LEAGUE #34
KLAUS AND THE CRISIS IN XMASVILLE #1
LAND THAT TIME FORGOT FROM EARTHS CORE #2
LITTLE BOOK OF SPIDER-MAN FLEXICOVER
LOVE & ROCKETS MAGAZINE #4
LUMBERJANES TP VOL 07
MAGICAL TWINS DLX HC
MICRONAUTS WRATH OF KARZA TP
MIRROR #9
MONSTROUS COLL STEVE NILES & BERNIE WRIGHTSON TP | Preview
(W) Steve Niles (A/CA) Bernie Wrightson
One modern horror mainstay combines with one legendary master in this showcase of Bernie Wrightson's beautiful black and white art. A collection so terrifying, so huge, so gritty and raw that it had to be called MONSTROUS! Collecting the collaborations between two living horror legends this collection includes three complete tales: Dead She Said, The Ghoul, and Doc Macabre, each a piece of the dark, dangerous universe Steve Niles has created in the shadows of the world we think we know. Enjoy the inks of a master artist in striking black-and-white.
MOONSTRUCK #4
MUMMIES CLASSIC MONSTERS OF PRE-CODE HORROR COMICS TP
MY LITTLE PONY FRIENDSHIP IS MAGIC #61
NIGHTWING #34
PAPER GIRLS #18
PARADISO #1 (MR)
PHANTOM COMP DAILIES HC VOL 12 1953 – 1954
PRINCELESS RAVEN YEAR 2 #2
RASPUTIN VOICE OF DRAGON #2 (OF 5)
RED SONJA #11
RICK AND MORTY TP VOL 06 (MR)
RIVERS OF LONDON TP VOL 04 DETECTIVE STORIES | Preview
(W) Ben Aaronovitch, Andrew Cartmel (A) Lee Sullivan, Luis Guerrero
A collection of magical crimes, as recounted by detective Peter Grant to his superiors, as he takes the detectives exam!
ROCKET GIRL TP VOL 02 ONLY THE GOOD
SAVAGE DRAGON #229 (MR)
SCALES & SCOUNDRELS #4
SHADOW BATMAN #3 (OF 6)
SHADOW DEATH OF MARGO LANE TP
SHADOW DOUBLE NOVEL VOL 124 GHOST MAKERS & HOUSE OF GHOSTS
SHIRTLESS BEAR-FIGHTER TP (MR)
SHIVER HC JUNJI ITO
VIZ MEDIA LLC
(W/A/CA) Junji Ito
This volume includes nine of Junji Ito's best short stories, as selected by the author himself and presented with accompanying notes and commentary. An arm peppered with tiny holes dangles from a sick girl's window… After an idol hangs herself, balloons bearing faces appear in the sky, some even featuring your own face… An amateur film crew hires an extremely individualistic fashion model and faces a real bloody ending… An offering of nine fresh nightmares for the delectation of horror fans.
SLEEPLESS #1
SMELL OF STARVING BOYS GN
SPIDER-MAN #235 LEG
STAR HAWKS HC VOL 02 1978-1979
STAR TREK TNG MIRROR BROKEN #5 (OF 6)
STAR WARS DARTH VADER #9
STAR WARS TP VOL 06 OUT AMONG THE STARS
STRAY BULLETS SUNSHINE & ROSES #30 (MR)
SUPERMAN #36
TEEN TITANS GO TP VOL 04 SMELLS LIKE TEEN SPIRIT
THROWAWAYS #10 (MR)
TMNT ONGOING #77
TRUE BELIEVERS ENTER THE PHOENIX
TRUE BELIEVERS PHOENIX PRESENTS CYCLOPS & MARVEL GIRL
UBER INVASION #10 (MR)
USAGI YOJIMBO #164
VIOLENT LOVE #10 (MR)
WALKING DEAD #174 (MR)
WATCHMEN THE ANNOTATED EDITION HC
WHITEOUT COMPENDIUM GN (MR)
WHY COMICS FROM UNDERGROUND TO EVERYWHERE HC | Preview
(W) Hillary Chute (CA) Jaime Hernandez
As comics as an art form continue to gain in popularity and critical acclaim, comics expert Hillary Chute reveals what exactly it is that makes comics so unique. What is it that makes comics so special? What can this unique art form do that others can't? Chute reveals the history of comics, underground comics (or comix), and graphic novels, through deep thematic analysis, and fascinating portraits of the fearless men and women behind them. Chute has created an indispensable guide to comics for those new to the genre, or those who want to understand more about what lies behind their favorite works. Foreward by Gary Panter and cover by Jamie Hernandez.
WITCHBLADE #1 (MR)
WONDERFUL WORLD OF PERFECTO GN
X-MEN GOLD #17 LEG
Thank you!
Million Year Picnic
99 MT Auburn ST downstairs
Cambridge, MA 02138
617-492-6763
https://www.themillionyearpicnic.com