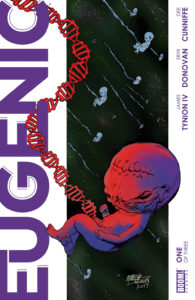 Shortages
BLOOD STAIN TP VOL 03
CHARLTON ARROW #1
CLOUD RIDERS GN PRINCE GUNDA
ELSEWHERE #3
GRIMJACK OMNIBUS TP VOL 03
MILLENNIUM GIRL WHO PLAYED WITH FIRE #2
EDITED TO ADD: Due to weird ordering requirements, some shops won't have the Lenticular covers for Marvel titles. We WILL have shelf copies of EVERY title.
Weekly Shiplist for Wednesday, 4 October 2017
2000 AD PACK AUG 2017
ADVENTURE TIME #69
ALL NEW GUARDIANS OF GALAXY #11
ALL STAR BATMAN #14
ARCHIES #1
ASTONISHING X-MEN #4
AVENGERS #672 LEG
BANE CONQUEST #6 (OF 12)
BATMAN #32
BATMAN DETECTIVE TP VOL 03 LEAGUE (REBIRTH)
BATMAN THE DAWNBREAKER #1 (METAL)
BATMAN WHITE KNIGHT #1 (OF 7)
BERNIE WRIGHTSON ART & DESIGNS FOR GANG OF 7 ANIMA
BLACK BOLT #6
CAST NO SHADOW GN | Preview
(W) Nick Tapalansky (A/CA) Anissa Espinosa
Doomed romance brings a town to its knees in this teen gothic graphic novel. Greg is new to Lancaster, but he can already tell things aren't all right in this quiet, gloomy little town. When Greg finds a creepy abandoned house in the center of town, he thinks maybe he's getting closer to Lancaster's secret. But the ghost of a beautiful teenage girl haunting the house is more than Greg bargained for. Before he knows it, Greg's in love… with a dead girl. From acclaimed comics writer Nick Tapalansky and phenomenal newcomer artist Anissa Espinosa, Cast No Shadow is a moody, gorgeous teen romance with teeth.
CATALYST PRIME ASTONISHER #1
CHIP KIDD BOOK TWO 2007-2017 PX BOOKPLATE ED
CINEMA PURGATORIO #12 (MR)
CUCUMBER QUEST DOUGHNUT KINGDOM GN | Preview
(W) D.G. Gigi (A/CA) D.G. Gigi
A delightfully pun-filled middle grade graphic novel about bunny siblings on a heroic journey to save their world from an evil queen. Do you want a deliciously epic journey with sword-wielding bunnies, magician bunnies, bunny knights rescuing bunny princesses, thieving bunnies, bunnies that make really bad henchmen, witch bunnies, and a non-bunny evil queen seeking world domination? That was a rhetorical question. Of course you do. Join nerdy magician Cucumber and his feisty knight-in-training little sister, Almond, as they set out to retrieve the Dream Sword, the only weapon powerful enough to defeat Evil Queen Cordelia's Nightmare Knight. But a legendary hero's journey can never be smooth!
CYBORG #17
DASTARDLY AND MUTTLEY #2 (OF 6)
DC COMICS THE FLASH CAPED SUPERBIB
DEATHSTROKE #24
DOC MACABRE TREASURY EDITION
DOCTOR CROWE #3 (OF 4)
DOCTOR WHO MAGAZINE #516
ELEANOR & THE EGRET #4
ELEPHANTMEN #78 (MR)
EUGENIC #1 (OF 3) | Preview
(W) James TynionIV (A/CA) Eryk Donovan
From the GLAAD award-nominated team James Tynion IV (Dark Nights: Metal, Detective Comics) and Eryk Donovan (Constantine: The Hellblazer) comes a new vision of humanity's future in the vein of Black Mirror.
When a plague ravages the world, one scientist discovers the cure and becomes the savior of mankind. Hope is restored, and the world rebuilds. But then people who took the cure begin having children who are… unnatural, and the definition of "normal" is forever altered.
"…what [Tynion IV and Donovan] are able to accomplish together becomes more and more interesting." – Multiversity Comics
EVOLUTION ASHCAN
EXTREMITY #7
FLINTSTONES TP VOL 02
GENSHIKEN SECOND SEASON GN VOL 11
GIANT DAYS #31
GREEN ARROW #32 (METAL)
GREEN HORNET 66 MEETS SPIRIT #4 (OF 5)
GREEN LANTERNS #32
HACK SLASH VS VAMPIRELLA #1 (OF 5)
HARLEY & IVY MEET BETTY & VERONICA #1 (OF 6) | Preview
(W) Paul Dini, Marc Andreyko (A) Laura Braga (CA) Amanda Conner
Free college tuition for all Riverdale residents?! That's the plan-after the town drains the wetlands that lie between it and Gotham City and then builds a new campus. The only snag? A certain botany-obsessed super-villain. When Poison Ivy enlists her bestie, Harley, to kidnap both Veronica Lodge, daughter of Riverdale's most important citizen, and her friend Betty, she's counting on some assistance-and the mayhem that ensues will probably work as well! DC Comics and Archie are proud to present the adventure of a lifetime for all these best pals. Their hijinks are brought to you by the real-life team-up of Paul Dini (HARLEY QUINN) and Marc Andreyko (WONDER WOMAN '77), with art by Laura Braga (DC BOMBSHELLS)! RATED T
HARLEY QUINN #29
HAWKEYE #11
HI FRUCTOSE MAGAZINE QUARTERLY #45
HILLBILLY #8
I HATE FAIRYLAND SPEC ED (MR)
ICEMAN #6 LEG
INJUSTICE 2 #11
IRON FIST #73 LEG
JESSICA JONES #13 LEG
JOURNEY SW LAST JEDI CAPT PHASMA #3 (OF 4)
JUSTICE LEAGUE #30
KIM AND KIM LOVE IS A BATTLEFIELD #3 (MR)
LUMBERJANES ILLUS HC NOVEL VOL 01 UNICORN POWER | Preview
(W) Mariko Tamaki (A/CA) Brooke A. Allen
Based on the bestselling, cult-favorite graphic novels, this series of middle-grade novels follows the five campers on totally new, action-packed adventures! Welcome to Miss Qiunzella Thiskwin Penniquiqul Thistle Crumpet's Camp for Hardcore Lady Types. The five scouts of Roanoke cabin – Jo, April, Molly, Mal, and Ripley – love their summers at camp. They get to hang out with their best friends, earn Lumberjane scout badges, annoy their no-nonsense counselor Jen… and go on supernatural adventures. That last one? A pretty normal occurrence at Miss Qiunzella's, where the woods contain endless mysteries. Today is no exception. When challenge-loving April leads the girls on a hike up the tallest mountain they've ever seen, things don't go quite as planned. For one, they didn't expect to trespass into the lands of the ancient Cloud People, and did anyone happen to read those ominous signs some unknown person posted at the bottom of the mountain? Also, unicorns.
MANIFEST DESTINY #31 (MR)
MARK SCHULTZ XENOZOIC COMPLETE NEW PTG TP
MARVEL AGE OF COMICS 1961-1978 HC
MEANWHILE #7
MISHADRA HC GN
MOONSTRUCK #3
MOTOR CRUSH #7
MOTOR GIRL #9
MY LITTLE PONY FRIENDSHIP IS MAGIC #59
NEW SUPER MAN TP VOL 02 COMING TO AMERICA (REBIRTH)
NIGHTWING #30
OLD MAN LOGAN #29
OUTCAST BY KIRKMAN & AZACETA TP VOL 05 (MR)
PAPER GIRLS #16
PLANETOID TP VOL 02 PRAXIS (MR)
PRINCESS JELLYFISH GN VOL 06
PUNISHER PLATOON #1 (OF 6)
RAPTURE TP
REGRESSION #5 (MR)
ROCKET GIRL #10
ROYALS #9 LEG
ROYALS TP VOL 01 BEYOND INHUMAN
SAMARIS TP
SAMURAI JACK QUANTUM JACK #1 (OF 5)
SHADOW BATMAN #1
SHADOWMAN/RAE SREMMURD #1
SHANG-CHI MASTER OF KUNG FU OMNIBUS HC VOL 04 DM WILSON VAR
SPACEBAT & THE FUGITIVES GN BOOK 01 | Preview
(W) Chris Sheridan (A/CA) Chris Sheridan
Spacebat, the galaxy's greatest misfit, is pressed into service by three children to battle robots, psychics, and even the very laws of nature to stop a mad scientist, his army of ill-mannered robots, and (worst of all), a universe-bending machine.
SPIDER-MAN #21
SPIDER-MAN DEADPOOL #22
SPIRITS OF VENGEANCE #1 (OF 5)
SPREAD #22 (MR)
STAR WARS #37
STAR WARS DARTH VADER #6
STEAM CLEAN GN (MR)
STRAY BULLETS SUNSHINE & ROSES #28 (MR)
STREAK OF CHALK HC
SUPERMAN #32
SWAMP THING THE BRONZE AGE OMNIBUS HC
THERES NOTHING THERE #4 (MR)
TICK 2017 #1
USAGI YOJIMBO #162
VENOM #155
VISITOR HOW AND WHY HE STAYED TP
WALKING DEAD #172 (MR)
WALKING DEAD HERES NEGAN HC (MR)
WALKING DEAD MAGAZINE #21
WALT DISNEY DONALD DUCK HC BOX SET PARROT & BEAGLE BOYS
WALT DISNEY DONALD DUCK HC VOL 10 SECRET HONDORICA
WILLIAM GIBSON ARCHANGEL HC
X-MEN GOLD #13 LEG
Thank you!
Million Year Picnic
99 MT Auburn ST downstairs
Cambridge, MA 02138
617-492-6763
http://www.themillionyearpicnic.com