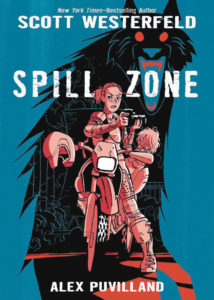 Shortages
ALL NEW GUARDIANS OF GALAXY #1
CHAMPIONS #8
EXTREMITY #3
GUARDIANS OF GALAXY MOTHER ENTROPY #1 (OF 5)
IRON FIST #3
JESSICA JONES #8
NARWHAL HC GN VOL 02 SUPER NARWHAL & JELLY JOLT
PROJECT SUPERPOWERS HERO KILLERS #1
SECRET EMPIRE #1 (OF 9)
SPIDER-MAN #16
SPIDER-MAN DEADPOOL #17
STAR WARS POE DAMERON #14
Weekly Shiplist for Wednesday, 3 May 2017
5 WORLDS GN VOL 01 SAND WARRIOR | Preview
(W) Mark Siegel, Alexis Siegel (A) Mark Siegel, Xanthe Bouma, Matt Rockefeller, Boya Sun
The Five Worlds are on the brink of extinction unless five ancient and mysterious beacons are lit. When war erupts, three unlikely heroes will discover there's more to themselves – and more to their worlds – than meets the eye! The clumsiest student at the Sand Dancer Academy, Oona Lee is a fighter with a destiny bigger than she could ever imagine. A boy from the poorest slums, An Tzu has a surprising gift and a knack for getting out of sticky situations. Star athlete Jax Amboy is beloved by an entire galaxy, but what good is that when he has no real friends? When these three kids are forced to team up on an epic quest, it will take not one, not two, but 5 Worlds to contain all the magic and adventure! Available in softcover and hardcover editions.
ACG COLL WORKS ADV INTO UNKNOWN HC VOL 12
ADVENTURE TIME #64
ALL NEW WOLVERINE TP VOL 03 ENEMY OF STATE II
ALTER EGO #146
AMAZING SPIDER-MAN EPIC COLLECTION TP GOBLINS LAST STAND
AQUAMAN #22
BACK ISSUE #96
BALTIMORE THE RED KINGDOM #4
BATMAN #22 (THE BUTTON)
BLACK BOLT #1 | Preview
(W) Saladin Ahmed (A/CA) Christian Ward
THE KING OF THE INHUMANS' FIRST SOLO SERIES!
Black Bolt imprisoned! But by who? And where exactly? The answers to both will shock you! But to learn those answers, Black Bolt must first win a fight to the death with a fellow inmate – The Absorbing Man! Award-winning science fiction writer Saladin Ahmed (Throne of the Crescent Moon) crafts a story as trippy as it is action-packed, with truly mind-bending art from the one and only Christian Ward!
BLOOD BLISTER #2 (MR)
BOWMAN 2017 BASEBALL Trading Card BOX
BRAVE CHEF BRIANNA #3
BULLSEYE #4 (OF 5)
CAVEWOMAN DESTINATION JUNGLE #1
CEREBUS IN HELL #3
CHAMPIONS TP VOL 01 CHANGE WORLD
COMICS REVUE PRESENTS APR 2017
CYBORG #12
DC COMICS BOMBSHELLS #26
DEATHSTROKE #18
DIVINITY III STALINVERSE TP
DOCTOR FATE TP VOL 03 FATEFUL THREADS
DOCTOR WHO MAGAZINE #511
DRAGON BALL SUPER GN VOL 01
DRAW #33 (MR)
EMPOWERED SOLDIER OF LOVE #3
ETERNAL EMPIRE #1 | Preview
(W) Sarah Vaughn, Jonathan Luna (A/CA) Jonathan Luna
JONATHAN LUNA (ALEX + ADA, THE SWORD, Spider-Woman: Origin) and SARAH VAUGHN (ALEX + ADA, Deadman: Dark Mansion of Forbidden Love, Ruined) return with ETERNAL EMPIRE, a fantasy epic!
The Eternal Empress has waged war against the countries of Saia for over one hundred years and now her sights are set on the last country standing. Within the brutal Empire's workforce, a young woman receives strange visions that give her the courage to escape her fate…or run straight toward it.
EVERAFTER FROM THE PAGES OF FABLES #9 (MR)
EVERAFTER FROM THE PAGES OF FABLES TP VOL 01 PANDORA (MR)
FAITH (ONGOING) #11
FALL AND RISE OF CAPTAIN ATOM #5 (OF 6)
FLINTSTONES AND JETSONS TP VOL 01
GIANT DAYS #26
GOLDIE VANCE #12
GOLDIE VANCE TP VOL 02
GREEN ARROW #22
GREEN LANTERNS #22
HAIKYU GN VOL 11
HARLEY QUINN #19
HAWKEYE #6
HOPE LARSON MERCURY GN NEW Printing
ILLUSTRATORS SPECIAL #1 THE SPANISH ARTS
INJUSTICE 2 #1
INVISIBLE EMMIE GN
JAMES BOND #3
JEAN GREY #1
JOJOS BIZARRE ADV STARDUST CRUSADERS HC VOL 03
JUDGE DREDD MEGAZINE #383
JUSTICE LEAGUE #20
LADY MECHANIKA TP VOL 03 LOST BOYS OF WEST ABBEY
MANIFEST DESTINY #28 (MR)
MISS KOBAYASHIS DRAGON MAID GN VOL 03
MONSTERS HC VOL 01 MARVEL MONSTERBUS BY LEE LIEBER KIRBY
MY BROTHERS HUSBAND GN VOL 01 (OF 2) | Preview
(W) Gengoroh Tagame (A/CA) Gengoroh Tagame
From one of Japan's most notable graphic novelists: a heartbreaking and redemptive tale of mourning and acceptance. Yaichi is a work-at-home suburban dad in contemporary Tokyo, married to wife Natsuki, father to young daughter Kana. Their lives are suddenly upended with the arrival at their doorstep of a hulking, affable Canadian named Mike Flanagan, who declares himself the widower of Yaichi's estranged gay twin, Ryoji. Mike is on a quest to explore Ryoji's past, and the family reluctantly but dutifully takes him in. What follows is an unprecedented journey into the largely still-closeted Japanese gay culture: how it's been affected by the West, and how the next generation has the chance to change the preconceptions of and prejudices against it.
MY LITTLE PONY FRIENDSHIP IS MAGIC #53
NAILBITER TP VOL 06 BLOODY TRUTH (MR)
NICHIJOU GN VOL 08
NIGHTWING #20
NISEKOI FALSE LOVE GN VOL 21
NOVA #6
ONE PIECE GN VOL 82
OUTCAST BY KIRKMAN & AZACETA #27 (MR)
PAPER GIRLS #14
PENNY DREADFUL #2
PIX TP VOL 02 TOO SUPER FOR SCHOOL
PLANETOID PRAXIS #4 (OF 6) (MR)
PRE CODE CLASSICS SPACE BUSTERS SPACE PATROL HC
PRE CODE CLASSICS TOM CORBETT SPACE CADET HC VOL 01
PRE CODE CLASSICS WORLDS OF FEAR HC VOL 02
RAVINA THE WITCH GN | Previews
(W) Junko Mizuno (A/CA) Junko Mizuno
Ravina the Witch, from the supremely talented visual artist Junko Mizuno, is a dark, fantastical illustrated tale featuring talking animals, giant birds and dancing mushrooms. When Ravina is given a magic wand by a mysterious old woman, she turns from a lonely girl living in a dump… into a witch?
REAL FRIENDS GN
REGGIE AND ME #5 (OF 5)
RISE OF BLACK FLAME TP
RIVERDALE (ONGOING) #2
SHADOW DOUBLE NOVEL VOL 117 MASTER OF FLAME & TOWN OF HATE
SHIPWRECK #4
SPECTACULAR SISTERHOOD OF SUPERWOMEN HC
SPIDER-GWEN #19
SPIDER-MAN 2099 #23
SPILL ZONE HC GN VOL 01 | Preview
(W) Scott Westerfeld (A/CA) Alex Puvilland
Three years ago an event destroyed the small city of Poughkeepsie, forever changing reality within its borders. Uncanny manifestations and lethal dangers now await anyone who enters the Spill Zone. The Spill claimed Addison's parents and scarred her little sister, Lexa, who hasn't spoken since. Addison provides for her sister by photographing the Zone's twisted attractions on illicit midnight rides. Art collectors pay top dollar for these bizarre images, but getting close enough for the perfect shot can mean death – or worse. When an eccentric collector makes a million-dollar offer, Addison breaks her own hard-learned rules of survival and ventures farther than she has ever dared. Within the Spill Zone, Hell awaits – and it seems to be calling Addison's name.
STAR WARS ROGUE ONE ADAPTATION #2 (OF 6)
STARSTRUCK OLD PROLDIERS NEVER DIE #4 (OF 6)
STRANGE FRUIT HC (MR) (written by Mark Waid with art by J. G. Jones)
STUFF OF LEGEND CALL TO ARMS #2
SUPERMAN #22
TMNT ONGOING #69
UNCLE SCROOGE #26
UNHOLY #4 (MR)
UNSTOPPABLE WASP #5
WALKING DEAD #167 (MR)
WAR STORIES #23 (MR)
WONDER WOMAN TP VOL 02 YEAR ONE (REBIRTH)
WOODS #32
X-MEN BLUE #1 2ND Printing