1872 #1 SWA | Preview
Publisher: MARVEL COMICS
(W) Gerry Duggan (A) Nicole Virella (CA) Alex Maleev
REAL HEROES DIE WITH THEIR BOOTS ON
• SHERIFF STEVE ROGERS faces corruption and fear in the boom town of TIMELY.
• The only thing ANTHONY STARK seems capable of is pulling a cork, so can he pull Rogers' fat from the fire?
• But…a stranger comes to town that will change Timely forever…for anyone left standing, that is.
21ST CENTURY TANK GIRL #2 (OF 3) (MR)
ABE SAPIEN #24
AGE OF APOCALYPSE #1 SWA
ALL STAR SECTION 8 #2 (OF 6)
AMAZING SPIDER-MAN RENEW YOUR VOWS #2 SWA
AMAZING SPIDER-MAN TP VOL 03 SPIDER-VERSE
ARCHIE #1 | Preview
Publisher: ARCHIE COMIC PUBLICATIONS
(W) Mark Waid (A) Fiona Staples (CA) Sanford Greene
Comic superstars Mark Waid and Fiona Staples reimagine an icon! Change is coming to Riverdale in this can't-miss kick-off to Archie's new ongoing series! Familiar faces return in new and unexpected ways in this must-have #1 issue! As the new school year approaches, you'd think Archie Andrews would be looking forward to classes and fun-but nothing is as it seems in the little town of Riverdale. But is this a one-off or a sign of bigger changes awaiting for America's favorite teens – and the entire town? Find out in this exciting and remarkable first issue!
ARROW SEASON 2.5 #10
B & V FRIENDS COMICS DOUBLE DIGEST #244
BACCHUS OMNIBUS ED GN (MR)
BALTIMORE STEADFAST TIN SOLDIER & VAMPIRE SC NOVEL
BATMAN #42
BATMAN ETERNAL TP VOL 02
BATMAN SUPERMAN #22
BATMAN THE JIRO KUWATA BATMANGA TP VOL 02 (OF 3)
BIG MAN PLANS #4 (OF 4) (MR)
BLACK SCIENCE #16 (MR)
BLEACH GN VOL 64
BLOODSHOT REBORN #4 (NEXT)
BLOODSTRIKE #1 (MR)
BRAVEST WARRIORS #34
CATWOMAN #42
CAVEWOMAN THE RETURN #3 CVR E ROOT (NET) (A)
CIVIL WAR #1 SWA
CLARENCE #2
COFFIN HILL #20 (MR)
CONSTANTINE THE HELLBLAZER #2
COVENANT #2 (MR)
CREEPY PRESENTS ALEX TOTH HC
CROSSED TP VOL 13 (MR)
DEATH SENTENCE LONDON #2 (MR)
DESCENDER #5 (MR)
DIRK GENTLYS HOLISTIC DETECTIVE AGENCY #2 (OF 5)
DOCTOR WHO 11TH #14
EARTH 2 SOCIETY #2
EAST OF WEST THE APOCALYPSE YEAR ONE HC
EERIE COMICS #7
FABLES THE WOLF AMONG US #7 (MR)
FOUR EYES TP VOL 01 FORGED IN FLAMES REMASTERED
FOX (DARK CIRCLE) #4 (MR)
GEORGE PEREZ SIRENS #4
GEORGE RR MARTIN IN THE HOUSE O/T WORM TP (MR)
GHOST RACERS #2 SWA
GOD IS DEAD #38 ICONIC CVR (MR)
GOTHAM ACADEMY #8 | Preview
Publisher: DC COMICS
(W) Becky Cloonan, Brendan Fletcher (A) Mingjue Helen Chen (CA) Karl Kerschl
Classes are suspended for a funeral. So, is it really true that grieving students get
all A's?
GRONK A MONSTERS STORY GN VOL 04
HARROW COUNTY #3
HINTERKIND TP VOL 03 THE HOT ZONE (MR)
HIRSCHFELD CENTURY PORTRAIT OF ARTIST & HIS AGE HC
IMAGE EXPO PREVIEW BOOK 2015
IN SEARCH OF LOST TIME SWANNS WAY GN
INFERNO #3 SWA
INJECTION #3 (MR)
INVADER ZIM #1
IRON FIST EPIC COLLECTION TP FURY OF IRON FIST
JUNIOR BRAVES OF THE APOCALYPSE HC VOL 01 | Preview
Publisher: ONI PRESS INC.
(W) Greg Smith, Michael Tanner (A/CA) Zach Lehner
The Junior Brves of Tribe 65 return from a camping trip to find swarms of bloodthirsty mutants have overrun their town, bringing death and destruction everywhere they go! With their families missing and their homes destroyed, these plucky kids must use all their scouting talents, combined smarts, and teamwork to survive the end of the world!
JUSTICE LEAGUE OF AMERICA #2
JUSTICE LEAGUE UNITED #11
KING IN YELLOW GN
KING SIZE KIRBY SLIPCASE HC
LANTERN CITY #3 (OF 12)
LITTLE NEMO RTN TO SLUMBERLAND HC
LONG DISTANCE #2 (OF 4)
MAD MAX FURY ROAD MAX #1 Of(2) (MR)
MAGNUS ROBOT FIGHTER TP VOL 02 UNCANNY VALLEY
MARVEL UNIVERSE AVENGERS ASSEMBLE SEASON TWO #9
MASTER OF KUNG FU #3 (OF 4) SWA
MAXX MAXXIMIZED #21
MINIONS #2 (OF 4)
MONSTER MASH CRAZE IN AMERICA HC
MRS DEADPOOL AND HOWLING COMMANDOS #2 SWA
NEGATIVE SPACE #1 (OF 4)
NEW AVENGERS TP VOL 04 PERFECT WORLD
NEW SUICIDE SQUAD #10
NISEKOI FALSE LOVE GN VOL 10
NOWHERE MEN TP VOL 01 FATES WORSE THAN DEATH (TEAL SHIRT)
OVERSTREET COMIC BK PG HC VOL 45 CAPT AMERICA & S
OVERSTREET COMIC BK PG HC VOL 45 JOE SHUSTER SUPER
OVERSTREET COMIC BK PG SC VOL 45 CAPT AMERICA & S
PANDORA OF THE CRIMSON SHELL GHOST URN GN VOL 01
PISCES #3 (MR)
PRINCELESS RAVEN PIRATE PRINCESS #1
PROVIDENCE #2 (OF 12) (MR)
REBELS #4
RED HOOD ARSENAL #2
RUE MORGUE MAGAZINE #157
RUNAWAYS #2 SWA
SADHU BIRTH OF THE WARRIOR #1 (OF 6) (MR)
SAGA #30 (MR)
SAVIOR #4
SECRET HISTORY OF WONDER WOMAN SC
SECRET WARS #1 (OF 8) 2ND Printing
SECRET WARS 2099 #3 (OF 5) SWA
SHADOW DOUBLE NOVEL VOL 97 CRIME AT 7 OAKS & NORTHDALE MYSTERY
SHADOW SHOW TP
SHUTTER #13 (MR)
SHUTTER TP VOL 02 WAY OF THE WORLD (MR)
SOLAR MAN OF ATOM TP VOL 02 INTERGALACTIC
SONIC THE HEDGEHOG #274
SPIDER-ISLAND #1 (OF 5) SWA
SPIDER-VERSE #3 SWA
SQUADRON SINISTER #2 SWA
STAR TREK GREEN LANTERN #1 (OF 6)
STAR TREK NEW VISIONS 1971 48602
STAR WARS #1 6TH Printing
STAR WARS JEDI ACADEMY YR HC VOL 03 PHANTOM BULLY
STAR WARS LANDO #1 (OF 5)
STARFIRE #2
STARVE #2 (MR)
STORM TP VOL 02 BRING THUNDER
STRANGE FRUIT #1 | Preview
Publisher: BOOM! STUDIOS
(W) Mark Waid, J. G. Jones (A/CA) J. G. Jones
What's to Love: Two of the industry's most respected and prolific creators come together for the first time in a deeply personal passion project. J.G. Jones (52, Wanted, Y: The Last Man) and Mark Waid (Irredeemable, Superman: Birthright, Kingdom Come) take on a powerful, beautifully painted story set during the Great Mississippi Flood of 1927. Strange Fruit is a challenging, provocative examination of the heroic myth confronting the themes of racism, cultural legacy, and human nature through a literary lens, John Steinbeck's classic novel, Of Mice and Men.
What It Is: It's 1927 in the town of Chatterlee, Mississippi, drowned by heavy rains. The Mississippi River is rising, threatening to break open not only the levees, but also the racial and social divisions of this former plantation town. A fiery messenger from the skies heralds the appearance of a being, one that will rip open the tensions in Chatterlee. Savior, or threat? It depends on where you stand. All the while, the waters are still rapidly rising…
* If you are looking for the Original Strange Fruit by Joel Christian Gill is also available at the store, check it out here.

SWORDS OF SORROW #3 (OF 6)
THEYRE NOT LIKE US TP VOL 01 BLACK HOLES FOR THE YOUNG
TOMORROWS #1 (OF 6) | Preview
Publisher: DARK HORSE COMICS
(W) Curt Pires (A) Jason Copland (CA) Jason Copland, Dylan Todd
They told you the counterculture was dead. They were wrong. Welcome to the new reality.
A bold new speculative-fiction comic from the mind of writer Curt Pires, with each issue illustrated by a different brilliant artist!
The future: Art is illegal. Everything everyone ever posted online has been weaponized against them. The reign of the Corporation is quickly becoming as absolute as it is brutal-unless the Tomorrows can stop it.
UNITY #20
VAMPIRELLA ARMY OF DARKNESS #1 (OF 4)
WALKING DEAD #144 (MR)
WILL EISNERS THE SPIRIT A CELEBRATION OF 75 YEARS
WITCHBLADE #183
---
Shortages
ADVENTURES OF AERO GIRL #3 (OF 4)
ETERNAL SOULFIRE #1
FUBAR MOTHER RUSSIA #3 (OF 3) (MR)
INJUSTICE GODS AMONG US YEAR FOUR #5
ODDLY NORMAL #8
POP DOCTOR WHO 11TH DOCTOR VINYL FIG
POP DOCTOR WHO 12TH DOCTOR VINYL FIG
POP DOCTOR WHO 4TH DOCTOR VINYL FIG
REYN TP VOL 01 WARDEN OF FATE
---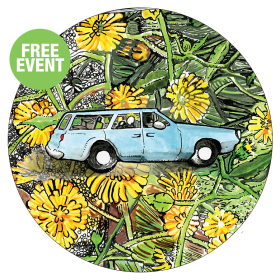 FREE EVENT!!!
The Boston Comics Roundtable (BCR) is having a creator talk a week from today, Sunday, 12 July 2015: HEIDE SOLBRIG'S THE DANDELION KING at The Boston Comics Workspace, 561 Windsor Street, Studio 306, Somerville MA.
http://bostoncomics.com/creator-talks-heide-solbrig/
NOTE that the BCR holds meetings every Thursday evening, 7pm at the Cambridge Public Library's main branch. Free & open to the public.
---
For those of you who don't know Readercon, it's a small conference on on imaginative literature July 9-12 in Burlington, MA.
http://readercon.org/
---
Outside the Box is a free, multiday performing arts festival on July 14-19.
http://otbboston.com/site/
---
Boston Comic Con is at the Seaport World Trade Center on Friday, 31 July through Sunday, 2 August.
http://bostoncomiccon.com/
---
Summer Cosplay Celebration on Saturday, 8/1, at Arts at the Armory in Somerville!
See https://www.facebook.com/events/437456759766654/ for event details
---
Thank you!
Million Year Picnic
99 MT Auburn ST downstairs
Cambridge, MA 02138
617-492-6763
https://www.themillionyearpicnic.com