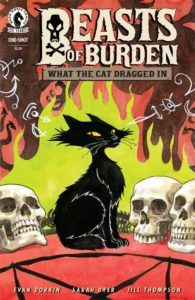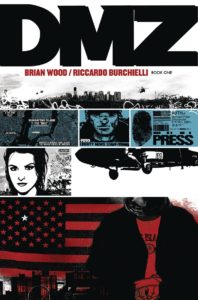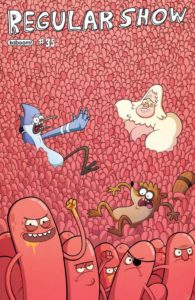 ---
SPECIAL NOTE: Late last Wednesday evening, Tim Fielder dropped off copies of MATTY'S ROCKET #1 & #2, so we finally have that in stock. Plus #3 is coming soon! We also got a couple of copies of BLACKJACK: THERE CAME A DARK HUNTER, the book Tim illustrated for writer Alex Simmons.
Also! The newest Boston Comics Roundtable: The Midnight Oil: Issue 1 is now available at the store for FREE!

---
3 FLOYDS ALPHA KING #1 (OF 5) (MR)
4001 AD #1 (OF 4)
A-FORCE #5
ADVENTURE TIME FIONNA CAKE CARD WARS TP
ADVENTURE TIME ORIGINAL GN VOL 07 FOUR CASTLES
AGATHA REAL LIFE OF AGATHA CHRISTIE GN
AL PLASTINO LAST SUPERMAN STANDING SC
ALL NEW INHUMANS #7
ALL NEW X-MEN INEVITABLE TP VOL 01 GHOSTS OF CYCLOPS
AMAZING SPIDER-MAN #12
AMAZING SPIDER-MAN AND SILK SPIDERFLY EFFECT #3 (OF 4)
ANT-MAN LITTLE GOLDEN BOOK
ARCADIA TP
ARPEGGIO OF BLUE STEEL GN VOL 07 (MR)
ART MASTERS SERIES GN VOL 03 MUNCH
ART OF CHARLIE CHAN HOCK CHYE REG HC
BALTIMORE EMPTY GRAVES #2
BATMAN & ROBIN TP VOL 07 ROBIN RISES
BATMAN BEYOND #12
BATMAN SUPERMAN #32 (FINAL DAYS)
BEASTS OF BURDEN WHAT CAT DRAGGED IN ONE SHOT | Preview
Publisher: DARK HORSE COMICS
(W) Evan Dorkin (A/CA) Jill Thompson
This standalone adventure is a perfect entry point for readers new to the award-winning series. When curiosity gets the best of Burden Hill's cats (and one reluctant raccoon), sleeping demons are awakened and black magic is unleashed on the town of Burden Hill.
BLACK WIDOW #3
BOBS BURGERS ONGOING #11
BOWMAN 2016 BASEBALL T/C BOX
BUNKER #17 (MR)
CAPTAIN AMERICA SAM WILSON #9 ASO
CINEMA PURGATORIO #1 (MR)
COLDER TP VOL 03 TOSS THE BONES
CONTEST OF CHAMPIONS #8
COURAGEOUS CAPT AMERICA LITTLE GOLDEN BOOK
CROSSED BADLANDS #96 WRAP CVR (MR)
DAREDEVIL PUNISHER #1 (OF 4) | Preview
Publisher: MARVEL COMICS
(W) Charles Soule (A) Szymon Kudranski (CA) Reilly Brown
A simple change of venues for one of Matt Murdock's cases becomes more complicated when THE PUNISHER attempts to send the defendant away…permanently! If DAREDEVIL and BLINDSPOT want to get this mobster his day in court, it will take every ounce of wit and wile they have. All Frank needs to get what he wants is a bullet. The race is on!
DEADPOOL 2 SWORD PX BLK T-Shirt in sizes MED & XL
DEADPOOL MASACRE #1
DESCENDER TP VOL 02 (MR)
DETECTIVE COMICS #52
DEVOLUTION #4 (OF 5) (MR)
DIAMOND BOOKSHELF #21
DISCIPLINE #3 (MR)
DMZ TP BOOK 01 (MR) | Preview Click here somenthing different.
Publisher: DC COMICS
(W) Brian Wood (A) Riccardo Burchielli & Various (CA) Brian Wood
In the first 12 issues of the acclaimed series, young photojournalist Matty Roth lands a dream gig in the DMZ once known as New York City. But when things go wrong, Matty finds himself lost in a world he's only seen on television. Now, will he try to find a way off the island, or make his career with an assignment most journalists would kill for?
DOCTOR WHO MAGAZINE #498
DUNGEONS & DRAGONS (2016) #1 | Interview
Publisher: IDW PUBLISHING
(W) Jim Zub (A) Nelson Daniel (CA) Max Dunbar
MINSC AND BOO ARE BACK! And things have never looked more dire, as mysterious forces draw the legendary ranger and his crew of adventurers to RAVENLOFT, the Realm of Terror… where they find themselves face to face with undead horrors in the land od eternal night!
ELEPHANTMEN #70 (MR)
EMPRESS #2 (OF 7)
FLASH #51
FUSE TP VOL 03 PERIHELION (MR)
GENSHIKEN SECOND SEASON GN VOL 08
GFT GRIMM TALES OF TERROR VOL 2 #7 (MR)
GI JOE A REAL AMERICAN HERO #228
GIANT DAYS #14
GOLD DIGGER #232
GRANT MORRISONS 18 DAYS #11
GREEN ARROW #52
GREEN LANTERN #52
GUARDIANS OF GALAXY LITTLE GOLDEN BOOK
GWENPOOL #0
HELLBOY IN HELL #9
HENCHGIRL #7
HIP HOP FAMILY TREE #9
HOWARD THE DUCK #7
INCREDIBLE HULK LITTLE GOLDEN BOOK REISSUE
INJUSTICE GODS AMONG US YEAR FIVE #9
INVADER ZIM #9
INVINCIBLE IRON MAN #9 RCW2
IRON MAN EYE OF DRAGON LITTLE GOLDEN BOOK REISSUE
JON SABLE FREELANCE OMNIBUS TP VOL 03 (OF 4)
KIDS COMICS SUMMER FUN GUIDE 2016
KING CAT COMICS AND STORIES
KINGS QUEST #1 (OF 5)
KLAUS #5
KOLCHAK DAN SHAMBLE ZOMBIE PI #1
LADY MECHANIKA LOST BOYS OF WEST ABBEY #1 (OF 2)
LEGEND OF WONDER WOMAN #5 (OF 9)
MIDNIGHTER #12
MIGHTY AVENGERS LIGHTS OUT LITTLE GOLDEN BOOK REISSUE
MIGHTY AVENGERS LITTLE GOLDEN BOOK REISSUE
MIGHTY THOR LITTLE GOLDEN BOOK REISSUE
MINIMUM WAGE TP VOL 02 SO MANY BAD DECISIONS (MR)
MOON KNIGHT #2
MY LITTLE PONY FRIENDS FOREVER #28
NAILBITER #21 (MR)
NEW AVENGERS #11 ASO
NEW SUICIDE SQUAD #20
NICHIJOU GN VOL 02
NOVA #7
OREIMO KURONEKO TP VOL 05
PEARLS BEFORE SWINE TP IM ONLY IN THIS FOR ME
PHANTOM #6 (OF 6)
POP DOCTOR WHO SARAH JANE SMITH VINYL FIGURE
POPEYE CLASSICS ONGOING #45
POWER CUBED TP
PRIDE & JOY GN (MR)
PUNISHER #1
RAT QUEENS #16 (MR)
REBELS TP VOL 01 WELL REGULATED MILITIA
REGULAR SHOW #35 | Preview
Publisher: BOOM! STUDIOS
(W) Ulises Farinas & Various (A) Laura Howell, Box Brown (CA) Philip Murphy
As the heroism competition between Mordecai and Rigby rages, their friends become more and more irritated by their antics.
RENATO JONES ONE PERCENT #1 (MR) | Preview
Publisher: IMAGE COMICS
(W/A/CA) Kaare Andrews
Special double-sized first issue!
The One% own more than half the world's wealth. They've crashed economies, bought governments, and have amassed more power than any other group in history. And they still don't have enough. With this kind of power how can anyone make them pay? WHO will make them pay? Enter Renato Jones, a mysterious vigilante, out to even the score. And when he enters the fray THE SUPER-RICH ARE SUPER F***ED.
From acclaimed creator KAARE KYLE ANDREWS (Iron Fist: The Living Weapon, Spider-Man: Reign) comes a supercharged capitalist action thriller for a post-Great Recession world.
REVIVAL #39 (MR)
ROCKET RACCOON AND GROOT #5
SAINTS #8 (OF 10) (MR)
SCARLET #8 (MR)
SCARLET WITCH #6
SCOOBY DOO TEAM UP #16
SCORCH TP NEW Printing
SHADOW DOUBLE NOVEL VOL 106 ROOM DOOM & CHEST OF C
SHERIFF OF BABYLON #6 (OF 12) (MR)
SIZZLE #69 (A)
SOMETHING NEW TALES FROM MAKESHIFT BRIDE GN
SONS OF THE DEVIL #7 (MR)
SPACE BATTLE LUNCHTIME #1 (OF 8)
SPIDER MAN HIGH VOLTAGE LITTLE GOLDEN BOOK REISSUE
SPIDER MAN TRAPPED BY GREEN GOBLIN LITTLE GOLDEN BOOK
SPIDER-GWEN #8 SWO
SPIDER-MAN 2099 #10
STAR WARS POE DAMERON #2
STEVEN UNIVERSE & CRYSTAL GEMS #2
STRAY BULLETS SUNSHINE & ROSES #14 (MR)
SUPER HUMAN RESOURCES GN SEASON 01
SUPERGIRL COSMIC ADVENTURES IN THE 8TH GRADE TP
SUPERMAN CLASSIC PRANKING NEWS SC
SUPERMAN THE COMING OF THE SUPERMEN #4 (OF 6)
SURVIVORS CLUB #8 (MR)
THIS DAMNED BAND TP
THUNDERBOLTS #1 | Preview
Publisher: MARVEL COMICS
(W) Jim Zub (A/CA) Jon Malin
FROM THE ASHES OF AVENGERS: STANDOFF!
They're a renegade team rampaging across the Marvel Universe under the direction of the Winter Soldier! But are the Thunderbolts heroes or villains-and do even they know for sure?
TMNT ONGOING #57
UNCANNY X-MEN #7 AW
UNCANNY X-MEN OMNIBUS HC VOL 01 NEW Printing
UNCLE SCROOGE #14
UNFOLLOW #7 (MR)
VAMPIRELLA VOL 3 #3
VIDEO WATCHDOG #183 (MR)
WALKING DEAD #154 (MR)
WALT DISNEY COMICS & STORIES #731
WAR STORIES #18 (MR)
WE STAND ON GUARD DLX HC (MR)
WEIRD LOVE #12
WICKED & DIVINE #19 (MR)
WILL EISNER SPIRIT #10
WOLF #7 (MR)
WOODS #22
X-MEN 92 #3
---
Shortages
HELLINA #2 (OF 3) (MR)
---
Now I know it's unlikely that you'll be in Oregon any time soon, BUT IF YOU ARE… the Jordan Schnitzer Museum of Art has a new show going up on 5/13 (running through 7/10) chock full of ORIGINAL EC art. The show is called "Aliens, Monsters, and Madment: The Art of EC Comics" and it looks to be awesome. Check http://jsma.uoregon.edu for more details.
---
IF YOU HAVE A COMICKY EVENT YOU'D LIKE TO HAVE LISTED HERE, DROP US A LINE! Just contact us!
And for Local Comics Related Events don't forget to check our Events section.
---
Thank you!
Million Year Picnic
99 MT Auburn ST downstairs
Cambridge, MA 02138
617-492-6763
https://www.themillionyearpicnic.com