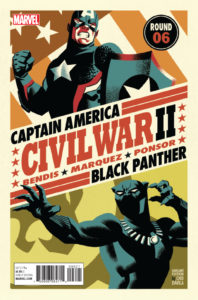 A CERTAIN MAGICAL INDEX GN VOL 07
A WALK IN EDEN GN
ABIGAIL AND THE SNOWMAN TP
ACTION COMICS #966 | Preview Last issue!
(W) Dan Jurgens (A) Stephen Segovia, Art Thibert (CA) Clay Mann
"BACK IN THE PLANET" part two! As the Daily Planet's star returns to work, so does Lex Luthor. Meanwhile, Superman continues to investigate the devastation in the aftermath of the Doomsday attack.
AGENTS OF SHIELD #10 CW2
ALIENS DEFIANCE #6
ALL NEW ALL DIFFERENT AVENGERS #15 CW2
ALONE GN VOL 06 FOURTH DIMENSION & HALF
AMERICAN MONSTER #5 (MR)
ASTERIX TP VOL 36 ASTERIX & MISSING SCROLL
AW YEAH COMICS ACTION CAT AND ADVENTURE BUG TP
BATGIRL #4
BATMAN ANIMATED SERIES NBA ANTI FIRESUIT BATMAN Action Figure
BATMAN ANIMATED SERIES NBA FIREFLY Action Figure
BATMAN BEYOND #1
BIRTHRIGHT #20
BLACK WIDOW TP VOL 01 SHIELDS MOST WANTED
BLOODSHOT USA #1 (OF 4) | Preview
(W) Jeff Lemire (A/CA) Doug Braithwaite
In Bloodshot we trust!
Project Rising Spirit – America's greatest exporter of classified weapons technology – has achieved a breakthrough: a contagious, airborne nanite dispersion prototype that can turn the population of any city into an army of indestructible soldiers. A doomsday virus capable of destroying an enemy nation from the inside out. A machine-made pathogen that can completely rewrite human physiology…and hardcode every man, woman, and child with the same cutting-edge technology that created their greatest weapon: Bloodshot.
But now…Project Rising Spirit's top-secret contagion has been released onto the streets of America's greatest metropolis: New York City. As mayhem engulfs Manhattan, Bloodshot must lead the most dangerous invasion ever waged on American soil and keep a runaway pandemic from toppling armies and governments…and threatening to destroy humanity itself.
In the tradition of THE VALIANT, the Big Apple turns blood red in pivotal new standalone comics event from New York Times best-selling writer Jeff Lemire (BLOODSHOT REBORN, Extraordinary X-Men) and superstar artist Doug Braithwaite (ARMOR HUNTERS, Justice)!
BLUE BEETLE #2
CAPTAIN AMERICA STEVE ROGERS #6 CW2
CAPTAIN AMERICA TP WHITE
CHEW #59 (MR)
CINEFEX #149
CIVIL WAR II #6 (OF 8) | Preview
(W) Brian Michael Bendis (A) David Marquez (CA) Michael Cho
Sides have been drawn, battles have been fought, but it all comes down to this. Captain Marvel versus Iron Man over the future of the Marvel Universe, one of the biggest battles in Marvel history!
CONAN THE SLAYER #4
DEADPOOL #21 NOW
DEADPOOL WORLDS GREATEST TP VOL 04 TEMPORARY INSANITATION
DEATHSTROKE #5
DESCENDER #16
DETECTIVE COMICS #943
DEVIL IS PART TIMER GN VOL 07
DEVIL IS PART TIMER HIGH SCHOOL GN VOL 05
DICK TRACY COLORFUL CASES OF THE 1930S HC VOL 01
DISNEY GIANT HALLOWEEN HEX #1
DOCTOR FATE #17
DOCTOR STRANGE MYSTIC APPRENTICE #1
DOCTOR STRANGE SORCERERS SUPREME #1 NOW
DOCTOR WHO 10TH YEAR TWO #15
DOCTOR WHO 11TH YEAR TWO #14
DOCTOR WHO THE LONG CON (ONE SHOT)
EAST OF WEST TP VOL 06 (MR)
ELEPHANTMEN #73 (MR)
ELVIS HC
EPIC BIG NATE HC
EXODUS LIFE AFTER #8 (MR)
EXTRAORDINARY X-MEN #15
FLASH #9
FLASH BY GEOFF JOHNS TP BOOK 03
FOURTH PLANET #3
FUTURE QUEST #6
GENSHIKEN SECOND SEASON GN VOL 09
GFT PRESENTS APOCALYPSE #3 (MR)
GI JOE A REAL AMERICAN HERO #233
GIANT DAYS 2016 HOLIDAY SPECIAL #1
GUARDIANS OF GALAXY #13 CW2
HABITAT TP (MR)
HAL JORDAN AND THE GREEN LANTERN CORPS #7
HELLBLAZER #3
HYPERION TP DADDY ISSUES
IMAGE PLUS #7
INVISIBLE REPUBLIC #12 (MR) | Preview #1
(W) Gabriel Hardman, Corinna Bechko (A/CA) Gabriel Hardman, Jordan Boyd
Croger Babb's betrayals come back to haunt him as Maia Reveron must cross the war-torn jungles of Asan after a deadly altercation.
IRON HAND GN
JUDGE DREDD (ONGOING) #11
JUGHEAD #10
KIM AND KIM #4 (MR)
LAKE OF FIRE #3 (MR)
LIVES HC
LUCKY LUKE TP VOL 59 BRIDE OF LUCKY LUKE
LUMBERJANES #31
MAD MAGAZINE #542
MAE #6
MAN THING BY STEVE GERBER COMPLETE COLL TP VOL 02
MARVEL PREVIEWS #16 NOVEMBER 2016
MARVEL TSUM TSUM #3 (OF 4)
MIGHTY MORPHIN POWER RANGERS #8
MISTY TP
MOEBIUS LIBRARY WORLD OF EDENA HC | Preview
(W) Moebius (A/CA) Moebius
Working closely with Moebius Production in France, Dark Horse puts the work of a master storyteller back in print-with some material in English for the first time! Stel and Atan are interstellar repairmen trying to find a lost space station and its crew. What they discover about the universe and themselves on the mythical paradise planet Edena, though, changes their lives forever. Moebius's long-out-of-print World of Edena story arc gets a deluxe hardcover treatment, with its five main chapters-Upon a Star, Gardens of Edena, The Goddess, Stel, and Sra-collected here!
MOON GIRL AND DEVIL DINOSAUR #12
MS MARVEL #12 NOW
MUNCHKIN #22
MY LITTLE PONY FRIENDS FOREVER #33
NARWHAL GN VOL 01 UNICORN OF SEA
NEIL GAIMANS MIDNIGHT DAYS TP
NEW AVENGERS #17 CW2
NIGHTHAWK #6
NIGHTWING TP VOL 05 THE HUNT FOR ORACLE
NORAGAMI STRAY GOD GN VOL 17
ODYC #12 (MR)
OREIMO COMIC ANTHOLOGY TP
OUTCAST BY KIRKMAN & AZACETA #22 (MR)
OVER GARDEN WALL ONGOING #7
PEANUTS TP VOL 08
POSTAL #16 (MR)
PREVIEWS #338 NOVEMBER 2016
PRINCE OF CATS HC
PRINCELESS DLX HC VOL 02 GET OVER YOURSELF
PROWLER #1 CC NOW
PUBLIC RELATIONS #12 (MR)
PUNISHER ANNUAL #1
RENATO JONES ONE PERCENT #5 (MR)
RICK & MORTY #19
SAGA #39 (MR)
SAVAGE DRAGON #217 (MR)
SERENITY NO POWER IN THE VERSE #1 (OF 6)
SEVEN TO ETERNITY #1 2ND Printing (MR)
SEVEN TO ETERNITY #2 (MR)
SHADOW DEATH OF MARGO LANE HC
SILVER SURFER #7
SIXPACK & DOGWELDER HARD-TRAVELIN HEROZ #3 (OF 6)
SIXTH GUN TP VOL 09 BOOT HILL
SKYBOURNE #2
SLEIGHER HEAVY METAL SANTA CLAUS #4 (OF 4) (MR)
SPIDER-MAN DEADPOOL #10
SPOOKHOUSE #1
STAR WARS #24
STAR WARS LEGENDS EPIC COLL ORIGINAL MARVEL YEARS TP VOL 01
STAR WARS POE DAMERON #7
STRAY BULLETS SUNSHINE & ROSES #19 (MR)
SUICIDE SQUAD #5
SURGEON X #2 (MR)
TARZAN ON THE PLANET OF THE APES #2 (OF 5)
TEEN TITANS #1
TEK THE MODERN CAVE BOY HC
THE SKEPTICS #1 (MR)
THIEF OF THIEVES #36 (MR)
TITANS #4
TOMB RAIDER 2016 TP VOL 01 SPORE
TOTALLY AWESOME HULK #11 CW2
ULTIMATES #12 CW2
VALERIAN GN VOL 12 WRATH OF HYPSIS
VAMPIRELLA ARCHIVES HC VOL 15 (MR)
VIGILANTE SOUTHLAND #1 (OF 6)
VISION #12
WAYWARD #17 (MR)
WITCHFINDER CITY OF THE DEAD #3
WOLFCOP #1 (MR) | Preview
(W) Max Marks (A) Arcana Studios (CA) Thomas Hodge
Ever since hard-drinking local Woodhaven police officer Lou Garou had a late-night bender and stumbled onto dark magic, his life has been turned upside down. Now he moonlights as WolfCop, a rage-fueled, bourbon-swilling, magnum-toting, rabid warrior for justice! WOLFCOP #1 sees everyone's favorite alcoholic lycanthropic lawman tearing out of the big screen and onto these gorgeous pages to fight bigger, badder, and meaner monsters than anything that has threatened Woodhaven before!
WONDER WOMAN #9
WONDER WOMAN 75TH ANNIVERSARY SPECIAL #1
WRAITHBORN TP (BENITEZ ED)
WRATH OF THE ETERNAL WARRIOR TP VOL 02 LABYRINTH
X-FILES ORIGINS #3 (OF 4)
ZOE DARE VS DISASTEROID TP
---
Shortages
FLOODGATE COMPANION HC (MR)
FROSTBITE #2 (OF 6) (MR)
GENERATION ZERO #3
HORIMIYA GN VOL 05
INSPECTOR OH #1
LARGO WINCH GN VOL 16 20 SECONDS
---
Delayed by Diamond
CEREBUS COVER GALLERY HC
---
IF YOU HAVE A COMICKY EVENT YOU'D LIKE TO HAVE LISTED HERE, DROP US A LINE!
Just contact us!
And for Local Comics Related Events don't forget to check our Events section.

---
Thank you!
Million Year Picnic
99 MT Auburn ST downstairs
Cambridge, MA 02138
617-492-6763
https://www.themillionyearpicnic.com