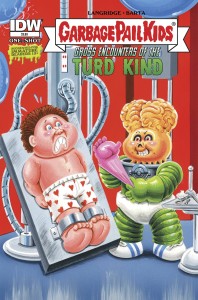 ACCELERATORS MOMENTUM #2 (OF 4) (MR)
ADVENTURE TIME #41
AGE OF ULTRON VS MARVEL ZOMBIES #1 SWA
ALL NEW CAPTAIN AMERICA PREM HC VOL 01 HYDRA ASCENDANT
ANNIHILATOR #6 (OF 6)
ANT-MAN GIANT-MAN EPIC COLLECTION TP MAN IN ANT HILL
ANT-MAN LARGER THAN LIFE #1
ANT-MAN TP VOL 01 SECOND CHANCE MAN
AQUAMAN #41
ART OF DANIEL CLOWES MODERN CARTOONIST HC
AUTEUR SISTER BAMBI #2 (MR)
BATGIRL #41
BATMAN & ROBIN TP VOL 05 THE BIG BURN (N52)
BATMAN 66 #24
BERLIN #19 (MR)
BETTY & VERONICA COMICS DOUBLE DIGEST #234
BLACK WIDOW #19 SWA
BOWMAN 2015 FOOTBALL T/C BOX
CAPTAIN MIDNIGHT #24
CBLDF DEFENDER #2
CHRONICLES OF KING CONAN TP VOL 11 NIGHTMARE
CINEFEX #142
COMIC BOOK CREATOR #8
COMPLETE PEANUTS TP VOL 03 1955-1956
CONAN THE AVENGER #15 | Preview
Publisher: DARK HORSE COMICS
(W) Fred Van (A) Guiu Vilanova (CA) Eric Powell
Conan and Natala must fight for their lives in the cursed city of eternal dreamers, Xuthal! When they are separated, Conan faces an army of zealots while Natala must defend herself from torturers and beasts! Can they escape the city alive?
CROSSED BADLANDS #79 WRAP CVR (MR)
CUSTOM DISNEY PLAYMATION SDCC COMICS
CUSTOM DJI DRONES COMIC
CYCLOPS TP VOL 02 PIRATES LIFE FOR ME
DARTH VADER #2 4TH Printing
DARTH VADER #3 3RD Printing
DAWN VAMPIRELLA #4 (OF 6)
DC YOU PREZ BUMPER STICKERS
DEATHSTROKE #7
DEEP STATE #7
DOCTOR WHO 10TH #12
DOCTOR WHO 11TH HC VOL 02 SERVE YOU
DON ROSA LIFE & TIMES SCROOGE MCDUCK ARTIST ED HC
DONALD DUCK #2
E IS FOR EXTINCTION #1 SWA
EFFIGY #6 (MR)
EMPIRE UPRISING #3
FADE OUT #7 (MR)
FIGHT CLUB 2 #2
FLASH #41
FRANKENSTEIN UNDERGROUND #4 (OF 5)
GARBAGE PAIL KIDS GROSS ENCOUNTERS DLX ED (ONE SHOT) | Preview
Publisher: IDW PUBLISHING
(W/A) Roger Langridge, Hilary Barta (CA) Mark Pingatore
Join the Garbage Pail Kids for a literally breathtaking foray into the most bizarre and amazing worlds of the future!
GFT LITTLE MERMAID #5 (OF 5) (MR)
GI JOE A REAL AMERICAN HERO #215
GOTHAM BY MIDNIGHT #6
GRAYSON #9
GREEN LANTERN THE LOST ARMY #1
GRINDHOUSE DRIVE IN BLEED OUT #6 (OF 8)(MR)
HATTER M SEEKING WONDER GN
HERALD LOVECRAFT AND TESLA #4
HOWARD THE DUCK #4
HOWARD THE DUCK TP VOL 01 COMPLETE COLLECTION
INFINITY GAUNTLET #2 SWA
INJUSTICE GODS AMONG US YEAR FOUR #4
INVINCIBLE TP VOL 21
INVISIBLE REPUBLIC #4 (MR)
JACK KIRBY COLLECTOR #65
JEM & THE HOLOGRAMS #4
JOHN CARTER WARLORD #8 (MR)
JOHNNY BOO MEETS DRAGON PUNCHER HC
JUDGE DREDD TP VOL 07
JUNGLE GIRL SEASON 3 #3 (OF 4)
JUSTICE LEAGUE 3001 #1
KAPTARA #3
KING JUNGLE JIM #4 (OF 4)
KORVAC SAGA #1 SWA
KUROSAGI CORPSE DELIVERY SERVICE TP VOL 14 (MR)
LADY MECHANIKA TABLET OF DESTINIES #3 (OF 6)
LEGACY OF LUTHER STRODE #2 (MR)
LEGENDERRY GREEN HORNET #5 (OF 5)
LEGENDERRY RED SONJA #5 (OF 5)
LOKI AGENT OF ASGARD #15 SWA
LOVE AT FOURTEEN GN VOL 03
MAD MAX FURY ROAD NUX & IMMORTAN JOE #1 2ND Printing (MR)
MARVEL PREVIEWS JULY 2015
MARVEL UNIVERSE ULT SPIDER-MAN WEB WARRIORS #8
MASSIVE TP VOL 05 RAGNAROK
MATERIAL #2 (MR)
MIDAS FLESH TP VOL 02
MINIONS DIGEST TP VOL 01
MOBILE SUIT GUNDAM ORIGIN HC VOL 10
MODOK ASSASSIN #2 (OF 5) SWA
MULAN REVELATIONS #1 (OF 4)
MYTHIC #2 (MR)
NINJAK #4 (NEXT)
ON THE ROPES GN
ORDER OF THE FORGE #3 (OF 3) (MR)
ORPHAN BLACK #4
PASTAWAYS #4
PENNY DORA & THE WISHING BOX #5 (OF 5)
POSTAL TP VOL 01
PREVIEWS #322 JULY 2015
PRINCE VALIANT HC VOL 11 1957-1958
PRINCESS & THE PONY YR HC
PUNISHER #19 SWA
RASPUTIN #6 (MR)
RASPUTIN TP VOL 01
REGULAR SHOW TP VOL 04
RESIDENT ALIEN SAM HAIN MYSTERY #2
RUE MORGUE SPECIAL WEIRD STATS & MORBID FACTS #4
RUMBLE TP VOL 01 WHAT COLOR OF DARKNESS (MR)
RUSSIAN OLIVE TO RED KING HC (MR)
SCARLETT COUTURE #3 (OF 4)
SECRET AVENGERS TP VOL 03 GOD LEVEL
SECRET GN VOL 02
SECRET SIX TP VOL 02
SEX #22 (MR)
SHADOW #100
SHIELD #7
SOUTHERN CROSS #4 | Preview 1-3
Publisher: IMAGE COMICS
(W) Becky Cloonan (A) Andy Belanger (CA) Becky Cloonan
As the gravity drive starts to malfunction, Braith uncovers a smuggling ring with a trail that leads back to her sister's murder.
SPACE RIDERS #3 (OF 4) (MR)
SPAWN #253
SPIDER-GWEN #1 3RD Printing
SPREAD #8 (MR)
STROPPY HC (MR)
SUICIDERS #5 (MR)
SUPERMAN #41
SURVIVORS GN VOL 02 QUANTUM ANOMALIES
SWORDS OF SORROW BLACK SPARROW LADY ZORRO SPECIAL
TEEN TITANS #9
THIEF OF THIEVES #29 (MR)
TITHE #3
TOMB RAIDER #17
TOPPS 2015 BASEBALL SERIES 2 Trading Card BOX
TORADORA GN VOL 07
UFOLOGY #3
UNCANNY AVENGERS #5
UNCLE GRANDPA PIZZA STEVE SPECIAL #1
WALKING DEAD #143 (MR)
WAYWARD #9 (MR)
WE ARE ROBIN #1 | Preview
Publisher: DC COMICS
(W) Lee Bermejo (A) Rob Haynes, Khary Randolph (CA) Lee Bermejo
Spinning out of the pages of BATMAN! The teenagers of Gotham City have adopted the "R" and made it their own. A new Robin? No, HUNDREDS of new Robins! Don't miss the start of this new series from rising star writer Lee Bermejo (JOKER, SUICIDERS), who also provides the covers!
WHERE MONSTERS DWELL #2 (OF 5) SWA
WYTCHES TP VOL 01 (MR) | Preview 1-3,5
Publisher: IMAGE COMICS
(W) Scott Snyder (A/CA) Jock
SPECIAL LOW INTRODUCTORY PRICE OF $9.99!
When the Rooks family moves to the remote town of Litchfield, NH to escape a haunting trauma, they're hopeful about starting over. But something evil is waiting for them in the woods just beyond town. Watching from the trees. Ancient…and hungry.
Collects WYTCHES #1-6
X-MEN 92 #1 SWA | Preview
Publisher: MARVEL COMICS
(W) Chris Sims, Chad Bowers (A) Scott Koblish (CA) Pepe Larraz
• Everyone's favorite version of the X-Men from the '90s is back!
• When Baron Kelly charges the Clear Mountain Project and it's mysterious new director with "mutant rehabilitation," it's up to the X-Men to investigate!
• PLUS: Free Range Sentiels?!?
---
Shortages
DAREDEVIL #16 (OOPS!!!)
EVIL DEAD 2 #1 (OF 3) BEYOND DEAD BY DAWN
PLANET HULK #2 SWA
---
The Harvard Bookstore is having another one of their awesome warehouse sales at 14 Park Street in Somerville on Saturday & Sunday, 27 & 28 June 2015, 10am-6pm both days.

Thank you!
Million Year Picnic
99 MT Auburn ST downstairs
Cambridge, MA 02138
617-492-6763
https://www.themillionyearpicnic.com