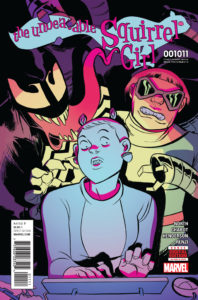 2000 AD PACK JUL 2016
A CERTAIN MAGICAL INDEX LIGHT NOVEL SC VOL 08
ACTION COMICS #962
ADVENTURE TIME COMICS #2
ALENA TP
AMAZING FOREST TP | Preview All
(W) Erick Freitas, Ulises Farinas (A) Dufour, Julien, Matt Rota, Often, Melody, Yumi Sakugawa, Caitlin Rose Boyle, Angelica Blevins, Shawn Pryor, Buster Moody, Job Yamen, Skuds McKinley, Austin Breed, Zoe Crockett, Jelena Djordjevic, Victor Puchalski, Adrian Gonzales, Hyeondo Park, Jack Forbes, Teylor Smirl, Alison Wight, Edwin Vazquez, Mike Prezzato, Marcus Muller, Jon Sperry, A. Shay Hahn (CA) Ulises Farinas
Tales for the bold. Ideas for the strange. Wicked concepts that stir the minds of those with darkness in their hearts. A modern anthology that lends itself to a time when stories were short and ugly. Written by Ulises Farinas and Erick Freitas, each comic is drawn by a different, amazingly talented artist each lending their unique talents to bring horrible happiness to the readers' skulls!
AMAZING SPIDER-MAN TP AMAZING GRACE
ARCHIE #11
ASSASSINS CREED #11 (MR)
ATOMIC ROBO AND THE TEMPLE OF OD #1 (OF 5)
BATGIRL #2
BATGIRL TP VOL 03 MINDFIELDS
BLUE BEETLE REBIRTH #1 | Preview
(W) Keith Giffen (A/CA) Scott Kolins
Lost in the desert with no memory of the past few years, teenager Jaime Reyes must find his way home again-but when he reaches his town, he's shocked to find it abandoned and in the hands of government officials…officials who are very interested in the Blue Beetle and the scarab that gives him his power! How can Jaime find his family and uncover the secret behind the town's seizure-and why Kord Industries is helping keep the world from learning the truth?
BTVS SEASON 10 #30
CAPTAIN MARVEL #8 CW2
CHEW #57 (MR)
CLEAN ROOM #11 (MR)
CONAN THE SLAYER #2
DEADPOOL #17 CW2
DEADPOOL WORLDS GREATEST TP VOL 03 DEADPOOL VS SABRETOOTH
DEATHSTROKE #1
DEJAH THORIS #6 (OF 6)
DEPT H #5 | Preview
(W) Matt Kindt (A/CA) Matt Kindt
Under six miles of water, the pressure is rising. On her mission to rescue her brother, Mia encounters some of the ocean's most dangerous creatures. It seems that the more clues she uncovers about her father's murder, the more complicated the case becomes.
Featuring content exclusive to the single issues!
DETECTIVE COMICS #939
DISNEY DARKWING DUCK #4
DOCTOR WHO 12TH TP VOL 02 FRACTURES
DOCTOR WHO MAGAZINE #502
DUNGEONS & DRAGONS (2016) #4
EVIL EMPIRE TP VOL 03
EXODUS LIFE AFTER #7 (MR)
FAITH (ONGOING) #1 2ND Printing
FAITH (ONGOING) #2
FLASH #5
FUTURAMA COMICS #80
GFT GRIMM TALES OF TERROR VOL 2 #11
GI JOE A REAL AMERICAN HERO #231
HAL JORDAN AND THE GREEN LANTERN CORPS #3
HARLEYS LITTLE BLACK BOOK #4
HELLBLAZER #1
HEXED HARLOT & THIEF TP VOL 03
INVINCIBLE #130
ISLAND #10 | Preview #9
(W) Fil Barlow, Farel Dalrymple, Gael Bertrand (A) Gael Bertrand, Farel Dalrymple, Fil Barlow (CA) Michael Deforge
The award-winning, oversized comics magazine continues!
Each issue contains seventy-two pages of full-issue length stories by some of the most interesting creators making comics.
JUDGE DREDD (ONGOING) #9
JUXTAPOZ #188 SEP 2016
KINGSWAY WEST #1
KONG THE KING HC (KINGPIN) | Preview
(W) Osvaldo Medina (A/CA) Osvaldo Medina
Filming on a remote virgin island leads to the discovery of a mysterious native with a heart as large as his body. Taken willingly to the Big City, he'll soon find out there's a thin line between the fame and glory he's been promised and the show business circus he's been thrown into. In spite of the obvious nod, Kong the King couldn't be further from a simple revisitation of the cult-classic film. It's a whole new animal, a twisted roller coaster of emotional depth. This fast-paced tour-de-force with no single word, like a silent movie from the glamorous 1920s.
LUCIFER #9 (MR)
MARCH GN TRILOGY SLIPCASE SET
MECHANISM #2
MIGHTY MORPHIN POWER RANGERS 2016 ANNUAL #1
MONSTER MUSUME GN VOL 09 (MR)
MUNCHKIN #20
NEW ROMANCER TP (MR)
OUTCAST BY KIRKMAN & AZACETA #20 (MR)
OVER GARDEN WALL ONGOING #5
PRE CODE CLASSIC JOURNEY INTO FEAR HC VOL 02
PRE CODE CLASSIC THIS MAGAZINE IS HAUNTED HC VOL 02
PRETTY DEADLY TP VOL 02 THE BEAR (MR)
RAI #16 CVR A MACK (4001 AD)
RED THORN #10 (MR)
RENATO JONES ONE PERCENT #4 (MR)
RICK & MORTY LIL POOPY SUPERSTAR #2 (OF 5)
ROM #2
SENSUOUS FRAZETTA SC (MR)
SHE WOLF #3 (MR)
SLEIGHER HEAVY METAL SANTA CLAUS #2 (OF 4)
SNOTGIRL #2
SOLOMON ROYAL ED HC (KINGPIN)
SPIRIT LEAVES #3
TANK GIRL 2 GIRLS 1 TANK #4 (OF 4) (MR)
TEEN TITANS #23
TEEN TITANS TP VOL 03 THE SUM OF ITS PARTS
THIEF OF THIEVES #34 (MR)
TMNT ONGOING #61
TOMB RAIDER 2016 #7
USAGI YOJIMBO #157
WALLY WOOD JUNGLE ADV JIM KING & ANIMAN SC
WEIRD DETECTIVE #3 (OF 5)
X-FILES (2016) #5
X-MEN TP WORST X-MAN EVER
X-MEN X-TINCTION AGENDA TP NEW Printing
---
Shortages
CAPTAIN AMERICA STEVE ROGERS #4 CW2
DOCTOR WHO 2015 FOUR DOCTORS TP
EXTRAORDINARY X-MEN #13
INTERNATIONAL IRON MAN #6
LAKE OF FIRE #1
MOON GIRL AND DEVIL DINOSAUR #10
NEW AVENGERS #15 CW2
NIGHTHAWK #4
NORTHGUARD #1
PATSY WALKER AKA HELLCAT #9
SHOMIN SAMPLE ABDUCTED BY ELITE ALL GIRLS SCHOOL GN VOL 02
SIX PACK & DOG WELDER HARD TRAVELIN HEROEZ #1 (OF 6)
STAR WARS #22
STAR WARS FORCE AWAKENS ADAPTATION #3 (OF 6)
TITANS #2
UNBEATABLE SQUIRREL GIRL #11 | Preview
(W) Ryan North (A/CA) Erica Henderson
• This special one-off issue promises two amazing things: SUPER HEROICS and COMPUTER SCIENCE.
• Yes! By the end of this issue, you will know both how Squirrel Girl can take down COUNT NEFARIA and also a few really fundamental concepts in computer science!
• Have we found a way to express CS concepts through the medium of super hero fights? YOU'LL HAVE TO ORDER THE ISSUE TO FIND OUT!
• But yeah, we totally did.
• Featuring all the greatest Squirrel Girl tropes you love! Including fights, jokes and COLD, HARD LOGIC.
UNCANNY INHUMANS ANNUAL #1
WONDER WOMAN #5
---
Delayed by Diamond
MONSTER TP
---
IF YOU HAVE A COMICKY EVENT YOU'D LIKE TO HAVE LISTED HERE, DROP US A LINE!
Just contact us!
And for Local Comics Related Events don't forget to check our Events section.

---
Thank you!
Million Year Picnic
99 MT Auburn ST downstairs
Cambridge, MA 02138
617-492-6763
https://www.themillionyearpicnic.com