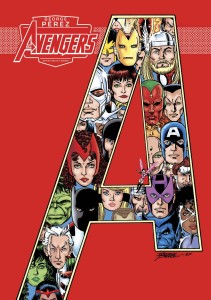 2000 AD PACK FEB 2016
AGONY TP (MR)
ALL NEW ALL DIFFERENT AVENGERS #7 ASO
ALL NEW HAWKEYE #5
ANGELA QUEEN OF HEL #6
ART OPS #6 (MR) | Preview
Publisher: DC COMICS
(W) Shaun Simon (A) Eduardo Risso (CA) Michael Allred
Take a trip back in time to the sensational 1970s-the Me Decade of op and pop art-in this two-part tale of ART OPS! Learn the true story behind the original Art Operative team and what happened between Gina and Reggie's father in part one of "Modern Love," featuring sizzling art by guest-artist Eduardo Risso.
ASSASSINATION CLASSROOM GN VOL 09
ASSASSINS CREED TEMPLARS #1
ASTRO BOY OMNIBUS TP VOL 03
AVENGERS GEORGE PEREZ MARVEL ARTIST SELECT HC | Some Sample Pencils…
Publisher: IDW PUBLISHING
(W) Kurt Busiek (A/CA) George Perez
The next installment of the smash-hit Marvel Artist Select Series is here! Each deluxe hardcover in this series features a collection of issues never-before released together. This oversized, limited-edition hardcover celebrates the legendary George Pérez's time on The Avengers with a hand-curated selection of Pérez's favorite issues chosen by the artist himself. Each copy of this 999-copy limited-edition hardcover is slip-cased, hand-numbered, and signed by George Pérez!
BADGER #2 (OF 5) (MR)
BATMAN #50
BATMAN AND ROBIN ETERNAL #25
BETTY & VERONICA JUMBO COMICS DIGEST #242
BIG PLANET BLUE GN
BIRTHRIGHT #15
BLOODSHOT REBORN ANNUAL 2016 #1
BTVS SEASON 10 #25 | Preview
Publisher: DARK HORSE COMICS
(W) Christos N. Gage (A) Megan Levens (CA) Steve Morris
Defeating the demon lords has been priority one for Buffy and team-to stop the continual opening of portals to dangerous demon dimensions . . . Suddenly there is a new priority one: closing a portal-and one portal in particular. Will the team be lost?
CARNAGE #6
CARPET SWEEPER TALES
CASE CLOSED GN VOL 58
CHARISMAGIC TP VOL 01 VANISHING
CIRCUIT BREAKER #1 (OF 5) | Preview
Publisher: IMAGE COMICS
(W) Kevin McCarthy (A/CA) Kyle Baker
When the heroic robots that saved Japan during World War IV are outlawed, they turn against mankind, waging a campaign of terror across the last city on Earth. Their creator builds one more soldier-disguised as his teenaged granddaughter-and tasks her with dismantling the marauding mechanical militia. But as she begins to question her programming, will she be the last hope for humanity, or the final nail in our coffin?
CIVIL WAR YOUNG AVENGERS AND RUNAWAYS TP NEW Printing
COMIC BOOK CREATOR #11
CONTEST OF CHAMPIONS #6
CRY HAVOC #3 (MR)
CURSED PIRATE GIRL TP VOL 01 (MR)
CYBORG #9
DANGER GIRL RENEGADE TP
DEAN KOONTZ FRANKENSTEIN STORM SURGE #6 (OF 6)
DEATH SENTENCE TP VOL 02 LONDON (MR)
DEATHSTROKE #16
DISAPPEARANCE OF NAGATO YUKI CHAN GN VOL 09
DOCTOR FATE TP VOL 01 THE BLOOD PRICE
DOCTOR WHO 10TH YEAR TWO #7
DOCTOR WHO 4TH #1 (OF 5)
DOCTOR WHO COMP HIST HC VOL 05 11TH DOCTOR STORIES
DOROHEDORO GN VOL 18 (MR)
DR MIRAGE SECOND LIVES #4 (OF 4)
DREAM POLICE #8
ELFQUEST FINAL QUEST #14
EVIL DEAD 2 #1 REVENGE OF HITLER
GFT HELLCHILD #1 (OF 5)
GOD IS DEAD #48 (MR)
GRAYSON #18
GUARDIANS OF GALAXY TP VOL 05 THROUGH LOOKING GLASS
HARLEY QUINN #26
HELLBOY & BPRD 1953 BEYOND THE FENCES #2
HI FRUCTOSE MAGAZINE QUARTERLY #39
HILDA & TROLL TP
HILDAFOLK #1 | Review of Luke Pearson's previews Hilda tales.
Publisher: NOBROW PRESS
(W/A/CA) Luke Pearson
A comic book great for kids or adults, filled with humor, adventure, and thrills. Hilda sits in her tent listening to the thunder passing overhead when she hears a bell. As she hurtles towards the vanishing tinkling sound, Hilda unwittingly embarks on an adventure into strange worlds ruled by magical forces. Luke Pearson tells this exciting tale for kids and adults alike.
HOWLING COMMANDOS OF SHIELD #6 ASO
HYPERION #1 | Preview
Publisher: MARVEL COMICS
(W) Chuck Wendig (A) Nicole Virella (CA) Emanuela Lupacchino
HYPERION IS BACK!
Or is he? The high-powered hero is hiding in plain sight, driving a truck across the U.S. to learn about the country he has adopted. Along the way, he picks up a lone runaway named Doll, who has more baggage than he anticipated. Doll is in danger, chased by a pack of freaks and lunatics known as THE CARNIES. Will Hyperion reveal himself to save her? Maybe! Will he use a tractor trailer as a baseball bat? Probably!
IDOL DREAMS GN VOL 02
ILLUMINATI #5
ILLUSTRATION MAGAZINE #51
IM NOT POPULAR GN VOL 08
INFINITY ENTITY #3 (OF 4)
INVADER ZIM #8
JACKED #5 (OF 6) (MR)
JUSTICE LEAGUE 3001 #10
KLAUS #4
LAST GANG IN TOWN #4 (OF 6) (MR)
MASTER KEATON GN VOL 06 URASAWA
MICHAEL TURNER SOULFIRE TP VOL 02 DRAGON FALL
MIRROR #2 (MR)
MONSTER HUNTER FLASH HUNTER GN VOL 01
MONSTER TP VOL 08 PERFECT ED URASAWA
MONSTER WORLD #3 (OF 4)
NARUTO 3IN1 TP VOL 14
NATHAN HALES HAZARDOUS TALES HC VOL 06 ALAMO ALL-S
NEW AVENGERS #8 ASO
NORAGAMI STRAY GOD GN VOL 12
NOWHERE MEN #9 (MR)
NUTMEG #7
OBI-WAN AND ANAKIN #3 (OF 5)
OUT THERE TP VOL 01
OUTCAST BY KIRKMAN & AZACETA #17 (MR)
PATSY WALKER AKA HELLCAT #4
PENCIL HEAD #3 (OF 5) (MR)
POPTROPICA BOOK 01 MYSTERY OF THE MAP
PUBLIC RELATIONS #6 (MR)
PUNISHER MAX TP COMPLETE COLLECTION VOL 02 (MR)
ROCKET RACCOON TP VOL 02 STORYTAILER
ROCKETEER AT WAR #2 (OF 4)
RRH #5
RUST TP VOL 00 THE BOY SOLDIER
SCHOOL JUDGMENT GAKKYU HOTEI GN VOL 02
SECRET SIX #12
SIMPSONS ILLUSTRATED #22
SONIC THE HEDGEHOG #279
SONS OF THE DEVIL #6 (MR)
SPIRE #7 (OF 8)
STAR TREK GREEN LANTERN TP SPECTRUM WAR
STAR WARS #17
STAR WARS LEGENDS EPIC COLLECTION TP VOL 02 NEW RE
STARFIRE TP VOL 01 WELCOME HOME
STRAY BULLETS SUNSHINE & ROSES #13 (MR)
SUICIDE SQUAD MOST WANTED DEADSHOT KATANA #3 (OF 6)
SUPERMAN ATOMIC AGE SUNDAYS HC VOL 02 1953-1956
SUPERMAN BATMAN #1 SPECIAL Edition
SUPERMAN LOIS AND CLARK #6
TEEN TITANS #18
TMNT ONGOING #56
TOKYO GHOUL GN VOL 06 (MR)
TOMB RAIDER 2016 #2
TOPPS 2016 OPENING DAY BASEBALL T/C BOX
TOTALLY AWESOME HULK #4
ULTIMATES #5
UNCANNY X-MEN #5
UNITY TP VOL 07 REVENGE OF THE ARMOR HUNTERS
VENOM SPACE KNIGHT #5
VENUS #4
WALT DISNEY DONALD DUCK SUNDAY NEWPAPER COMICS HC VOL 01
WE ARE ROBIN #10
WONDER WOMAN #50
WONDER WOMAN WAR OF THE GODS TP
X-MEN WORST X-MAN EVER #2 (OF 5)
X-O MANOWAR #45
---
Shortages
WALKING DEAD MAGAZINE #16 (MR)
---
For upcoming EVENTS check our event's section.
---
IF YOU HAVE A COMICKY EVENT YOU'D LIKE TO HAVE LISTED HERE, DROP US A LINE!
Just contact us!
---
Thank you!
Million Year Picnic
99 MT Auburn ST downstairs
Cambridge, MA 02138
617-492-6763
https://www.themillionyearpicnic.com