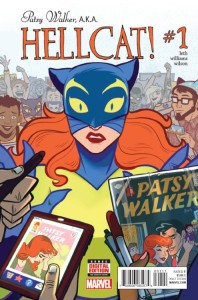 ABSOLUTE GREEN LANTERN GREEN ARROW HC
ADVENTURE TIME MARCELINE GONE ADRIFT TP
AMAZING SPIDER-MAN #5
AMAZING SPIDER-MAN ULT NEWSPAPER COMICS HC VOL 02 1979-1981
ANGELA QUEEN OF HEL #3
AQUAMAN #47
ARCADIA #7
ARCHIE GIANT COMICS JACKPOT TP
ART OF ELFQUEST HC
ART OF JAY WARD PRODUCTIONS HC
ART OPS #3 (MR)
ASTONISHING ANT-MAN #3
ASTRO CITY #30
BATMAN 66 MEETS THE MAN FROM UNCLE #1 (OF 6) | Video Preview
Publisher: DC COMICS
(W) Jeff Parker (A) David Hahn (CA) Michael Allred
Two 1960s television icons cross paths for a groovy, globe-spanning adventure in this one-of-a-kind miniseries. The deadly organization known as T.H.R.U.S.H. has a new twist in their plans for world conquest-they're recruiting some of Gotham City's most infamous villains! Agents Napoleon Solo and Illya Kuryakin bring this information to the one man who knows everything about these new enemies: Batman. Before you can say "Open channel D," the Dynamic Duo and the Men from U.N.C.L.E. are jetting off to Europe to thwart the schemes of this deadly criminal cartel.
BATMAN AND ROBIN ETERNAL #12
BATMAN ARKHAM KNIGHT #12
BETTY & VERONICA COMICS DOUBLE DIGEST #239
BLOODSHOT REBORN #9
BPRD HELL ON EARTH TP VOL 12 METAMORPHOSIS
BTVS SEASON 10 #22
CAPTAIN AMERICA SAM WILSON #4
CHEW #53 (MR)
CINEFEX #144
COMIC BOOK CREATOR #10
COPRA TP ROUND THREE (MR)
COVENANT #5
CYBORG #6
DAREDEVIL #2
DARK KNIGHT III MASTER RACE #2 (OF 8)
DARTH VADER #14 VDWN
DC COMICS BOMBSHELLS #7
DC COMICS DESIGNER SER 3 TWO FACE Action Figure
DC ICONS THE FLASH CHAIN LIGHTNING Action Figure
DEADLY CLASS #17 (MR)
DEADPOOL #4
DEATHSTROKE #13
DEMON TP VOL 01 HELLS HITMAN
DOCTOR WHO 11TH YEAR TWO #4
DOCTOR WHO 12TH #15
DR MIRAGE SECOND LIVES #1 (OF 4)
EXTRAORDINARY X-MEN #4
FATHOM BLUE #6
FEMFORCE #173
FICTION SQUAD TP
FIGHT CLUB 2 #8
FIGMENT 2 #4 (OF 5)
FUTURE IMPERFECT TP WARZONES
GFT GRIMM TALES OF TERROR VOL 2 #3
GI JOE A REAL AMERICAN HERO #222
GOTHAM BY MIDNIGHT #12
GUNNERKRIGG COURT TP VOL 02 RESEARCH
HE MAN THE ETERNITY WAR #13
HENCHGIRL #3
HIP HOP FAMILY TREE #5
INVISIBLE REPUBLIC #8 (MR)
ISLAND #5 (MR) | Preview
Publisher: IMAGE COMICS
(W/A) Brandon Graham & Various (CA) Amy Claire
Stories of space cannibalism, future tech dependency and volcano gods along with articles and illustration in the monthly oversized comics magazine.
ITTY BITTY HELLBOY SEARCH FOR THE WERE-JAGUAR #2
JACK KIRBY COLLECTOR #66
JACKED #2 (OF 6) (MR)
JOHN CARTER WARLORD #14 (OF 14) (MR)
JUPITERS CIRCLE VOL 2 #2 (MR)
JUSTICE LEAGUE 3001 #7
JUSTICE LEAGUE OF AMERICA #6
JUSTICE LEAGUE TAROT CARD DECK
JUXTAPOZ #180 JAN 2016
KAPTARA TP VOL 01 FEAR NOT TINY ALIEN
KING #3 (OF 5)
KING CONAN WOLVES BEYOND THE BORDER #1 (OF 4) | Preview
Publisher: DARK HORSE COMICS
(W) Timothy Truman (A/CA) Tomás Giorello
King Conan grows weary of the crown. When an old soldier visits him with talk of a cursed relic and rumors of Pictish tribes preparing a full-scale invasion on Aquilonia's borders, Conan eagerly embarks on what could be his final adventure! A fan-favorite team expands on Robert E. Howard's unfinished "Wolves beyond the Border" tale!
LAST GANG IN TOWN #1 (OF 7) (MR)
LITTLE BOOK OF DRIBEN FLEXICOVER (MR)
LITTLE BOOK OF ELVGREN FLEXICOVER (MR)
LITTLE BOOK OF VARGAS FLEXICOVER (MR)
MARVEL CHRONICLE YEAR BY YEAR HC
MARVEL PREVIEWS #6 JANUARY 2016
MASTER OF KUNG FU TP BATTLEWORLD
MODOK ASSASSIN TP
MOON GIRL AND DEVIL DINOSAUR #2
NAMELESS #6 (MR)
NEW AVENGERS #4
OUTCAST BY KIRKMAN & AZACETA #14 (MR)
PATSY WALKER AKA HELLCAT #1 | Preview
Publisher: MARVEL COMICS
(W) Kate Leth (A/CA) Brittney Williams
PATSY WALKER has managed to escape her past, her enemies and Hell itself (literally), but nothing compares to job hunting in New York City! Between trying to make rent and dodging (literal) bullets, Patsy barely has time to deal with her mother's exploitative romance comics about her childhood resurfacing, much less how they start to interfere with her work and dating life. As she goes from living a double life to a triple, what the Hell is Patsy Walker supposed to do? Raise your (literal) claws for PATSY WALKER, AKA HELLCAT!
PAYBACKS #4
PEANUTS VOL 2 #29
POLLY & HER PALS COMPLETE SUNDAY COMICS VOL 02 1928-1930
PRETTY DEADLY #7 (MR)
PREVIEWS #328 JANUARY 2016
PRINCELESS MAKE YOURSELF #0
RAI #12
RICK & MORTY #9
ROBIN SON OF BATMAN #7 (ROBIN WAR)
ROCHE LIMIT TP VOL 02 CLANDESTINY (MR)
ROCKETEER AT WAR #1 (OF 4)
SAGA #32 (MR)
SCALPED HC BOOK 03 DELUXE EDITION
SEVEN PERCENT #3 (OF 6)
SINESTRO #18
SPIDER-WOMAN #2
STAR WARS ARTIFACT ED HC
STAR-LORD #2
SUPERMAN #47
TEEN TITANS #15 (ROBIN WAR)
TITANS HUNT #3 (OF 12)
TMNT ONGOING #53
TRANSFORMERS VS GI JOE #10
TYSON HESSE DIESEL #4 (OF 4)
VENUS #1
WALT DISNEY COMICS & STORIES #726
WALT DISNEY DONALD DUCK NEWSPAPER COMICS HC VOL 02
WHERE MONSTERS DWELL TP PHANTOM EAGLE FLIES SAVAGE SKIES
WILDS END ENEMY WITHIN #4 (OF 4)
WILL EISNER SPIRIT #6 | Preview
Publisher: D. E.
(W) Matt Wagner (A) Dan Schkade (CA) Eric Powell
Once again, the narrative shifts to an unexpected locale as an ex-GI finds himself in the role of both mercenary and jailer. In Wildwood Cemetery, The Spirit finally reveals the course of his unknown exploits to both Ebony and Sammy, a tale that involves smuggled nerve agents, devious traps and a tropical island turned penitentiary. But the mystery only deepens as the first half of this 12-issue arc reaches its conclusion and our blue-masked hero is left with only more questions than answers as to the course of his own unexplained absence. This hit series revives one of comics' most iconic characters at the hands of Eisner Award winning author Matt Wagner and the dynamic art team of artist Dan Schkade and colorist Brennan Wagner.
WOODS TP VOL 03
X-FILES X-MAS SPECIAL | Preview
Publisher: IDW PUBLISHING
(W) Joe Harris (A) Matthew Dow Smith (CA) Menton3
Special Season 11 tie-in! Just in time for the holiday season, the Lone Gunmen learn of the impending arrival of some unwelcome visitors. But before they can raise the alarm, they receive some other unexpected guests…
X-MEN EPIC COLLECTION TP GIFT
---
Shortages
ITTY BITTY HELLBOY SEARCH FOR THE WERE-JAGUAR #2
MONTHLY GIRLS NOZAKI KUN GN VOL 01
MUNCHKIN #12
---
HAPPY HOLIDAYS!!!
---
IF YOU HAVE A COMICS RELATED EVENT YOU'D LIKE TO HAVE LISTED HERE, DROP US A LINE!
Just contact us!
---
Thank you!
Million Year Picnic
99 MT Auburn ST downstairs
Cambridge, MA 02138
617-492-6763
https://www.themillionyearpicnic.com