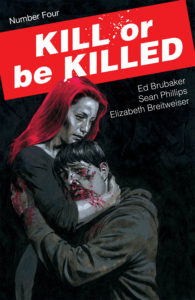 4001 AD BEYOND NEW JAPAN TP
A DISTANT NEIGHBORHOOD COMPLETE HC
ADVENTURE TIME COMICS #5
ALIENS LIFE AND DEATH #3 (OF 4)
ALL NEW CLASSIC CAPTAIN CANUCK #3
ALL NEW WOLVERINE #14
AMAZING SPIDER-MAN #21 CC
AMELIA RULES COLLECTION TP
AQUAMAN #11
ARCHIE #14
ARMY OF DARKNESS FURIOUS ROAD TP
ASSASSINS CREED LOCUS #3 (OF 4) (MR)
ASSASSINS CREED TEMPLARS #7 (MR)
ATOMIC ROBO AND THE TEMPLE OF OD #4 (OF 5)
AVENGERS EPIC COLLECTION TP ONCE AN AVENGER
BACKSTAGERS #4 (OF 8)
BAD MACHINERY GN VOL 06 THE CASE OF THE UNWELCOME VISITOR
BATMAN #11
BLACK BUTLER TP VOL 23
BLACK HAMMER #5
BLACK PANTHER #8
BPRD HELL ON EARTH #147
BRIGGS LAND #4
BRITANNIA #3 (OF 4)
CAGE #1 (OF 4) 2ND Printing
CAPTAIN AMERICA SAM WILSON #15
CARNAGE #14
CASH AND CARRIE TP VOL 01 SLUETH 101
CAVE CARSON HAS A CYBERNETIC EYE #2 (MR)
CHRONICLES OF CONAN TP VOL 33 MOUNTAIN WHERE CROM
CINEMA PURGATORIO #7 (MR)
CINEMA PURGATORIO #7 MODDED CVR (MR)
COMIC BOOK HISTORY OF COMICS #1 (OF 6) | Preview
(W) Fred Van Lente (A/CA) Ryan Dunlavey
For the first time ever, the inspiring, infuriating, and utterly insane story of comics, graphic novels, and manga is presented in four-color glory! The award-winning Action Philosophers team of Fred Van Lente and Ryan Dunlavey turn their irreverent-but-accurate eye to the stories of Jack Kirby, R. Crumb, Harvey Kurtzman, Alan Moore, Stan Lee, Will Eisner, Fredric Wertham, Roy Lichtenstein, Art Spiegelman, Herge, Osamu Tezuka – and more!
CONTROL #6 (OF 6) (MR)
COSPLAYERS XMAS SPECIAL
CREATURES OF THE NIGHT HC (2ND Edition)
CROSSED TP VOL 17 (MR)
CYBORG #5
DARK HORSE PRESENTS #28
DARK SOULS WINTERS SPITE #1 (OF 4) (MR)
DEADPOOL #22
DEADWORLD REQUIEM FOR THE WORLD TP (MR)
DEMONIC #4 (OF 6) (MR)
DISNEY DARKWING DUCK #6
DISNEY MICKEY MOUSE HC VOL 10 PLANET FACELESS FOES
DISNEY PRINCESS #7
DISNEY ROSA DUCK LIBRARY HC VOL 06 UNIVERSAL SOLVENT
DOCTOR FATE #18 | Preview #16 & #17
(W) Paul Levitz (A/CA) Brendan McCarthy
In this stunning series finale, Fate is captive on the world of the Dreamspinners as their threads of doom reach out to threaten Earth. Can Khalid find the power within himself to survive in a mythology not his own?
DOCTOR STRANGE #14 | Preview
(W) Jason Aaron (A/CA) Chris Bachalo
"BLOOD IN THE AETHER" continues!
• Doctor Strange's Rogues Gallery continues take advantage of his weakness.
• THIS ISSUE- Satanna and Master Pandemonium put Strange through his own personal hell.
DOCTOR WHO 12 DOCTORS OF CHRISTMAS HC
DOCTOR WHO 12TH YEAR TWO #11
DOCTOR WHO SUPREMACY OF THE CYBERMEN #5 (OF 5)
DOMINION LAST SACRIFICE #2 (OF 4)
DUNGEON TP VOL 01 NEW P
ELIAS THE CURSED TP (MR)
ETHER #1 | Preview
(W) Matt Kindt (A) David Rubin (CA) Jeff Lemire
A science-minded adventurer gets mixed up in the mysteries of a fantasy world in this charming new adventure from an award-winning creative team. Boone Dias is an interdimensional explorer, a scientist from Earth who has stumbled into great responsibility. He's got an explanation for everything, so of course the Ether's magical residents turn to him to solve their toughest crimes. But maybe keeping the real and the abstract separate is too big a job for just one man.
o From New York Times best-selling author Matt Kindt (MIND MGMT, Past Aways, Super Spy, Dept. H).
o Stunning artwork from David Rubín!
o Variant cover by Jeff Lemire!
FLASH TP VOL 08 ZOOM
GARTH ENNIS RED TEAM DOUBLE TAP #5 (OF 9) (MR)
GRAND PASSION #1 (OF 5) (MR)
GREEN ARROW #11
GREEN LANTERNS #11
HARBINGER RENEGADE #1
HAWAIIAN DICK TP VOL 04 ALOHA HAWAIIAN DICK (MR)
HERALD LOVECRAFT AND TESLA #9
HORIZON #5
HOWARD THE DUCK TP VOL 02 GOOD NIGHT GOOD DUCK
HUMANOIDS BACKLIST CATALOG 2016
HUNT #4 (MR)
IM NOT POPULAR GN VOL 09
INFAMOUS IRON MAN #2
INSUFFERABLE HOME FIELD ADVANTAGE #2
INVINCIBLE #131
JESSICA JONES #1 2ND P
JESSICA JONES #2
JOHNNY RED TP (MR)
JOYRIDE #7 (OF 6)
JUSTICE LEAGUE #9
JUSTICE LEAGUE DARKSEID WAR POWER OF THE GODS TP
KAIJUMAX SEASON 2 #6
KILL OR BE KILLED #4 (MR) | Preview #1 by Ed Brubaker!
(W) Ed Brubaker (A/CA) Sean Phillips
END OF STORY ARC! The shocking end to the first arc, as Dylan's secret collides with his home life. BRUBAKER & PHILLIPS's new series keeps the hits coming, and remember, each issue includes fantastic back page extras and articles.
LADY KILLER 2 #3
LCSD 2016 DOLLFACE
LIFE DEATH AND SORCERY #3
LUCIFER #12 (MR)
MECHANISM #5
MICRONAUTS #7
MONTHLY GIRLS NOZAKI KUN GN VOL 05
MOOMIN AND FAMILY LIFE GN
MOONSHINE #2 (MR)
MULTIVERSITY TP
NIGHTWING #9
OLD MAN LOGAN #13
PATHFINDER WORLDSCAPE #2 (OF 6)
PATSY WALKER AKA HELLCAT #12
PRE CODE CLASSIC STRANGE SUSPENSE STORIES HC VOL 01
PRE CODE CLASSIC THIS MAGAZINE IS HAUNTED HC VOL 03
RAVEN #3 (OF 6)
REBORN #2 (MR)
RED DOG #1 (OF 6)
RICK & MORTY LIL POOPY SUPERSTAR #5 (OF 5) | Preview
(W) Sarah Graley (A) Marc Ellerby (CA) Mildred Louis (A/CA) Sarah Graley
It's finally the most anticipated event of the year, Prom! Mr. Poopybutthole and Summer are all dressed up and ready to unwind after a stressful adventure, but when some uninvited guests crash the party they make it a night Summer and Mr. Poopybutthole will never forget.
Meanwhile in dimension S-223, will Rick finally be rewarded what is rightfully his – this year's Prom King crown and sash?
RIVERS OF LONDON BLACK MOULD #2 (OF 5)
SCIENCE COMICS VOLCANOES SC GN
SHE WOLF TP VOL 01
SILK #14 CC
SIMPSONS COMICS #234
SOUTHERN CROSS #9 (MR)
SPAWN #267 (MR)
SPECTRUM ART BOOK SC VOL 23
SPELL ON WHEELS #2 (OF 5)
SPIDER-MAN #9 CW2
SQUADRON SUPREME #13 NOW
SUICIDE SQUAD #6
SUICIDE SQUAD MOST WANTED #4 (OF 6)
SUNNY HC VOL 06
SUPER WEIRD HEROES HC VOL 01
SUPERMAN #11
SUPERMAN THE COMING OF THE SUPERMEN HC
TERRA FORMARS GN VOL 15 (MR)
THANOS #1 NOW
THE TROOP TP
TRINITY #3
UNBEATABLE SQUIRREL GIRL #14
UNCANNY INHUMANS #15 NOW
UNCANNY X-MEN ANNUAL #1
UNCANNY X-MEN SUPERIOR TP VOL 02 APOCALYPSE WARS
UNCLE SCROOGE #20
WALT DISNEY COMICS & STORIES #735
WARREN ELLIS NORMAL NOVEL SC
WES CRAVENS COMING OF RAGE TP VOL 01
X-MEN GAMBIT AND WOLVERINE TP NEW Printing
---
Shortages
LIVINGSTONE GN VOL 04
NORTHGUARD #3 CVR A SALAS
NORTHGUARD #3 CVR B KNIIVILA
PUELLA MAGI ORIKO MAGICA SADNESS PRAYER GN VOL 01
---
Delayed by Diamond
PEANUTS EVERY SUNDAY HC BOX SET 1960
SERPIERI COLLECTION HC VOL 03 (OF 4) (A)
SPECTRUM ART BOOK HC VOL 23
---
IF YOU HAVE A COMICKY EVENT YOU'D LIKE TO HAVE LISTED HERE, DROP US A LINE!
Just contact us!
And for Local Comics Related Events don't forget to check our Events section.

---
Thank you!
Million Year Picnic
99 MT Auburn ST downstairs
Cambridge, MA 02138
617-492-6763
https://www.themillionyearpicnic.com