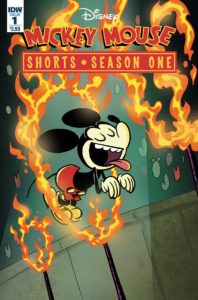 ABE SAPIEN #35
ACTION COMICS #959 | Preview & Interview
Publisher: DC COMICS
(W) Dan Jurgens (A) Tyler Kirkham (CA) Clay Mann
"PATH TO DOOM" Chapter Three: Clark Kent gets caught in the crossfire as Doomsday crashes through the streets of Metropolis! As Lois struggles to keep young Jonathan out of the path of destruction, can former enemies Superman and Lex Luthor stop the monster that once destroyed the city and killed the Man of Steel-or does Luthor have other plans?
ADVENTURE TIME #54
ADVENTURES OF DIETER LUMPEN GN
AGENTS OF SHIELD #7 CW2
AL WILLIAMSON STAR WARS EMPIRE STRIKES BACK ARTIST ED HC
ALL NEW X-MEN #11 AW
ARCHANGEL #2 (OF 5)
BACK ISSUE #90
BATMAN #1 2ND Printing
BIRTHRIGHT #17
BLAKE & MORTIMER GN VOL 23 PROF SATOS 3 FORMULAE P
BLOODSHOT REBORN #15
BLOODSHOT REBORN TP VOL 03 ANALOG MAN
BOULETS NOTES GN VOL 01 BORN TO BE A LARVE
BTVS SEASON 10 TP VOL 05 PIECES ON THE GROUND
BUNKER #18 (MR)
CASE CLOSED GN VOL 59
CIVIL WAR II #3 (OF 7)
CIVIL WAR II AMAZING SPIDER-MAN #2 (OF 4)
CIVIL WAR II CHOOSING SIDES #2 (OF 6)
CIVIL WAR II GODS OF WAR #2 (OF 4)
CONAN THE SLAYER #1 | Preview
Publisher: DARK HORSE COMICS
(W) Cullen Bunn (A) Sergio Davila (CA) Lee Bermejo
Alone, battle weary, and with nothing but his sword, Conan of Cimmeria faces his inevitable death in the arid wastes . . . but instead stumbles into a camp of Kozaki raiders. With a knife at his throat and a band of Turanian hunters at his back, will the half-dead barbarian find a new ally in the Kozaki chief?
CTHULHU STRESS TOY
DAREDEVIL #9
DAREDEVIL EPIC COLLECTION MAN WITHOUT FEAR TP
DARING ADVENTURES OF SUPERGIRL TP VOL 01
DARK AND BLOODY #6 (OF 6) (MR)
DARK KNIGHT III MASTER RACE #5 (OF 8) COLLECTORS ED
DARK TOWER DRAWING OF THREE BITTER MEDICINE #4 (OF
DC COMICS BOMBSHELLS #15
DC COMICS BOMBSHELLS TP VOL 02
DEADPOOL #15 CW2
DESCENDER #13
DETECTIVE COMICS #936
DISNEY PIXAR FINDING DORY #1
DOCTOR WHO 10TH ARCHIVES OMNIBUS TP VOL 03
DOCTOR WHO 11TH TP LTD ED VOL 01 AFTER LIFE
DOCTOR WHO 4TH #4 (OF 5)
DUNGEONS & DRAGONS (2016) #3
EARTH 2 SOCIETY #14
EIGHTH SEAL TP
FAIRY TAIL ZERO GN VOL 01
FLASH #2
GFT GRIMM TALES OF TERROR VOL 2 #10
GOLD DIGGER #234
GOLD KEY ALLIANCE #4 (OF 5)
GOLDIE VANCE #4 (OF 4)
GREEN ARROW #1 2ND Printing
GREEN LANTERNS #1 2ND Printing
GUARDIANS OF GALAXY #10
GUTTER MAGIC TP
HAL JORDAN AND THE GREEN LANTERN CORPS REBIRTH #1
HARLEYS QUINNS GREATEST HITS TP
HARROW COUNTY #14
HEAVY METAL #281
HIP HOP FAMILY TREE #11
HIP HOP FAMILY TREE GN VOL 04 1984-1985
HOUSE OF PENANCE #4 (OF 6)
INSEXTS #6 (MR)
JUDGE DREDD CURSED EARTH SAGA UNCENSORED HC | Preview
Publisher: REBELLION / 2000AD
(W) John Wagner, Pat Mills (A) Brian Bolland, Mike McMahon
The complete story collected for the very first time! Mega-City One, 2100. This post-apocalyptic city of the future is blighted by overcrowding, poverty and misery. With each of the 400 million citizens a potential criminal, order is maintained by future lawmen known as the Judges who have the power to act as judge, jury, and executioner. A deadly plague developed during the brutal "Great Germ War" has reached the futuristic metropolis of Mega-City Two, located on the West Coast of the USA. Charged with delivering a life-saving vaccine to the citizens of the disease-ridden city, Judge Dredd and a small crew of Judges, war droids, and the lawbreaking biker, Spikes Harvey Rotten, must travel a thousand miles across the radioactive wasteland known as "the Cursed Earth."
JUDGE DREDD MEGAZINE #373
KABUKI LIBRARY HC VOL 03
LEGEND OF WONDER WOMAN #8 (OF 9)
LEGENDS OF OZ TIK TOK AND KALIDAH #3 (OF 3)
LOVE ADDICT CONFESSIONS OF A SERIAL DATER TP
LUMBERJANES GOTHAM ACADEMY #2
MAGIC WHISTLE VOL 3 #2 (MR)
MARVEL FIRSTS 1990S TP VOL 02
MARVEL NOW PREVIEWS
MARVEL UNIVERSE GUARDIANS OF GALAXY DIGEST TP VOL 02
MAXX MAXXIMIZED #33
MICKEY MOUSE SHORTS SEASON 1 #1 | Watch the shorts!
Publisher: IDW PUBLISHING
(W/A) Paul Rudish (CA) Andy Suriano
Join Mickey, Minnie and all their pals in a comic adaptation of the celebrated, multi-Emmy and Annie Award-winning shorts from Disney Television Animation! In this issue, Mickey battles his way through a Tokyo bullet train during rush hour, an unlikely character competes in a dog show, and Donald suffers from….Flipperboobootosis?! And that's just the start!
Bullet points:
" Newly adapted for print by Scott Tipton!
" These Disney shorts have one multiple Emmys, Annies, and more!
MILLARWORLD ANNUAL 2016 #1 (MR)
MILO MANARAS GULLIVERA DLX HC (MR)
MIRROR #5
MMW MS MARVEL HC VOL 02 DM VAR ED 234
MONSTRESS TP VOL 01 (MR)
MOORCOCK LIB HC VOL 03 (OF 15) DREAMING CITY (MR)
MORNING GLORIES #50 (MR)
NEIL GAIMANS LADY JUSTICE TP VOL 02
NEW AVENGERS #13 CW2
NEW SUPER MAN #1
NIGHTWING REBIRTH #1
NINJAK #17
OGRES AWAKE HC
OLD MAN LOGAN #8
ONLY LIVING BOY GN VOL 02 BEYOND SEA AND SKY
OREIMO KURONEKO TP VOL 06
OSAMU TEZUKA STORY LIFE IN MANGA & ANIME SC
PAYBACKS #1
PEARLS BEFORE SWINE WHEN CROCS FLY TP
PENNY DREADFUL #2 (OF 5) (MR)
POP MARVEL CAPTAIN MARVEL UNMASKED VINYL FIG
POWER MAN AND IRON FIST #6 CW2
POWERPUFF GIRLS (2016) #1
PRINCELESS TP VOL 05 MAKE YOURSELF PART 1
PROMETHEUS LIFE AND DEATH #2
RAGNAROK #9
RICK & MORTY LIL POOPY SUPERSTAR #1 (OF 5)
RIN-NE GN VOL 21
ROCKET RACCOON AND GROOT #7 | Preview
Publisher: MARVEL COMICS
(W) Nick Kocher (A) Michael Walsh (CA) David Lopez
PUTTING THE FUN BACK IN FUNERAL!
I'm SORRY – you found that poor in taste? Well, maybe we're using humor to avoid facing our grief over the death of Rocket Raccoon's mentor in con-artistry! Who's insensitive NOW? Did you even KNOW Rocket had a confidence-man mentor? Look, let's start over and try to be more understanding. It's a new era for the Guardians of the Galaxy's most non-humanoid characters, and we're kicking it off with this story by NICK KOCHER of comedy duo BriTANicK, so of CORPSE it's going to DIE-larious! We're just going to miss this character – an all-new insight into Rocket's mysterious past – so much!
SABRINA #6
SATELLITE FALLING #3
SCARLET TP BOOK 01 (MR)
SHADOW DEATH OF MARGO LANE #2 (OF 5)
SHERIFF OF BABYLON TP VOL 01 BANG BANG BANG (MR)
SILK #10
SOUTHERN BASTARDS TP VOL 03 HOMECOMING (MR)
SPACE BATTLE LUNCHTIME #3 (OF 8)
SPIDER-WOMEN TP
STAR TREK NEW VISIONS SPECIAL THE CAGE
STAR TREK ONGOING #59
STUMPTOWN V3 #10 | Preview
Publisher: ONI PRESS INC.
(W) Greg Rucka (A/CA) Justin Greenwood
"The Case of the Night That Wouldn't End"-Dex is on a stakeout through a long night. Nothing is ever easy.
SUICIDE SQUAD MOVIE MINI ONE SHEET #1
TEEN TITANS GO TP VOL 02 WELCOME TO THE PIZZA DOME
TOPPS 2016 BASEBALL T/C FACTORY SET
TOPPS 2016 STADIUM CLUB BASEBALL T/C BOX
TOTALLY AWESOME HULK TP VOL 01 CHO TIME
USAGI YOJIMBO TP VOL 30 THIEVES AND SPIES
VISION #9
WALKING DEAD MAGAZINE #17 PX ED (MR)
WALT DISNEY COMICS & STORIES #733
WANDERING ISLAND TP
WEB WARRIORS #9
WICKED & DIVINE #21 (MR)
WOLVERINE OLD MAN LOGAN TP VOL 01 BERZERKER
WONDER WOMAN #2
WONDER WOMAN BY GREG RUCKA TP VOL 01
WRATH OF THE ETERNAL WARRIOR #9
X-FILES (2016) #4
---
Shortages
AETHER AND EMPIRE #4
DISNEY DARKWING DUCK #3
DOCTOR WHO 10TH YEAR TWO #12
GWENPOOL #4
JOHNNY RED GN FLYING GUN
MONSTER WORLD TP VOL 01 DIRECTORS CUT
PALMIOTTI BRADYS BIG CON JOB TP
SUPERNATURAL HUNTERS CHALLENGE COIN
TITAN #3 (MR)
VILE #1 (MR)
---
IF YOU HAVE A COMICKY EVENT YOU'D LIKE TO HAVE LISTED HERE, DROP US A LINE!
Just contact us!
And for Local Comics Related Events don't forget to check our Events section.

---
Thank you!
Million Year Picnic
99 MT Auburn ST downstairs
Cambridge, MA 02138
617-492-6763
https://www.themillionyearpicnic.com