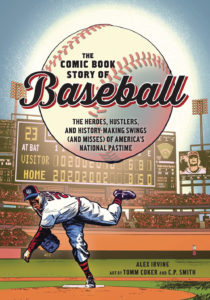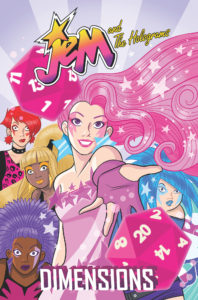 Shortages
DEATHSTROKE THE TERMINATOR TP VOL 04 CRASH OR BURN
CALEXIT #3 (MR)
SPONGEBOB COMICS #80
Weekly Shiplist for Wednesday, 9 May 2018
5 WORLDS GN VOL 02 COBALT PRINCE | Preview\
(W) Mark Siegel, Alexis Siegel (A) Mark Siegel, Xanthe Bouma, Matt Rockefeller, Boya Sun
Five worlds. Three unlikely heroes. One epic battle for the galaxy! Oona Lee surprised everyone, including herself, when she lit the first beacon to save the Five Worlds from extinction. Can she light the other four beacons in time? Next stop, Toki! On the blue planet, Oona must face the sister who left her, and bring to light the Cobalt Prince's dark secrets. Meanwhile, An Tzu is fading away as his mysterious illness gets worse. Will it stop him from joining the fight? Or will his unique magic be just what the team needs? And Jax Amboy is a hero on the starball field, but in a moment of real danger, will he risk everything to save his friends?
ADVENTURE TIME COMICS #23
AJIN GN VOL 11 DEMI HUMAN
AKISSI TALES OF MISCHIEF GN
AMAZING SPIDER-MAN VENOM INC TP
ANGELIC TP VOL 01 HEIRS & GRACES
B & V FRIENDS JUMBO COMICS DIGEST #261
BACKWAYS #5
BARRIER #1 (OF 5) COLLECTORS ED (MR)
BARRIER #2 (OF 5) (MR)
BATGIRL AND THE BIRDS OF PREY #22
BATMAN #44 2ND Printing
BATMAN WHITE KNIGHT #8 (OF 8)
BATTLES OF BRIDGET LEE TP VOL 02 MIRACLE CHILD
BEASTS OF BURDEN ANIMAL RITES TP
BETTY AND VERONICA VIXENS #6
BLACK CLOUD #9 (MR)
BPRD DEVIL YOU KNOW #6
CABLE TP VOL 02 NEWER MUTANTS
COMIC BOOK STORY OF BASEBALL GN | Preview
(W) Alex Irvine (A/CA) Tomm Coker
Sequential art steps up to the plate and covers all the bases with this illustrated origin of America's national pastime. Writer Alex Irvine and illustrators Tomm Coker (Black Monday Murders) and C.P. Smith team up to present a complete look at the beginnings (both real and legendary), developments, triumphs, and tragedies of baseball. The Comic Book Story of Baseball spotlights the players, teams, games, and moments that have kept the game so popular for so long. Not only does the book define key terms and explain how the game is played, it also breaks down the cultural impact and significance of the sport in America and overseas.
COMPLETE CHESTER GOULD DICK TRACY HC VOL 24
CYBORG TP VOL 03 SINGULARITY REBIRTH
DALSTON MONSTERZZ GN
DARK FANG TP VOL 01 EARTH CALLING (MR)
DASTARDLY & MUTTLEY TP
DEJAH THORIS #4
DESPICABLE DEADPOOL #300 LEG
DESPICABLE DEADPOOL TP VOL 02 BUCKET LIST
DETECTIVE COMICS #980
DISNEY MASTERS HC VOL 01 SCARPA MICKEY MOUSE DELTA DIMENSION
DOCTOR WHO 11TH SAPLING HC VOL 03 BRANCHES
DOMINO #2
ENCHANTED CHEST HC
ETERNITY GIRL #3 (OF 6) (MR)
EXILES #3
FEMFORCE #182
FLASH #46
GAME OF THRONES CLASH OF KINGS #10 (MR)
GHOSTBUSTERS ANSWER THE CALL #5
GOLD DIGGER #252
HAL JORDAN AND THE GREEN LANTERN CORPS #44
HAWKEYE KATE BISHOP TP VOL 03 FAMILY REUNION
HELLBOY OMNIBUS TP VOL 01 SEED OF DESTRUCTION
HIGHEST HOUSE #4
HUNGRY GHOSTS #4 (OF 4) (MR)
HUNT FOR WOLVERINE ADAMANTIUM AGENDA #1 (OF 4)
I AM GANDHI GRAPHIC BIOGRAPHY SC
IMMORTAL MEN #2
INCREDIBLE HULK #716 LEG
ISOLA #1 2ND Printing
ISOLA #2
JEM AND THE HOLOGRAMS DIMENSIONS TP | Preview
(W) Sophie Campbell, Kate Leth, Sarah Kuhn, Sarah Winifred Searle, Various (A) Various (CA) Derek Charm
Advance solicited for June release! Jem and the Holograms get back to their rock 'n' roll roots in this new series of stand-alone stories from some of comics' most popular creators. A celebration of creativity, friendship, and being true to yourself, Dimensions is full of humor, fun, and characters that radiate positivity. These uplifting stories will bring a smile to readers' faces even as they put a song in their hearts. All your favorite characters – and some new ones! – take the stage in stories about everything from Dungeons & Dragons to ski trips gone wrong!
JIM HENSON FRAGGLE ROCK #1
JUSTICE LEAGUE NO JUSTICE #1 (OF 4)
LOVE AND AARDVARKS #1 (OF 1)
MAESTROS #6 (MR)
MEAN GIRLS CLUB PINK DAWN HC GN
MEDIEVAL SPAWN WITCHBLADE #1 (OF 4)
MMW MARVEL TEAM-UP HC VOL 03 DM VAR ED 259
MONSTRESS #16 (MR)
MY LITTLE PONY FRIENDSHIP IS MAGIC TP VOL 14
NEW MUTANTS DEAD SOULS #3 (OF 6) LEG
NEW SUPER MAN & THE JUSTICE LEAGUE OF CHINA #23
NUCLEAR WINTER ORIGINAL GN VOL 01
OBLIVION SONG BY KIRKMAN & DE FELICI #3 (MR)
OLD MAN LOGAN #39 LEG
OUT OF NOTHING GN
OUTCAST BY KIRKMAN & AZACETA #35 (MR)
PEANUTS TP VOL 09
PETER PARKER SPECTACULAR SPIDER-MAN #304 LEG
PHOEBE & HER UNICORN BOARD BOOK TODAY ILL BE A UNICORN
PORT OF EARTH #5
PRISM STALKER #3
RED HOOD AND THE OUTLAWS #22
RESIDENT ALIEN #2 (OF 4) ALIEN IN NEW YORK
ROBOTECH #9
ROCK STEADY GN BRILLIANT ADVICE MY BIPOLAR LIFE FORNEY | Preview
(W) Ellen Forney (A/CA) Ellen Forney
The eagerly awaited sequel companion book to Forney's 2012 best-selling graphic memoir, Marbles: Mania, Depression, Michelangelo, and Me. Whereas Marbles was a memoir, Rock Steady offers a survival guide of tips, tricks, and tools by someone who has been through it all and come through stronger for it. Personal stories and solid advice on how to overcome the hassle of meds, recognize red flags, and other tools from her own experience all in comics form. Rock Steady: Brilliant Advice from My Bipolar Life invites readers into Ellen's home, head, and Peanuts pill box.
ROM & THE MICRONAUTS #5 (OF 5)
ROSE #11
RUNAWAYS #9
SAVAGE TALES VAMPIRELLA ONE SHOT #1
SCOOBY APOCALYPSE #25
SEA OF THIEVES #3 (OF 4)
SEASON OF THE SNAKE #2
SHADOW LEVIATHAN TP
SHERLOCK FRANKENSTEIN LEGION OF EVIL FROM BLACK HAMMER TP | Preview
(W) Jeff Lemire (A/CA) David Rubin
This mystery set in the world of superheroes follows a reporter determined to find out what happened to her father: The Black Hammer. All answers seem to lie in Spiral City's infamous insane asylum where some of its dangerous super-villain tenants reside. As she gets closer and closer to the truth she uncovers the dark origin stories of some of Black Hammer's greatest foes and how they tie into the puzzle of what happened to Spiral City's greatest hero. Collects the first four issues of Sherlock Frankenstein and Black Hammer #12 from New York Times bestselling and Eisner-nominated creator Jeff Lemire!
SIDEWAYS #4
SLEEPLESS #6
SOUTHERN BASTARDS #20 (MR)
SPIDER KING #4
SPIDER-MAN DEADPOOL #32 LEG
STAR TREK TNG THROUGH THE MIRROR #2
STAR WARS ADVENTURES #10
STAR WARS DARTH VADER #16
STAR WARS LAST JEDI ADAPTATION #1 (OF 6)
STAR WARS THRAWN #4 (OF 6)
SUICIDE SQUAD #41
SUPERMAN THE GOLDEN AGE NEWSPAPER DAILIES HC 1944-1947
UNBEATABLE SQUIRREL GIRL #32 LEG
UNFINISHED SC 3 POEMS | Preview
(W) Tom Neely (A/CA) Tom Neely
A stunning collection of gorgeous one panel gag strips – humorous, sad, and deeply moving – by Tom Neely (Henry & Glenn Forever and Image Comics' The Humans) covering art, life, and grief from conversations with Neely's best friend and fellow cartoonist, Dylan Williams (Sparkplug Comic Books) who passed away in 2011.
VENOM #1
WALT DISNEY TREASURY OF CLASSIC TALES HC VOL 03
WARREN ELLIS BLACK GAS TP SP ED (MR)
WILDSTORM MICHAEL CRAY #7
WONDER WOMAN #46
WONDER WOMAN TP VOL 05 HEART OF THE AMAZON TP REBIRTH
WORLD OF TANKS CITADEL #1 (OF 5) (MR)
X-MEN BLUE #27 LEG
YOU ARE DEADPOOL #2 (OF 5)
Thank you!
Million Year Picnic
99 MT Auburn ST downstairs
Cambridge, MA 02138
617-492-6763