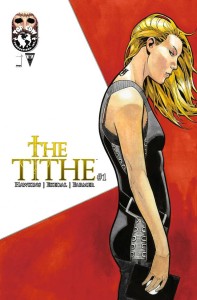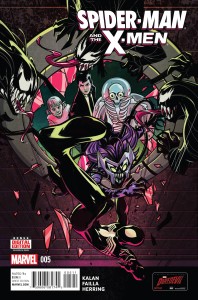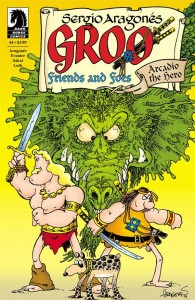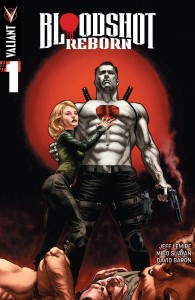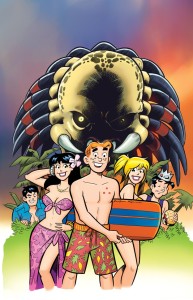 100 BULLETS TP BOOK 02 (MR)
101 OUTSTANDING GRAPHIC NOVELS HC
AMERICAN VAMPIRE SECOND CYCLE #7 (MR)
ANGRY YOUTH COMIX HC (MR)
ARCHIE VS PREDATOR #1 | Preview
Publisher: DARK HORSE COMICS
(W) Alex De Campi (A) Rich Koslowski (CA) Fernando Ruiz
America's favorite teen meets the galaxy's fiercest hunter! Archie and friends hit Costa Rica for Spring Break, where party games and beach games are soon replaced by the Most Dangerous Game! What mysterious attraction does the gang hold for the trophy-collecting Predator, and will the kids even realize they're in danger before it claims them all?
ARES & APHRODITE GN
ARROW TV ACTION FIGURE
ART OF HE MAN AND THE MASTERS OF THE UNIVERSE HC
ASTRO CITY DARK AGE TP VOL 01 BROTHERS & OTHER STRANGERS
AVENGERS MILLENNIUM #3 (OF 4)
BANDETTE HC VOL 02 STEALERS KEEPERS
BATMAN ADVENTURES MAD LOVE DELUXE ED HC
BEE AND PUPPYCAT #8
BEE AND PUPPYCAT TP VOL 01
BETTY & VERONICA #275
BITCH PLANET #2 2ND Printing (MR)
BLOODSHOT REBORN #1 (NEXT) | Preview
Publisher: VALIANT ENTERTAINMENT LLC
(W) Jeff Lemire (A) Mico Suayan, Jeff Lemire (CA) Lewis LaRosa
From New York Times best-selling writer Jeff Lemire (THE VALIANT, Green Arrow) and red-hot rising star Mico Suayan (HARBINGER, Moon Knight), VALIANT NEXT delivers an all-new ongoing series for Valiant's most unrelenting hero!
Bloodshot's nanites made him a nearly unstoppable killing machine. His enhanced strength, speed, endurance, and healing made him the perfect weapon, and he served his masters at Project Rising Spirit – a private contractor trafficking in violence – very well. Now, Bloodshot is a shadow of his former self. He lives in selfimposed exile, reeling from the consequences of his past life and the recent events that nearly drove him mad. But when a rash of shootings by gunmen who appear to look just like Bloodshot begin, his guilt will send him on a mission to stop the killers, even if it means diving headlong into the violence that nearly destroyed him.
BPRD HELL ON EARTH #130
BTVS SEASON 10 TP VOL 02 I WISH
CAPTAIN AMERICA AND MIGHTY AVENGERS #7
CAVEWOMAN ZOMBIE SITUATION #2
CEREBUS TP VOL 02 HIGH SOCIETY REMASTERED 30TH ANNIVERSARY
CHRONONAUTS #2 (MR)
CONVERGENCE #2 (OF 8)
CONVERGENCE AQUAMAN #1
CONVERGENCE BATMAN SHADOW OF THE BAT #1
CONVERGENCE CATWOMAN #1
CONVERGENCE GREEN ARROW #1
CONVERGENCE GREEN LANTERN PARALLAX #1
CONVERGENCE JUSTICE LEAGUE INTL #1
CONVERGENCE SUICIDE SQUAD #1
CONVERGENCE SUPERBOY #1
CONVERGENCE SUPERGIRL MATRIX #1
CONVERGENCE SUPERMAN MAN OF STEEL #1
CRIME DOES NOT PAY ARCHIVES HC VOL 09
CROSSED BADLANDS #75 WRAP CVR (MR)
CROSSED PLUS 100 #4 (MR)
D4VE #3 (OF 5)
DARK GODS #5 (MR)
DARK HORSE PRESENTS 2014 #9
DEATHLOK #7
DISAPPEARANCE OF NAGATO YUKI CHAN GN VOL 07
DJANGO ZORRO #6 (OF 7)
DOCTOR WHO 10TH #9
DOCTOR WHO 11TH #11
DOCTOR WHO 12TH #7
EI8HT #3 (OF 5)
FADE OUT #5 (MR)
FANTASTIC FOUR TP VOL 03 BACK IN BLUE
FOX (DARK CIRCLE) #1
FRANK MILLERS RONIN GALLERY ED HC
GHOSTED #19 (MR)
GIANT DAYS #2
GOD IS DEAD #32 (MR)
GODZILLA RULERS OF EARTH TP VOL 05
GOLD DIGGER TP VOL 07 GOLD BRICK COLL
GROO FRIENDS AND FOES #4 | Preview
Publisher: DARK HORSE COMICS
(W) Mark Evanier (A/CA) Sergio Aragones
The Year of Groo marches on, as Groo marches right into Arcadio the Hero. Arcadio's in the protection business, teaching villagers how to protect themselves from dragons . . . but he should be teaching them to protect themselves from Groo! Feather-brained barbarian thrills from the award-winning team of Sergio Aragonés and Mark Evanier, with Stan Sakai and Tom Luth.
GUNNERKRIGG COURT TP VOL 01
HARVEY KURTZMAN HC MAD AND HUMOR IN AMERICA
HERO CATS #5
HEXED #9
INFINITE CRISIS FIGHT FOR THE MULTIVERSE #10
JOHN CARTER WARLORD #5 (MR)
JUXTAPOZ #172 MAY 2015
KING THE PHANTOM #2 (OF 4)
KITCHEN #6 (OF 8) (MR)
LEGEND OF THE SCARLET BLADES HC (MR)
LEGENDARY STAR LORD #11 BV
LEGENDERRY VAMPIRELLA #3 (OF 5)
LETTER 44 #15
LOKI AGENT OF ASGARD #13
LUMBERJANES #13
MAGNETO #17
MICHAEL KALUTA SKETCHBOOK SERIES SC VOL 05
MILLENNIUM #4 (OF 5)
MMW AVENGERS HC 15 DM VAR ED 217
MONSTER MOTORS CURSE OF MINIVAN HELSING #2 (OF 2)
MOON KNIGHT TP VOL 02 DEAD WILL RISE
MS MARVEL #14
MY FIRST SUPERMAN BOOK BOARD BOOK
NOVA #29
OCTOBER FACTION #6
ODDLY NORMAL #6
OREIMO KURONEKO TP VOL 01
PEANUTS VOL 2 #27
PENGUINS OF MADAGASCAR TP VOL 01
PIRATE EYE EXILED FROM EXILE #3 (OF 4)
POLAR HC VOL 02 EYE FOR AN EYE
PRINCELESS PIRATE PRINCESS #3 (OF 4)
REGULAR SHOW #22
REVIVAL #29 (MR)
ROOM FOR LOVE HC GN
RUNLOVEKILL #1 (MR)
SABRINA #2 | Preview
Publisher: ARCHIE COMIC PUBLICATIONS
(W) Roberto Aguirre Sacasa (A) Robert Hack, Rachel Deering (CA) Robert Hack
New ongoing series! After the shocking revelations of last issue, Sabrina's mortal boyfriend Harvey doesn't quite seem himself. In fact, he doesn't seem human. His body's there, but his soul is… elsewhere. When the Witches' Council refuses to help her, Sabrina turns to Madame Satan for comfort, playing right into her evil schemes. This dark re-imagining of everyone's favorite teen witch continues! For TEEN+ readers.
SCARY MONSTERS MAGAZINE #97
SECRET IDENTITIES #3
SENSATION COMICS FEATURING WONDER WOMAN #9
SHAFT #5 (MR)
SHAPER #2 (OF 5)
SHAZAM A CELEBRATION OF 75 YEARS HC
SHUTTER #11 (MR)
SIMPSONS COMICS #220
SIXTH GUN DUST TO DUST #2
SPAWN #251 (MR)
SPIDER-MAN AND X-MEN #5 | Preview
Publisher: MARVEL COMICS
(W) Elliott Kalan (A) Marco Failla (CA) Stacey Lee
• Field Trip! Spider-Man and the X-kids blast into space to take down Deathbird's Brood-Symbiote Imperium!
• Glob Herman's finest hour!
• And the mole's identity revealed! Maybe we should have led with that one!
SPIDER-WOMAN #5 RODRIGUEZ 2ND Printing
SPREAD TP VOL 01 NO HOPE (MR)
STRAIN NIGHT ETERNAL #8 (MR)
STRANGE SPORTS STORIES #2 (OF 4) (MR)
STRAY BULLETS SUNSHINE & ROSES #3 (MR)
STUMPTOWN HC VOL 03
SUPERANNUATED MAN TP (MR)
SUPERIOR IRON MAN #7
TEEN TITANS GO #9
THOR #2 2ND Printing
THOR #7
TITHE #1 | Preview
Publisher: IMAGE COMICS
(W) Matt Hawkins (A/CA) Rahsan Ekedal
A heist story unlike any before! Mega-churches are being robbed for millions of dollars by a crusader hacker group known as Samaritan who is giving the money to causes they deem more worthy. This modern day "Robin Hood" is being pursued by two FBI agents who actually admire their quarry but want to stop the theft before it escalates.
UNCANNY X-MEN #33
UNITY #17
WOLVERINES #14
WORLD OF ARCHIE COMICS DOUBLE DIGEST #49
X-FILES SEASON 10 #23
---

It's finally HERE! THIS TUESDAY! Annie Goetzinger appears at Cambridge Public Library on Tuesday, April 14, 2015 at 6:30 PM! This celebrated French artist discusses Girl In Dior, her sweepingly beautiful docudrama of the life of Christian Dior, starting with the launch of his brand. We are co-Sponsoring this event!
Cambridge Public Library
449 Broadway, Cambridge, MA 02138
(617) 349-4040
Facebook Event | More about this Event
Tour dates: http://nbmpub.com/blog/2015/03/20/girl-in-dior-cartoonist-annie-goetzinger-tour-dates-announced/
---

ADVANCED NOTICE!!! We set up a Jason Little & Nick Bertozzi signing on Saturday, May 16, 2015, 3-5pm!
Facebook Event | More about this Event
Advanced press for Jason Little's BORB:
http://mentalfloss.com/article/62723/weeks-new-comics-borb-convergence-and-more
http://publishersweekly.com/9781941250020
---
NOTE: When you see DC releasing an old title but instead of "volume #" it says "book #" these are compendium volumes collecting (usually) 2 of the old trade paperback collections together.
Shortages
7TH SWORD TP
ACE MAGAZINE #2
ETERNAL #4
LEGACY GN VOL 01 (MR)
MY LITTLE PONY FIENDSHIP IS MAGIC #3 SIRENS
Thank you!
Million Year Picnic
99 MT Auburn ST downstairs
Cambridge, MA 02138
617-492-6763
https://www.themillionyearpicnic.com